Japanese Crispy Fried Chicken - Kara-Age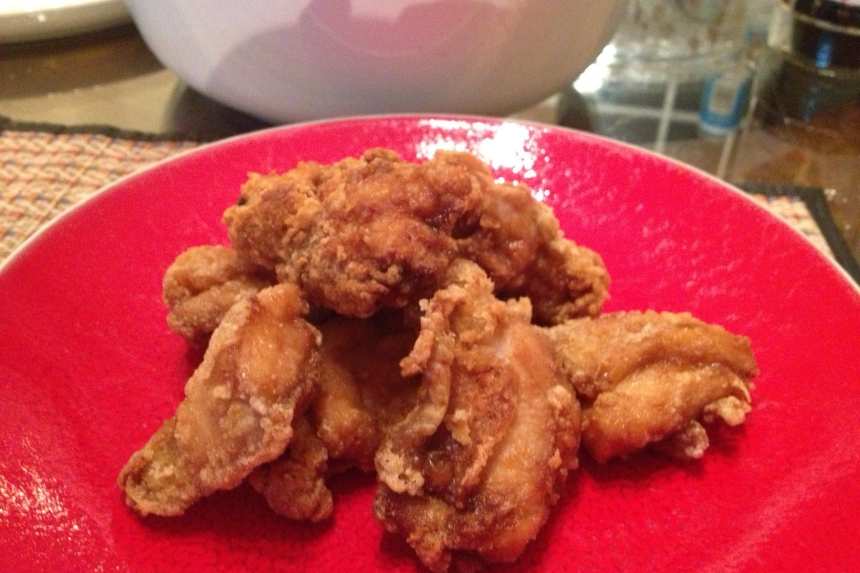 photo by Ume Murasaki

Ready In:

40mins

Ingredients:

8
directions
Cut chicken in bite size pieces. In a plastic container or large ziploc bag, combine grated ginger, garlic, soy sauce and Sake.
Put the chicken in the marinade and mix chicken well. Put the chicken in the fridge for 15 to 20 minutes.
In a deep frying pan or a wok, heat vegetable oil to 180 degree Celsius or 350°F
Dust the chicken with potato starch and fry in the oil until golden. To make them really crispy, lift chicken from the oil with chopsticks or tongs from time to time so that the chicken will be aired out (so to speak).
Questions & Replies

Hi! Love Karaage chicken and have always wanted to try making it at home. Thanks for the recipe. Was just wondering if I ever wanted to turn this from bite sized pieces into say.. a whole boneless thigh for fried chicken sandwiches... would this still work or does it need to be in smaller pieces for the crust to meat ratio? Thanks for your time!

 
Reviews
I made this and it was so good. It needed some salt but other than that it was great. I cooked for 3 minutes, let it sit for 5 minutes and cooked again for another minute. I also made a sauce which consisted of 1/2 cup mayo, 3Tbs of light corn syrup, 2 Tbs spicy mustard, a few sprinkles of sugar and 3Tbs soy sauce. It was very tasty. Thanks.

 

Great recipe! Just like the karaage I get from the local Japanese store in Vancouver. I haven't found any restaurants that do it like this. Juicy and tasty! You really need the potato starch to do it correctly (I found some at Whole Foods). I would recommend garnishing with little wedges of lemon. Adds the perfect zip when squeezed onto the fried chicken. I've made this twice--once deep-fried and once shallow-fried. They turned out the same, so I will shallow-fry from now on to avoid using insane amounts of oil. Thank you!

 

Excellent recipe! I added about 1 tsp sesame oil to the marinade. Used corn starch, as I was out of Katakuriko (potato starch). Deep fried the marinaded chicken pieces about 90 seconds. Took them out and placed them on a wire rack. After I deep fried the whole batch, I deep fried them again for about 45 seconds. Came out crispy on the outside and juicy inside. Tastes better when it's hot. But, cold was okay too.