Charred Jalapeno Poppers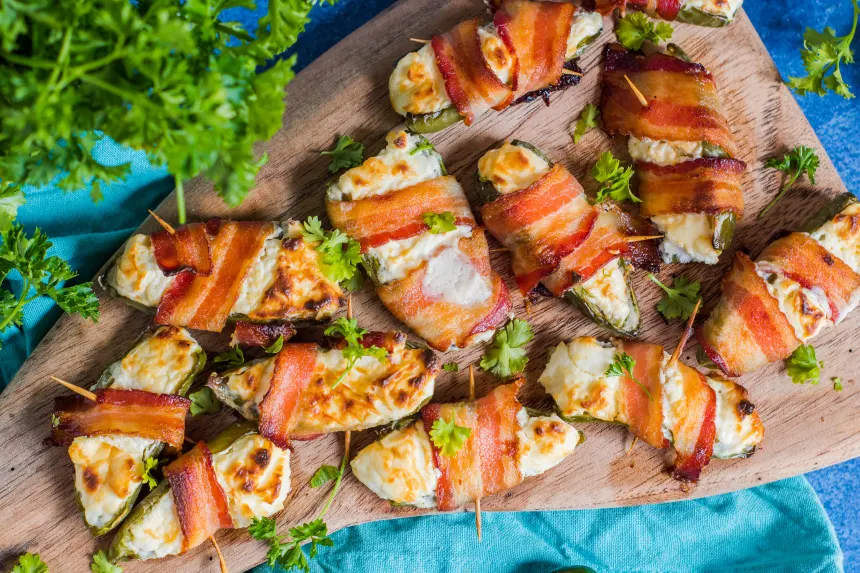 photo by limeandspoontt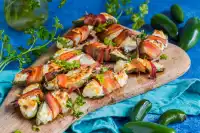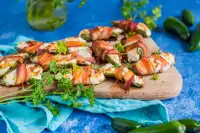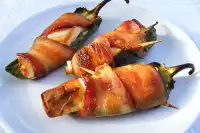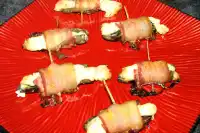 Ready In:

1hr 10mins

Ingredients:

4

Serves:

20
directions
Halve and seed the jalapenos.
Roast on a hot grill just until skins start to turn dark.
Slice the bacon strips in half.
Fill the jalapeno halves with cream cheese.
Wrap halves with bacon and secure with a toothpick.
Bake in a 350 degree oven about 30 minutes or until bacon is done to your liking.
Serve warm.
Questions & Replies

Got a question?
Share it with the community!
Reviews
Ron in Ohio Sez: I really hate to be critical - But - After living in Texas in 1992 and trying my first Jalapeno Popper, I have been making my own ever since. The way native Texans taught me. First - Back then, and perhaps it was before a large influx of "Damned Yankees" polluted the native Tex-Mex cuisine - I never saw Jalapeno Poppers being made with Cream Cheese except at supermarket deli's and chain restaurants. They were always stuffed with a wide array of shredded cheeses, usually Cheddar. Now, my back deck is crowded with three B-B-Q grills and two smokers with another smoker type soon to be added if I can find the room. I have mixed what I learned in Texas with local know-how and available ingredients. So, I am not going to claim that my creations are authentic Texas. Here's how I do Stuffed Jalapeno Poppers: 1) I only cut the stems off of my Jalapenos. I only de-seed and scrape the membranes out of the ones that will go to the folks who don't like spicy food. For them, the night before, after ya' prep the poppers, soak them overnight in a bowl filled with Sprite. It will remove most of the capsaicin and in my opinion, most of the fun and flavor. 2) After slicing open and butterflying a Jumbo Jalapeno I will fill it with a variety of meat stuffing. I have used ground Deer meat, ground Lamb, ground Pork Sausage, barbequed Pulled Pork, Cooked Shrimp, Little Smokey Sausages and Cocktail Hot Dogs. I have yet to attempt those wonderful Crab Meat Stuffed Jalapenos that I had in South Texas. 3) Next comes the cheese. I always use shredded Sharp Cheddar and usually mix in some shredded Monterey Jack, Mozzarella, Parmesan or whatever is available or sounds good. Add a dash of my favorite rub and close. 4) Finally, I'll wrap each Jalapeno with a slice of bacon and lay them in an aluminum pan or on aluminum foil on an already hot grill. By being careful how I wrap the Bacon and by making sure that both ends are under the Jalapeno after draping the last end of the Bacon over the open end of the Jalapeno lessens the amount of cheese that runs out and eliminates the need for toothpicks. And last, another sprinkling of my favorite rub. 5) Now, if ya think that grilled Jalapenos are so much bettern' oven cooked ones - And they are! Ya' gotta' try smokin' them instead - That's the best yet! They'll be soft through-out. But - The smoke seems to do something to the heat level. They will be hotter'n the oven or grill cooked Jalapenos.

 

I love making these. I sometimes mix a little shredded Colby Jack cheese with the cream cheese and stuff the peppers. I find, however, that cooking at 350 for 30 minutes is way too low. The bacon isn't crispy at that temperature. I bake mine at 400 for about 25 to 35 minutes. I had to experiment with the temp with these and I watched them regularly in the oven. I hate rubbery bacon. 400 makes them nice and caramelized on the bottom and crispy on top. I use parchment paper under them and it looks like they may be burning on the bottom, but they aren't. The cheese will bubble over the sides a bit, but that's just adds to the deliciousness and that comes right up as well. Just watch them and adjust to your liking. I would say, check at 20 minutes. Some stoves are different. I have cooked them longer than 30 minutes in some ovens. Enjoy !

 

I was trying to clean out the fridge before heading out of town. I saw your recipe and had to make some changes due to what we had on hand, but it turned out terrifically. I had a bag of multi colored sweet peppers that were about the size of jalapenos, so I used those. I had half a container of weight watchers whipped cream cheese and half a container of philly light cream cheese with chives. I mixed them together and used that for the cream cheese. I had smoky bacon which I wrapped them in. The wind kept blowing out the grill so I just skipped the grilling and cooked them in the oven. They turned out great! They were enjoyed by the entire family so we will definitely be making these again. Thanks!!

 

I was going to post this recipe, but found it here first. We had these last night at a friend's house & they were FANTASTIC & it takes a lot to impress me! She used pepper bacon which I think made a huge difference, although I'm sure they're good with plain bacon as well. If you want them to be hotter leave the stem on, & when removing seeds leave more of the vein, if you want them more mild take the stem off & remove as much of the vein as possible. She cooked them on the grill but said you can also make these in the oven. My husband & son loved these as well. I can't remember the last time I had something so good! I would double or triple the recipe because no one will want just a few, I would figure 4-8 per person minimun. She called them Armadillo Legs by the way.