Jacket Potatoes Filled With Garlic and Herbs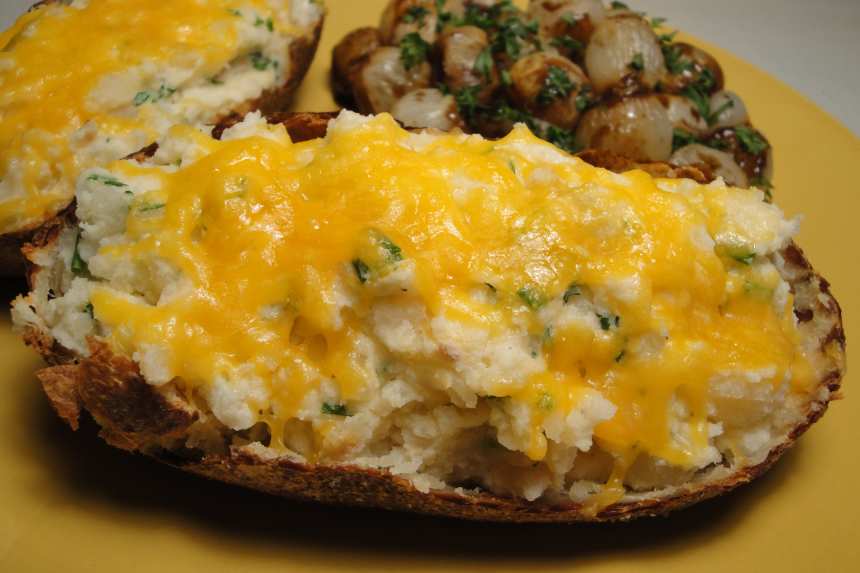 photo by Debbwl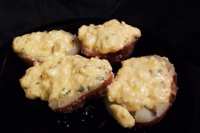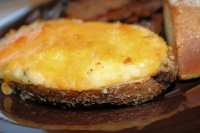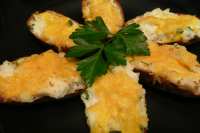 Ready In:

2hrs 15mins

Ingredients:

10
directions
Pre-heat oven to gas mark 5/375F/190°C.
Wash the potatoes and dry them very thoroughly with a cloth, then leave them aside to dry as much as possible.
Next, prick the skins a few times all over with a fork, then put a few drops of olive oil over each one and rub it all over the skin followed by some crushed salt.
Place the potatoes on to the centre shelf of the oven and let them bake for 1¾-2 hours, or until the skins are really crisp.
Meanwhile, pre-heat the grill.
Once the potatoes are cooked, remove from the oven, protect your hands with a cloth, slice them in half then scoop out the cooked potatoes into a bowl (careful not to tear the skin).
Then combine the potato with the cottage cheese or cream cheese, butter, garlic and herbs and season with salt and pepper.
Pile the mixture back into the potato shells, sprinkle each half with the grated cheddar and pop them under the grill until they are brown and bubbling.
Questions & Replies

Got a question?
Share it with the community!
Reviews
Better than any restaurant! It was a toss-up as to what we liked more the skins that crisped up ever so nicely or the rich cream inside that was the perfect balance of herbs, garlic and cheese. The very crispy skins also make it very easy to scoop out and then refill these tasty potatoes. Asked the produce guy about Desiree and King Edward potatoes and he recommended using Russets so that is what I used along with the cream cheese option. Thanks so much for the post.

 

What wonderful creamy and flavorful potatoes! I used red potatoes, and after coating in salt (I also used Kosher), I wrapped them in foil to keep the oil in and making them creamier. To simplifiy this recipe, while the potatoes were baking, I mixed all the filling ingredients (including the cheddar... a good oops) in a bowl so that when the potatoes were done, I just scooped out the insides and began mixing. I then placed the potato/cheese mixture into the microwave for a minute or two to heat thru and melt the cheeses (I used half cottage, half cream cheese) then scooped it back into the potatoes and served. Adding the cheddar to the mix did not hurt the recipe at all, and saved a step by not having to broil them. But it would have produced a nice browning on top. When I make this for company, I will do just that, and also use a pastry bag to make the filling decorative as well. I may also add a sprinkle of bacon bits. This side dish is to die for yummy!Thanks for posting, and we will definitely be making these again!

 

Excellent twice baked potatoes. I've never seen desiree potatoes or king edward potatoes so used regular baking potatoes and that worked well. Used the cottage cheese option and kosher salt instead of the rock because that was what I had. The herb combination was very nice with the hint of garlic. My skins didn't get as crisp as I would have liked, but maybe the potatoes weren't as fresh as they needed to be. Anyway, we really enjoyed these. Thanks for sharing.

 

i made these last night for dinner with regular potatoes, i used some cream cheese and snuck alittle cottage cheese in (no one even noticed) you wernt kidding about plateing them fast , i got rained out and couldnt use the grill so they sat for a while waiting for steaks and my skins went soggy - but we enjoyed the filling it was something diffrent for a potatoe - i will be trying to make again

 
RECIPE SUBMITTED BY
<p style=margin: 0.0px 0.0px 0.0px 0.0px; font: 12.0px Helvetica;><span style=font-family: Arial, Helvetica, sans-serif; font-size: 13px;><img src=file:///Users/aishayusaf/Library/Caches/TemporaryItems/moz-screenshot.png alt= /><img src=http://i166.photobucket.com/albums/u82/aaliyahsmum_album/bill3.jpg alt= width=402 height=507 /></span></p> <p><img src=http://i166.photobucket.com/albums/u82/aaliyahsmum_album/Untitled-11.jpg alt= /><br />Today, give a stranger one of your smiles. <br />It might be the only sunshine he sees all day. <br />- H. Jackson Brown, Jr. <img src=http://i166.photobucket.com/albums/u82/aaliyahsmum_album/images.jpg alt= /> <br /> <img src=http://i166.photobucket.com/albums/u82/aaliyahsmum_album/Untitled-11.jpg alt= /> <br /> <br />For a hobby, I'm into photography. I thoroughly enjoy baking, but have to admit, I have two left hands when it comes to decorating cakes! I also do a bit of knitting (beginner's stage) and reading. Stephen King and Dean Koontz are my all time favourite authors, and, of course, LOVE Calvin and Hobbes (does it show??!!) <br /> <br /> <img src=http://i166.photobucket.com/albums/u82/aaliyahsmum_album/chch-atheist.gif alt= /> <br /> <br /> <img src=http://i166.photobucket.com/albums/u82/aaliyahsmum_album/Untitled-1-1.jpg alt= /></p> <p>I search for recipes that carry ingredients I can get hold of locally (or I have stocked in my cupboard!). Recipes I have posted are ALL tried and tested and have been enjoyed by all! So, I hope you and your family will enjoy as well! <br /> <br />My rating system is fairly simple. Since I only pick recipes that I know my family will enjoy (looking at the list of ingredients), it's either 5 or 4 stars, I do not go any lower. I may sometimes do a bit of tweaking but that is only due to my family's tastes. If I do have problems with a recipe or if it didn't turn out the way it should have done, then I just leave a comment without any rating. <br /> <br /><img src=http://i166.photobucket.com/albums/u82/aaliyahsmum_album/Untitled-12.jpg alt= /></p>
View Full Profile