Italian Meatball Subs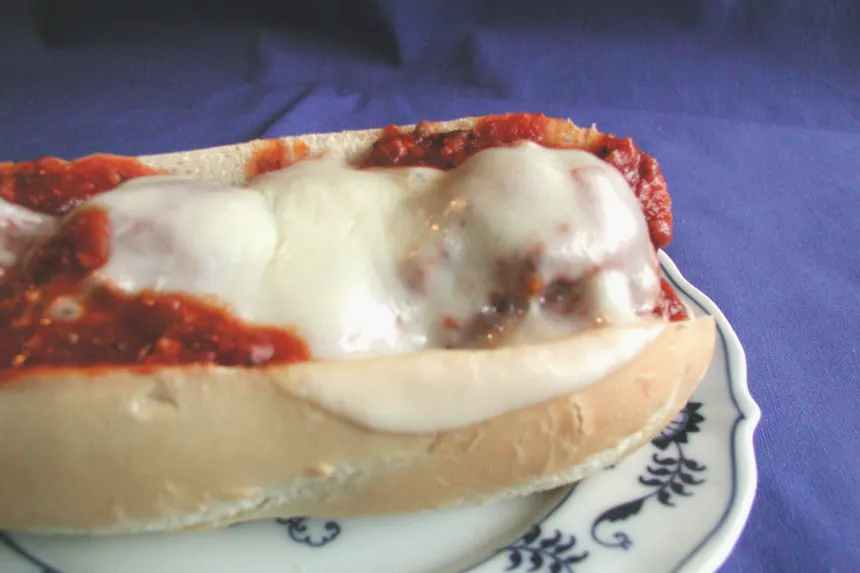 photo by Mimi in Maine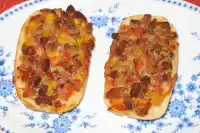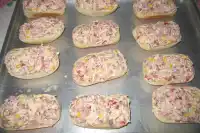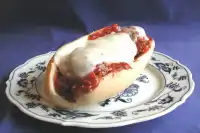 Ready In:

4hrs 45mins

Ingredients:

22
directions
Combine all the ingredients for meatballs; mix well.
Shape into 1" balls and broil or saute till brown.
Put into a crock pot.
Combine sauce ingredients in a sauce pan and heat pour over meatballs.
Cover and cook on low for 4-6 hours.
Put on sub rolls along with Provolone cheese and put under the broiler for a few minutes till cheese melts.
Serve hot.
Reviews
Is there another word for AMAZING to describe how good these are? Seriously, one bite and I was in heaven. I did it a bit differently to cut down steps. I used 1lb ground turkey, mixed that with one egg and the rest of the ingredients as it. For the sauce I used a bottle of spaghetti sauce, half a bell pepper cut up, half an onion sliced, a clove of garlic sliced. Put it in the crock pot on high for one hour and it was done. (Cook your meatballs first in the oven of course). Assembled the sandwich by digging out the bread in the middle and forming a well for the meatballs to sit in. Spread with butter, sprinkle with garlic salt, place meatballs, layer pepperoni's on top of that and two big slices of provolone cheese. Put under broiler for 4 minutes. So delicious. Thanks for the recipe!

 

I really enjoy a good meatball sub, and this one was no exception. I made like the recipe says using the ingredients listed, but cut back to 1/2 tsp. on the salt in the meatballs. Worked out great for us. DS and his wife thought they were excellent and so did I! We will have these often for lunches. I made a double batch and froze some of the sauce and meatballs in qt. size Ziploc baggies, to have again when I want something quick. Oh almost forgot, I didn't use green pepper in the sauce as I didn't have any and it was great anyway. I cooked meatballs in the oven on a cookie sheet, then added to the sauce on top of the stove and cooked for 3 hrs. on low. Melted the provolone on top and served sprinkled with extra parmesan cheese in sub rolls. Thanks for this awesome recipe Mimi! Milt

 

When going to college, had 2 young boys, so made extra for the freezer. Really came in handy when studying for midterms! Camzmom, as often as you make these, may work for you. Thank you Tired Grandma for the tip about sauteing the onions, like you I hate any crunch in the onions! That's the reason I quit buying most of the Ragus, they began using crunchy onions that refuse to get any softer when simmering the sauce. Another quick way I learned while in college to cook meatballs was to place them in round baking dishes, cover w/waxed paper & place in micro for 5-10 minutes. Half way through pulled balls outside circle to the inside for even cooking. Used slotted spoon to remove leaving any fat behind. Going to make this great recipe soon. Thank you for sharing the recipe!

 

Ok, so I have always taken the sub roll and cut off one end of the roll. I do not slice the roll all the way down at all. Then I take tongs and remove some the bread insides from that cut end almost all the way down to the other end. I then mix the meatballs with the marinara and real grated parmesan cheese and stuff the sub roll ! This makes for a very tasty sub and NO MESS !!

 
Tweaks
These are to die for! I just love the recipe. I didn't realize there wasn't a photo posted of these delious meatball subs, so when I make them next time I will take a picture and post it. I made the recipe just as written, except I didn't use green pepper (didn't have any), and instead of the tomato paste I used puree (all I had in the house). Wow these are great! I'm so glad I found this recipe and tried them I made them last fiday and then again last night not even a week passed before I had to make them again. Good job Mimi!

 
RECIPE SUBMITTED BY
<p>John 3:3 <br />Psalm 91 <br /><br />We are born-again Christians and love the Lord Jesus Christ with all our being.? We attend a small Christian and Missionary Alliance church in our town.? <a href=http://www.cmalliance.org>http://www.cmalliance.org</a><br /><br />My family consists of my husband who was a microbiologist but is now retired, two children (daughter and son), four grandchildren, and soon to be two great grandchildren, a girl and a boy. I homeschooled my oldest granddaughter up to a senior in high school. She is now 29 years old. My oldest grandson, who is now 25; my youngest grandson, age 20; my youngest granddaughter is in seventh-grade. Our oldest granddaughter blessed us with our first great granddaughter and soon to be great grandson.? She is the cutest little one.? I love them all. <br /><br />Hosta is my favorite plant, the only plant I own. I now have 123 varieties and they all have names. I add to them each year. I love to do cross stitch, paint, scrapbook, and rubber stamping. <br /><br />I have a rare genetic lung disase called Alpha-1 Antitrypsin Deficiency (Type ZZ) that most people have not even heard about. Most doctors may have heard of it but don't know an awful lot about it and so many times it goes misdiagnosed. Feel free to z-mail me if you want to know more about it or go to the website?<a href=http://www.alphaone.org/>http://www.alphaone.org/</a></p>
View Full Profile