Italian Lentil and Barley Soup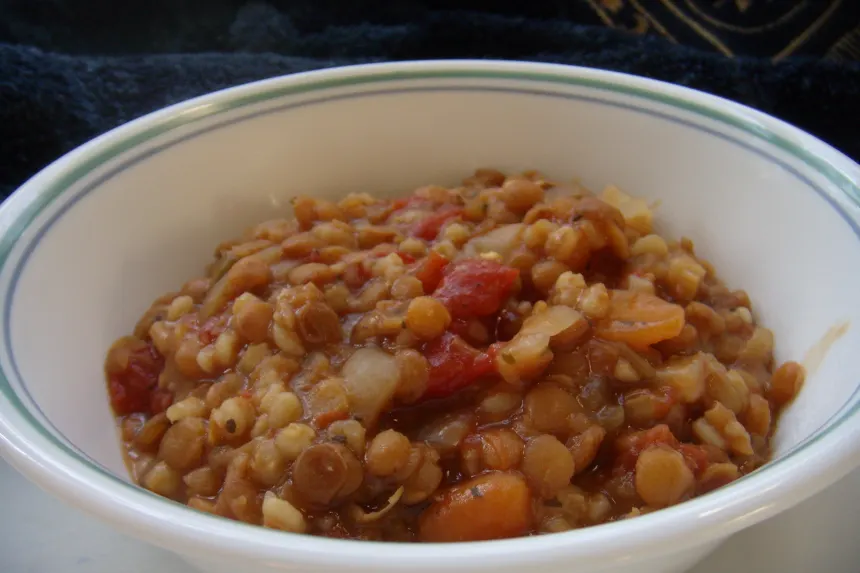 photo by digifoo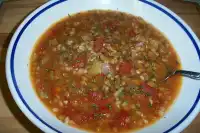 Ready In:

13hrs 15mins

Ingredients:

15
directions
Sort through lentils to remove debris and shriveled beans, then rinse.
Add lentils to crock pot, along with barley, carrots, celery, onion, garlic, dried herbs and bay leaf.
Pour in broth, water, and tomatoes.
Cover and cook on low heat for 12 to 14 hours, or on high heat for 5 to 6 hours.
Discard bay leaf and just before serving stir in parsley and vinegar. (If you don't use the vinegar, the soup might taste more bland as you're omitting a major contributor of flavor.).
Lentils aren't like dried beans. They don't require soaking and cook pretty quickly when you do it right.
When you buy your lentils, go somewhere that has a decent turnover so your lentils haven't been sitting on the shelf for years. Also, don't add any additional salt to the soup while it is cooking, and don't add lentils to already boiling water as either one can make lentils tough.
Questions & Replies

Got a question?
Share it with the community!
Reviews
Nice soup. I won't rate because I made some changes (more tomatoes, less broth, added some frozen spinach near the end) but I wanted to recommend hulled (i.e. hull-less) barley, if you can find it. The crockpot is fantastic for whole grains, and instead of just going squishy, like pearled barley, the hulled barley makes a nice little firm pop when you bite into it. Hulled barley has more vitamins and minerals than pearled because it still has the bran and germ.

 

I'm not usually a big fan of lentil soups, but this one was fantastic! I've never heard of adding cider vinegar to a soup, but I think this is a trick I'll be using on a lot of vegetable soups in the future. I did change the procedure a bit-- I cooked the lentils and barley (I also use hulled barley) with just the water and bay leaf until the lentils were just tender. Like many others, I doubled the herbs and garlic. I also added 1/2 teaspoon fennel seed (to "suggest" the flavor of Italian sausage), 1/2 teaspoon freshly ground black pepper, and 1 teaspoon salt. The herbs and spices were cooked with the vegetables in a little olive oil before going in the crock pot with the other ingredients. So easy and very healthy-- this is something I'll be making frequently!

 

I thought this was fantastic. Made as directed, BUT I didn't make mine vegetarian - I used 6 cups of chicken broth and added a pound of crumbled italian turkey sausage. Also added about a cup of pasta sauce to give it even more of an italian feel. Grate fresh parmesan on top, too! Everyone LOVED it. Thanks!

 

I was pleasantly suprised by this soup, since my vegetarian soups usually go over like a lead brick around here. But my boyfriend declared this soup "Yummy!" and we all gobbled it up. I adapted the recipe for stovetop, since I don't have a crockpot. I sauted the veggies and minced garlic in olive oil and the herbs. Important: I more than doubled the garlic, and doubled the herbs, to suit our tastes. I doubled the barley, and cut down on the liquid (I used mostly my homemade rabbit stock, and added some water). I ended up with a nice stew-like texture. Since it's sometimes hard to know how a soup will turn out with barley in the mix, I will add about another cup of liquid next time (and there will be a next time!). I finished it with balsamic vinegar, which really added to the Italian flair, and put the soup to over the top goodness. =) Forgot the parsley, or ran out of energy to chop it, but it would have been a tasty addition. Anyway, this soup is going in my permanent cookbook. I served it with salad and breadsticks. Oh, almost forgot! Don't forget to add some salt! I figure about a teaspoon of sea salt would be perfect (I approximated), or split it between sea salt and garlic salt... yum! The salt should be written into the recipe more clearly, because I'm betting that at least some of the reviews that called this soup bland and tasteless forgot to add salt to taste at the end.

 
Tweaks
This was a great meatless meal though I have to admit I used beef broth instead of vegetable so it wasn't totally vegetarian. My whole family especially DH loved this. It was even better the next day. I gave some of my leftovers to a girlfriend and she showed up the next day wanting a copy of the recipe!

 

Despite doubling the spices and using all chicken stock instead of water, I thought the soup was a little bland. So . . . when in doubt add meat. I crumbled a pound of sweet Italian sausage, browned it and threw it in. The soup went from so-so to scrumptious. I guess some of us aren't meant to be vegetarians. LOL.

 

This was wonderful! I never thought Lentil soup would taste this good! I used Roosie's suggestions and sauteed the veggies in 1 tbs. of olive oil before adding the rest of the ingredients and I cooked mine on the stove as well. Also, I made the following changes: 4-5 cloves garlic, 6 cups water and 2 chicken bouillon cubes instead of broth, cilantro instead of parsley and red wine vinegar instead of cider. Had to add a little more water as it was cooking too. Will definitely be making again!!!