Italian Chicken With New Orleans Spaghetti Bordelaise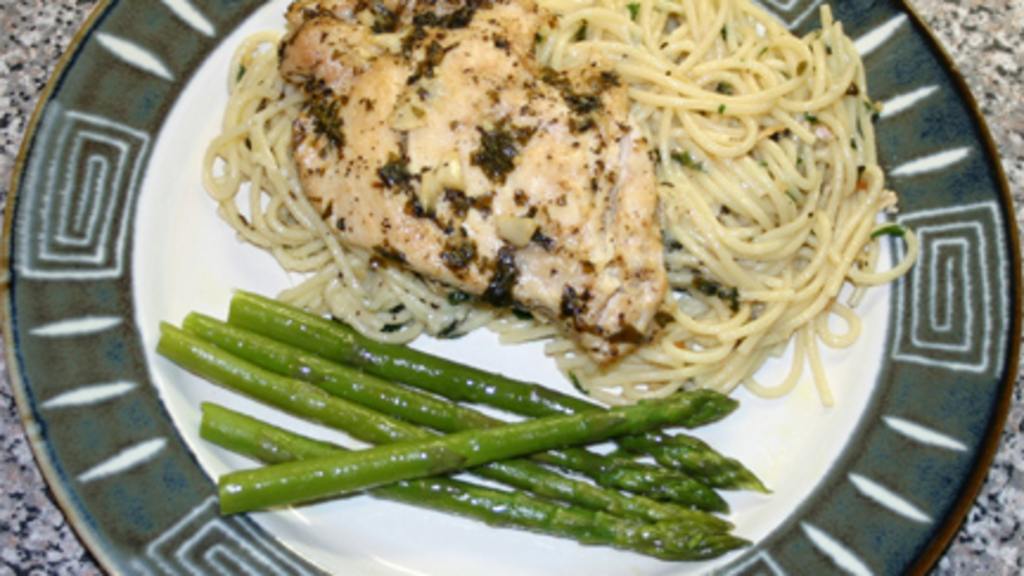 Ready In:

2hrs

Ingredients:

26
directions
Preheat oven to 350 degrees.
Season thighs with salt, black pepper and cayenne.
Peel 4 heads of garlic and crush half leaving the remaining cloves whole.
Heat 1/2 cup olive oil in a roasting pan large enough to hold the chicken in 1 layer, over 2 burners on medium-high heat.
Add chicken and brown on both sides, setting aside when brown.
Add crushed garlic and cook, stirring about 1 minute.
Remove from heat and add remaining ingredients, stirring to mix well.
Place chicken in roaster, cover tightly and cook for 1 hour.
Remove cover and roast until the chicken is brown and tender, about 30 minutes, basting occasionally.
Remove and set aside.

Spaghetti Bordelaise:

In large pot bring salted water to a boil and cook spaghetti until al dente, about 10 minutes.
Drain well.
In medium saucepan heat oil over medium heat.
Add minced garlic and green onions and cook stirring until fragrant and starting to turn golden, about 2 minutes.
Add the wine, basil, oregano, thyme, salt, pepper and cayenne and cook 2 minutes.
Add the butter and parsley and cook for another 2 minutes.
Pour sauce over drained spaghetti, tossing to coat.
Place in large serving bowl and coat with Parmesean Cheese.
Place Spaghetti Bordelaise on plate and top with chicken thigh.
Join The Conversation
This is a very strange recipe in you seem to discard the best part, the pan juice from the chicken. I used about 1/2 the olive oil it called for to brown the chicken and cooked most of the fat out. I drained all but a couple of tablespoons of fat before I added the other ingredients. I cooked the thighs 45 minutes and they were done but I did uncover and cook for about 10 minutes. I removed thighs and kept warm in the oven and took out the lemon. I sauted the onion in a little olive oil then sprinkled in some flour and stirred to coat, added about three times as much wine and reduced slightly then added the contents of the roasting pan, cooked until sauce (added a little chicken stock to thin). I melted less than half the butter in the roasting pan and stirred in the spaghetti and heated through, added the sauce stirred to coat over low heat, added the parmesan and mixed lightly served with the thighs. It was wonderful with a good chianti. I would highly recommend this over the original recipe.

 

Piquant!!! Absolutely delicious!!! It IS time consuming, to my way of thinking. I think it took about an hour to peel all the cloves of garlic! Maybe that could be done well ahead of the rest of the prep. I too only had frozen skinless, boneless thighs, and I'm sure that it would be twice as good with fresh, bone in thighs with skin. I roasted the chicken covered for 30 minutes, uncovered it, and cooked it for 15 minutes more. That worked just fine. I used only slightly more than half a stick of butter, and it was plenty. We could not identify the taste of the lemons, so we were fine with the lemon quarters. I only had dried parsley, but we were so happy with the results that I don't think I'd bother with cutting up fresh. My roasting pan is plenty big enough, but it is made of fairly thin aluminum. I think that next time I'll brown the chicken in a heavier skillet first, follow the rest of the steps, and transfer the deglazed mixture to the roasting pan. The chicken didn't brown very well in the thin pan. This is a very nice, different pasta combination and one that I'll surely make again. Thank you, Luby, for sharing such a great recipe.