Italian Anise Cookies With Icing and Sprinkles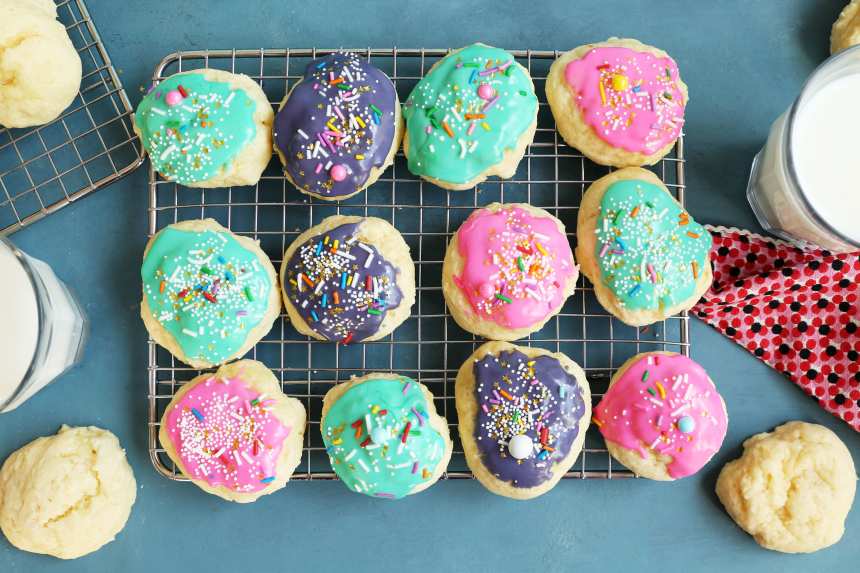 photo by Jonathan Melendez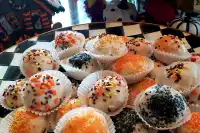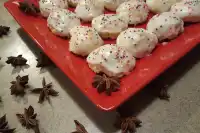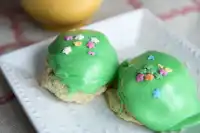 Ready In:

1hr 10mins

Ingredients:

12
directions
Preheat oven to 350 degrees. Line cookie sheets with parchment paper.
For cookies, cream the butter and sugar until light and fluffy, about 5 minutes. Add eggs, one at a time, mixing after each addition. Add anise extract.
Blend flour and baking powder. Start by adding about 1/3 of these dry ingredients to the butter/sugar in your mixer, then add 1 T. milk. Add another third of the flour and another 1 T. milk. Finally, mix in enough of the remaining flour until your dough is like a brownie batter (it should be softer than a drop cookie dough).
Use a 1 T. cookie scooper to make simple round drop cookies - use wet fingers to pat any rough edges OR for an Easter-Egg look, roll 1 T. dough into an elongated ball.
Bake cookies 10-12 minutes (they won't be brown but the insides will be soft and cake-like).
For icing: mix sugar, milk and extract to make a sugar glaze. HINT: When I make the icing, I make it thick but then I microwave it for 10 seconds so it is thin enough for dipping. Also, I like to divide the mixture in thirds, and then add ONE DROP of food coloring to each batch (pink, green, yellow).
Hold cookie in your hand and turn upside down so you can dip the top half in the glaze; turn over and immediately top with sprinkles so they will stick.
Allow icing to harden overnight; then store in air-tight containers or freeze.
Questions & Replies

I have been making these for years... they are perfect! They remind me of my childhood. Unfortunately after the first day, they tend to sweat, when left out, so I freeze them, but I was wondering if you had any tips? Also I would love to send some in the mail, but I fear they would be a mess after 3 days in the mail. Have you ever mailed them? I thought of mailing the cookies, frosting and sprinkles separately for assembly upon arrival. Thanks for posting.... my Mom found you after looking high and low for this recipe!

 
Reviews
I have been trying to get this cookie right for three years now. I had almost given up. As an Irish girl, I have ZERO experience with this cookie. I had never had it before and didn't know how it was supposed to taste. The first time I made them (from another recipe) they were ROCK HARD and so dry. Awful. My husband tried them on my first attempt and said "Yep, this is the taste...but they are a little bit...erm...drier than I recall..." I was slightly defeated and ready to give up. However, my step daughter (VERY Italian on her mother's side) dearly loves these cookies. She asks for them every year. This recipe was my saving grace! My ten year old step daughter declared them "EXACTLY LIKE GRANDMA'S!!!" Which is high praise indeed as her grandma is well known for her "sprinkle cookies". I ended up using almond extract instead of Anise. That's how it's done here in New Jersey so I've been told. The cookies came out fluffy and cake like and so delicious. I'm thrilled to have been able to grant my darling step daughter's Christmas wish for these cookies.

 

These cookies weren't difficult to bake (and I am NO baker by ANY means)and everyone loved them, except one person who thought they were too cakey.<br/><br/>I did double the amount of anise to 1/4 tsp in the icing and it was fabulous.<br/><br/>As she recommended, I used her exact measurements of milk and sugar for the icing and after each batch came out of the oven I microwaved the whole bowl for ten seconds and then it was nice and thin. I found I had to hold the tray of cookies with my left hand, remove a cookie with my right, dip it into the icing, put the cookie on the rack, and then sprinkle it with the little dots. I think if you dunk them all into the icing, by the time you get around to putting the dots on, the icing would be too hard for the dots to stick.<br/><br/>Also, the recipe did NOT take nearly the 3 "possible" cups of flour. It couldn't even take 2.5. I ended up throwing out about 1/4 of flour because the dough was quite dry and I used all three TBS of milk.<br/><br/>Next time I'll use 2 1/4 cups of flour and probably only 2 tsp of baking powder. Maybe they'll be a little less cakey. Not that cakey is a bad thing. :)

 

This recipe tastes EXACTLY the way my Sicilian neighbor used to make them. Tender, flavorful, and oh-so-pretty. I have Celiac, so I made these gluten-free - I used a combo of brown rice flour, potato starch and tapioca starch (all common in gluten-free baking) in place of the all-purpose flour. I also added 1/2 a teaspoon of xanthan gum to the batter recipe. The cookies are divine! No one knows they are gluten-free - they just taste simply PERFECT. Thanks so much!

 
Tweaks
these remind me of my childhood! my grandma always made them at easter and now i have found this recipe and carried on the tradition. i make them at christmas as well, they are wonderful cookies! even for someone who doesnt like licorice flavor (me) the anise goes well with the cookie. you can always sub a different extract for the anise but they just wouldnt be the same. sometimes i use vanilla instead of anise in the icing.