Imitation Crab Salad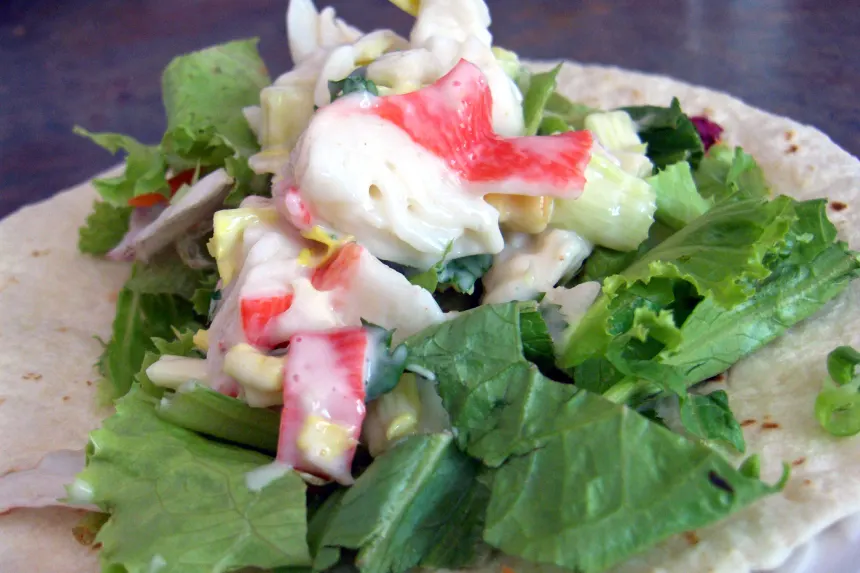 photo by Derf2440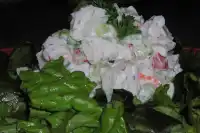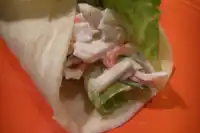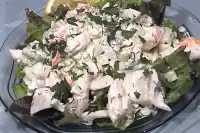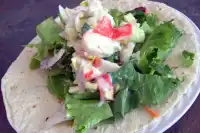 Ready In:

10mins

Ingredients:

10
directions
Cut crab into bite-sized pieces.
Combine the crab with the onions, celery, lemon juice, mayonnaise, dill weed and horseradish; mix well.
Place the salad greens on 2 plates for large portions and 3 plates for small portions.
Divide crab mixture among the plates; sprinkle with the parsley.
Place lemon wedges on plate.
Serve.
Reviews
I have used this recipe with great success for more years than I care to count but I use a hot pepper sauce(to taste)in place of the horseradish. Horseradish,as with other bottled sauces,suffers from manufacturers choice in that the a/m product often is too vinegary so or so hot it burns the retina. Go with what you know you can depend on for that touch of fire that gives this recipe its'distinction.

 

I am sure I have reviewed this recipe before, but, hey I could be wrong, obviously!! My daughterinlaw's fav summer salad, actually I have made this as an appetizer in winter too.. so a fav all year round. I followed your recipe to a T, but this time round, I added a quarter of an english cucumber, thinly diced, 1 tomatoe, and 1/2 a purple onion, just because I was out of green onions. It tasted spot on and of course the horseradish (my opinion) "hit the nail on the head" for a culmination of "titilatting" tastebud sensational salad! Thank you for sharing !

 

My family hates crab salad or atleast that is what they have always said. I had only had a fork full of it before I put in the fridge to have the next evening. However, when I had gotten home from work that next day, I found an empty bowl in the sink and two very happy children asking if there was any more. If the kids liked it - it has to be good.

 

My mother-in-law made this years ago somehow her recipe book got sold at the estate sale so I missing a lot of things that she made that we're all time favorites in mind this is the exact recipe and it is utterly delicious. I added a few sliced black olives and follow the recipe to the letter thank you so very much

 
Tweaks
Update: Frequently make this and take it to work. Still skip the dill weed and horseradish. But I also substitute cauliflower for salad greens - sounds strange. I just chop the cauliflower and add it into the mixture. The entire salad keeps in the fridge and I just take a serving to work each day.<br/><br/>May 15, 2007: My new favourite lunch. I left out the dill weed (never have liked dill) and the horseradish (didn't have).

 
RECIPE SUBMITTED BY
I love to cook. Since I quit smoking I have gained weight thus I am into low-fat recipes. The most important thing that I have learned is that if it is low-fat and has no taste why would you eat it. My goal is to have a cookbook filled with wonderful tasting recipes which are low-fat.
View Full Profile