Hungarian Nokedli (Dumplings)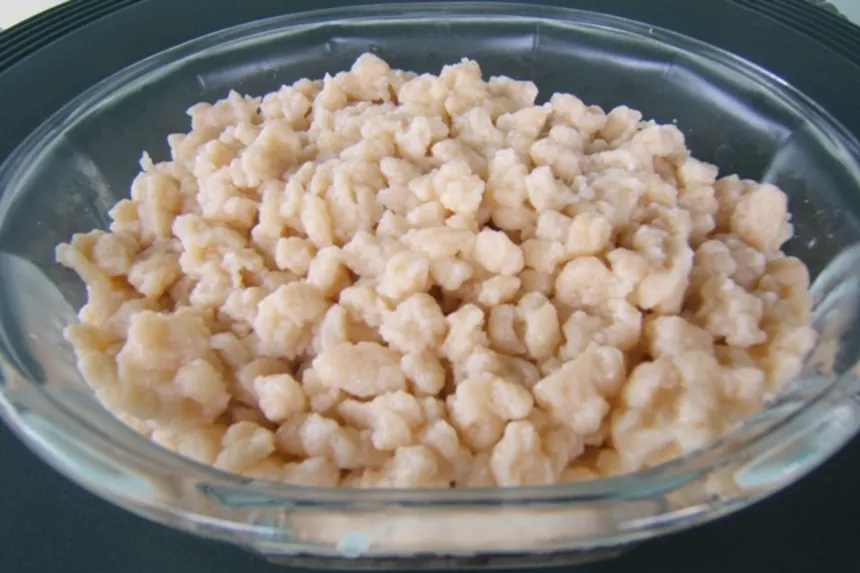 photo by MsBindy

Ready In:

15mins

Ingredients:

5
directions
Place large pot filled with salted water and bring to boil.
Combine eggs, salt, and water, beating well with whisk.
Add flour, a little at a time.
Add only enough flour to make a soft, sticky dough.
Let mixture rest for about 10 mins.
Beat mixture again.
Using the side of a teaspoon, spoon small amount of dough into boiling water.
Dipping the spoon in the hot water will remove the dough from the spoon (if you have a spaetzel maker, that makes is easier as you want very small noodles).
The noodles are done when they float to the top.
Remove from water with large slotted spoon, and place in colander.
Rinse with cold water.
You may want to make the dumplings in 2 or 3 batches so they dont overcook.
Serve with chicken paprikas.
The dumplings are also nice added to a stew.
You can heat the dumplings in a frying pan with melted butter.
Do not let the dumplings get too brown or crisp.
Questions & Replies

Reviews
This was exactly what I was looking for when I typed in Hungarian dumplings. My friend from Hungry has made them for me several times and I loved them. The same goes for this recipe. It was so easy to make. I don't know what a spaetzel maker is, but my friend uses a flat metal cheese grater and lays it over the top of the boiling water. She drops the dough on it and rubs it through the holes. Today we served a homemade chicken gravy over the top. Yum!

 

This might sound weird but my Great Grandmother would turn these into a dessert for me. After she had taken them out of the water she would cover them with bread crumbs and give them to us with sugar. My brother and I would eat until we felt like we were going to burst! I've never made them because I never had a recipe so guess what I'm having for dessert this weekend?

 

my family is Hungarian but even though I was born in Canada originally and came to the states my parents always cook this for us since we were little kids and let me tell you this is the perfect cooking recipe. I've lost both of my parents and I always try to make as much Hungarian food as possible this is definitely a good recipe to make, brings back wonderful memories.

 

I have made these for for years, my Mom is Hungarian so I grew up with this as well as all other things Hungarian. I too have a Nokedli maker from Hungary but sometimes I just put the dough on a flat plat and quickly cut pieces into the boiling water or soups. My mom used to make dumplings for soups and she added raw chicken liver ( minced) and parsley to the dough. Also very tasty.

 
Tweaks
I never put water in nokedli, just eggs and flour. You can alway adjust with more flour or eggs. Can make it by hand or by nokedli board. You can have it with gulyas, chicken paprikas or any kind of porkolt. You even have it with just scrambled eggs. Being hungarian, always with sour cream and even with paprika. I make nokedli at least twice a month.

 
RECIPE SUBMITTED BY
Update: My mother, BoxO'Wine passed away on April 23, 2009 after a 2 year battle with pancreatic cancer. She was a wonderful cook and is greatly missed. I am the DD that she has mentioned here quite frequently and have decided to continue her account. I also use RecipeZaar quite frequently as I learned about it from her. I strive to make her recipes; however, they will never be the same. I am also leaving all her own biographical information in here that she had. Genuine Jersey Girl here. Lived here all my life with the exception of a short stint in the Bay Area/San Francisco. Married to the same guy for over 40 years. We have 3 children and 5 grandchildren. My son lives in Georgia (he talks funny) and my two daughters live near me in New Jersey. I am a retired politician, but I still have a real job. Looking forward to full retirement in about 2 yrs or so and if my children don't force me into the "home" I will be spending my social security checks in Atlantic City casinos. I have chemically enhanced blonde hair which is currently spiked to match my weird sense of humor and beverage du jour. Obviously I am a wino. White please, preferably chardonnay.
View Full Profile