Hungarian Beef Goulash Aka "porkolt"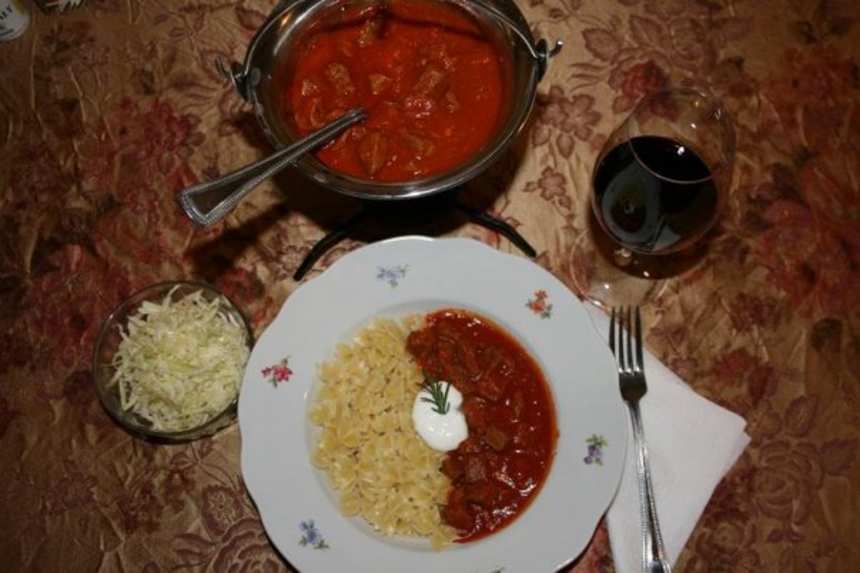 photo by szabo5
Ready In:

1hr 45mins

Ingredients:

12
directions
Saute beef, onions, bell pepper, and ground cumin in oil until onion is near falling apart over medium-low heat, adding water if needed. Blend in paprika, and add enough water to cover beef.
Cover and reduce heat to low.
Cook for 1 1/2 hours, or until beef can be separated with wooden spoon, stirring and adding water occasionally.
Add "Vegeta," or beef buillion, tomato sauce, pressed garlic and wine. Blend and let simmer for another 5-10 minutes.
Questions & Replies

Got a question?
Share it with the community!
Reviews
I see where you've made changes and I think you've made excellent ones that are actually attempts to go back in time to older recipes. For example, using tomato sauce. In old Hungarian recipes, you might see lecso there because people would know that if it's summer, you just use a lot of onions, green pepper and tomatoes and cook them down first, then you proceed with cooking, but if it's winter, you use lecso. In today's busy lifestyle, it's faster to just make lecso ahead of time (food.com has a "Letcho" recipe that's good), and keep some frozen for the purpose. So I like your modifications, they're actually throwbacks and make a lot of sense. The cumin is interesting. Caraway is the more Hungarian of the two seeds, but if you are more familiar with cumin now, stick with it. Komeny mag refers to Caraway, though it sounds more like cumin, I agree. And in this dish, it makes more sense to use cumin. For potatoes or cauliflauer, stick to caraway, as it brings out a subtle sweet flavor. For Hungarian guests, leave the cumin out and brown the meat very well so there is a lot of Malliard reaction and then you will have a rich liquid. Hungarian food is deceptively simple, but requires a lot of technique. It seems like it would be "too simple" or needs more ingredients. But if you do it right, it doesn't, and is more heavenly because of the simplicity.

 

I made this last night and it was absolutely delicious! I am first generation Canadian, my father was born in Nyiregyhaza, Hungary, and both his parents were from Budapest. I have eaten Porkolt as a routine dish growing up and enjoy making it now, but I just had to try this rendition...and wow! From now on this is how I'm going to make it. It's not that different from the original version I grew up with, but the red wine does add a nice verience. Thanks for this awesome recipe! Btw, I only required 2 cups of water. 2 thumbs up!

 

I've made this recipe twice now, both with 4 cups, and with 2 cups of water- the 2 cups seems to work better as it makes for a richer broth, and you can always add more as needed. My differences were as follows: When I made it was green bell pepper, and I sauteed the veggies first before then adding the meat. I used an actual tomato (about medium/large), plus the tomato puree/sauce. The tomato was added along with the spices and water to stew. If you want to tone it down on the spice factor (I had to for my wife), you can use 1/2 tbsp sweet, 1/2 tbsp hot Hungarian paprika. I love the hot version though, the taste can't be beat.<br/><br/>The type of meat I used was boneless pork ribs, about 1.5-2 lbs both times- the amount of fat is just right, and they fall apart even with a spoon. <br/><br/>This was my first Hungarian recipe I tried, and now I am hooked!