How to Cook Spaghetti Squash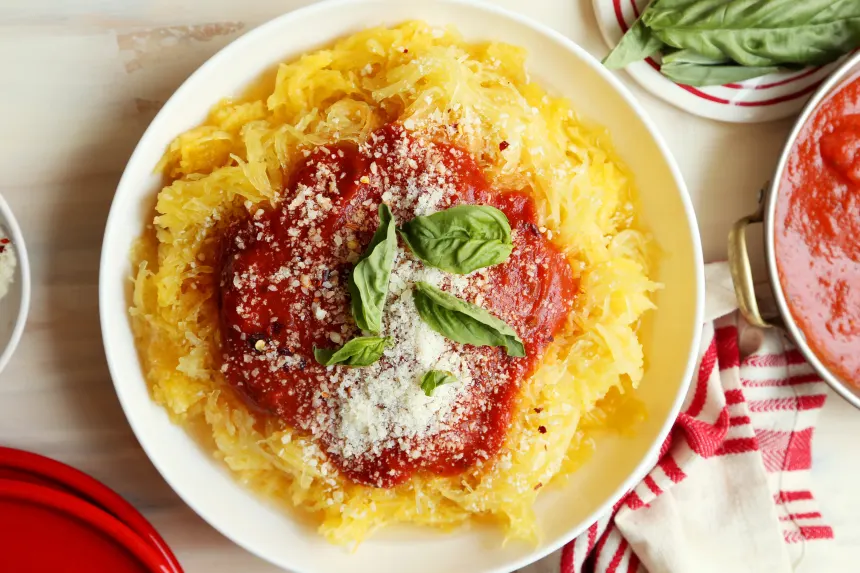 photo by Jonathan Melendez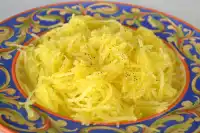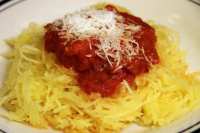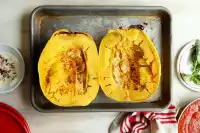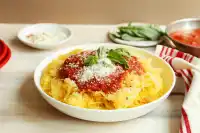 Ready In:

1hr 35mins

Ingredients:

4
directions
(BAKE IT).
Pierce the whole shell several times with a large fork or skewer and place in baking dish.
Cook squash in preheated 375°F oven approximately 1 to 1-1/2 hours or until flesh is tender, It took about 1 1/2 hours for mine to tender up.
*****.
(BOIL IT).
Heat a pot of water large enough to hold the whole squash.
When the water is boiling, drop in the squash and cook for 20 to 30 minutes, depending on its size.
When a fork goes easily into the flesh, the squash is done.
*****.
(MICROWAVE IT).
Cut squash in half lengthwise; remove seeds.
Place squash cut sides up in a microwave dish with 1/4 cup water.
Cover with plastic wrap and cook on high for 10 to 12 minutes, depending on size of squash.
Add more cooking time if necessary.
Let stand covered, for 5 minutes.
With fork "comb" out the strands.
*****.
(SLOW COOKER or CROCK-POT).
Choose a smaller spaghetti squash (unless you have an extra large slow cooker) so that it will fit.
Add 2 cups of water to slow cooker.
Pierce the whole shell several times with a large fork or skewer, add to Crock Pot, cover and cook on low for 8 to 9 hours.
Once the squash is cooked, let it cool for 10 to 20 minutes so it will be easier to handle, before cutting in half (if it wasn't already) and removing the seeds. Pull a fork lengthwise through the flesh to separate it into long strands, (See photos.).
You can do these steps ahead of time, then prepare any of the spaghetti squash recipes whenever the mood strikes.
BUYING & STORING.
When buying spaghetti squash, look for hard fruit that is heavy for its size, about eight to nine inches in length and four to five inches in diameter and with a pale even color. Avoid any squash with soft spots and green color is a sign of immaturity. The average four-pound spaghetti squash will yield about five cups.
Spaghetti Squash can be stored at room temperature for about a month. After cutting, wrap in plastic wrap and refrigerate up to 2 days. Spaghetti squash also freezes well. Pack cooked squash into freezer bags, seal, label and freeze. Partially thaw before re-using, then steam until tender but still firm, about 5 minutes.
Questions & Replies

Reviews
We have lived in a time warp and have never tried spaghetti squash prior to this! I used the oven method since it was cold outside, and it cooked up perfectly and shredded like a dream! I tossed it with butter and an Italian herb blend. It was scrumptious! My daughter added shredded Parmesan to hers, and made yummy noises while eating it. I might mention she is a veggie hater! Looks like spaghetti squash is on the menu again...especially when I mentioned alot of people use spaghetti sauce on it. I also cannot wait to try other herb blends with it. Thanks for sharing these techniques with us all, there's one for everyone, so no more excuses NOT to try spaghetti squash!

 
RECIPE SUBMITTED BY
<P><FONT FACE="Times New Roman" SIZE="+1" COLOR="#663399"> I was born to John and Barbara Messmore, Mothers maiden name of Rupe, My family roots are from Kentucky, We moved to Chicago, Ill. when I was 2yrs of age so I consider that to be where Im from.<P>I lived half of my life there then my family moved to west to San Francisco, Ca. and thats when my life really began, I never learned so much about life as I did living there, It was a melting pot of people, I grew up during the "LOVE" era where it seemed that everyone shared everything with eachother,Kinda like here at Zaar, There were no expectations, no demands and it seemed that life was slower and full of energy, I miss that today.<P> I started cooking at the age if 15 learning from my Grandmother "Bertha Rupe" She was a Manager of an apartment building in San Francisco on the corner of "Post & Polk" Street where all the old ladies just thought I was so "Cute" a lot of my recipes as I can remember them come from all of them.<P>Later in 1971 at the age of 17 I joined the Navy and thats where most of my culinary training came from, I was a cook on my ship the "USS KIRK DE-1087" Whats weird is that the building address on post and polk was 1087, It was a Destroyer Escort to the Carrier "Kitty Hawk", I cooked for a crew of about 300, Its funny, when I got out and cooked for friends and family I could'nt keep from making a lot of food.<P>I now reside in Bakersfield, Ca. where I met my love of my life online, I lived in San Jose at the time with my younger brother Mark and his family, We met and fell in love so I moved here, I just have to say tis "The things we do for love"<P> Ive been here for 5 years now and I hate this city with a passion, Its hell in the summer but winters here are ok, However THERE IS NOTHING HERE! and the drivers in this town do not know what a stop sign means, Anyone out there that has driven here knows what Im talkin about.<p>I now am on disability due to a heart transplan in 2000, I do most of the cooking here, The GF's son in law loves my Pizza.<p>My GF and her daughter has started a bead business making Magnetic Hematite necklaces, Thier really kool lookin' You can see them on the website Im building for them: </FONT><b><A HREF="http://www.thenortheastshop.com/">"The Northeast Shop.Com"</A> <HR WIDTH="100%"COLOR="#FF0000" SIZE="4"><P> <MARQUEE bgcolor="#FFFFFF" loop="-1" scrollamount="5" width="100%">Never Drive Faster Than Your Guardian Angel Can Fly!</MARQUEE><P> <HR WIDTH="100%"COLOR="#FF0000" SIZE="4"></b>
View Full Profile