House Gryffindor Butterbeer Cakes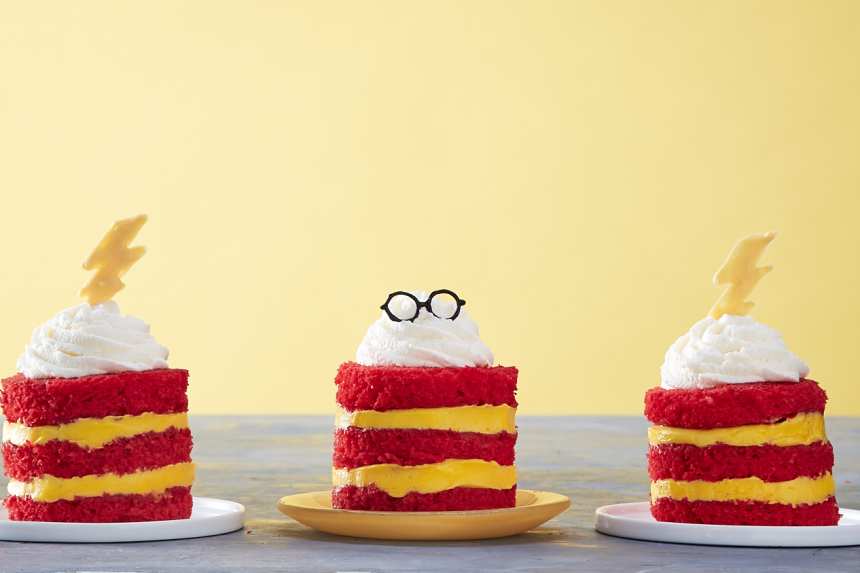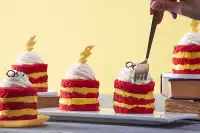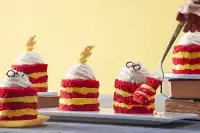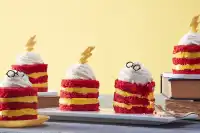 Ready In:

2hrs

Ingredients:

14
ingredients
Butterbeer Cake

nonstick cooking spray

white cake mix (plus required ingredients)

1 1⁄4

teaspoons butterscotch extract

2 1⁄2

teaspoons christmas red gel food coloring

yellow candy melts

black candy melts to decorate cake

2

tablespoons butterscotch syrup

acetate cake collars to decorate cake

Frosting

4

ounces cream cheese, softened
1⁄3 cup sugar
1⁄2

teaspoon butterscotch extract

1⁄8 teaspoon salt

2

cups heavy whipping cream

lemon yellow gel food coloring
directions
Make the Butterbeer Cake:

Preheat oven to 350 F degrees. Line a baking sheet with parchment paper and spray with nonstick spray.
Add cake mix plus required ingredients into a bowl of a standing mixer fitted with a paddle attachment. Beat on medium speed for 5 minutes until combined. Turn off mixer and add butterscotch extract and red gel food coloring. Beat until combined.
Pour mixture into prepared baking sheet. Bake for 25 minutes or until a toothpick inserted into the center of the cake comes out clean. Let cake cool completely in pan.
Use a 3-inch round cookie cutter to punch out 12 rounds of cake. Cut each round in half horizontally so that the cakes are about ½ inch tall.
Whisk together butterscotch syrup with 1 tablespoon of hot water. Brush tops of cake with mixture and set aside.

Make the Decorations:

Add yellow candy melts to a microwave-safe bowl and microwave in 30 second intervals, whisking in between, until melted. Transfer to a piping bag. Pipe out 4 lightning bolts onto a parchment-lined baking sheet, using a template if needed.
Repeat with the black candy melts, piping 4 pairs of eyeglasses. Set decorations aside in fridge to set.

Make the Frosting:

Add the cream cheese, sugar, butterscotch extract, and salt to the bowl of a standing mixer fitted with a whisk attachment. Beat until fluffy and transfer to a large bowl.
Add the heavy whipping cream to the standing mixer and whip to stiff peaks.
Fold the whipped cream into the cream cheese mixture in 3 batches.
Transfer about a fourth of the mixture to a piping bag fitted with an 826 star tip.
Add the yellow food coloring to the remaining frosting, about 1 teaspoon, and gently fold with a spatula to combine. Transfer to a piping bag fitted with an 806 round tip.

Assemble the Cake:

Position acetate cake collars on a parchment-lined baking sheet.
Push a cake round into the bottom of the cake collar. Pipe in a layer of yellow frosting to cover the cake round, but do not smooth over. This helps keep clean layers. Add another cake round and another layer of yellow frosting. Top it off with a final cake round.
Repeat with the remaining 7 cake collars.
Carefully peel off acetate. Pipe a small swirl of white frosting on top and garnish with the glasses or lightning bolts.
Questions & Replies

Got a question?
Share it with the community!
Reviews
There's no butter in beer, either. Did you think that the CILDREN in Hogwart's, who were so closely monitored, would be drinking BEER? There's no beer in root beer, either. It's a fictitious name, made especially for the Harry Potter universe, and has been explained over and over as being butterscotch in flavor. Since it's an imaginary name, from a literary world, trying to fit it into the everyday world doesn't make much sense. Sit back and enjoy the butterscotch. Oh, I should mention that in THIS and most other recipes, there's no "scotch" in butterscotch.

 

37 percent of kids in the U.S. have read a Harry Potter book and 49 percent of kids aged 15 to 17 have read a Harry Potter book. Therefore fictional "terms" in these excellent works of fiction have now enetered the mainstream: and "Butter Beer" is one of them. Almost any kid in the USA and the developed world knows that there is NO alcohol in Butter Beer! BTW there is also NO alchohol/beer in Root Beer, but it's still called Root Beer! There's also no licorice in Red Licorice! And there is neither egg nor cream in the East Coast soda fountain favorite Egg Cream. So relax with the world-policing and enjoy some Butter Beer from the Leaky Cauldron!