Honeydew With Smoked Salmon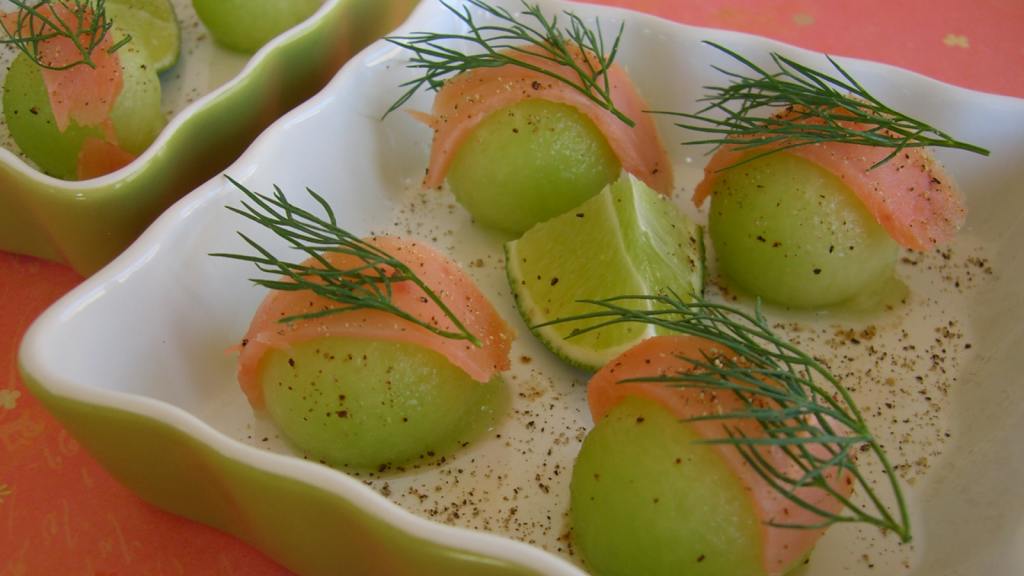 Ready In:

10mins

Serves:

Units:
Nutrition Information
directions
cut honeydew into quarters, remove the seed and rind.
cut each quarter into 4 thin wedges and sprinkle with lime juice.
wrap a slice of salmon around the center of each wedge and place 2 on individual plates.
sprinkle with pepper and dill before serving.
Submit a Recipe Correction
Join The Conversation
Chia, when I saw this posted as "Recipe of the Day", I knew exactly what I was going to have for lunch! I had everything but the dill already (next time will be sure to have!). I've always loved honeydew with prosciutto, but, never thought about lox with the melon. This was absolutely wonderful! The combination of sweetness, saltiness, and freshly ground pepper...Unbelievably good! Today, it was lunch, but this will surely be a hit as an appetizer. Thanks, so much, for posting. Alan

The most wonderful, beautiful, well-balanced appetizer!!!!! The flavors here are spectacular!!!! The salt from the salmon, sweet from the honeydew, acid tang from the lime, and a depth of flavor from the dill!!!!! Then the beauty of these colors!!!! I cannot say enough good things about this wonderful and easy to put together appetizer!!! I made melon balls instead of wedges because I could not resist, I loved the different geometric shapes and the visual appeal!! Talk about a gem!!! Wonderful summer appetizer, thank you so much!!!!!!!

It's Sukkot, it's hot, we only have one fan blowing in the sukka and there are 15 people in there vying for the breeze. I served this up as the appetizer for a festive meal and it was perfect, got raves galore! I never had savory honeydew before, the saltiness of the lox and the bite of the pepper really brought out the sweetness of the melon. Thanks, this one goes into the "Impressed" file!