Honeycomb Candy - Aka Hokey-Pokey or Sponge Candy
photo by Sandi From CA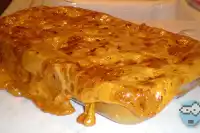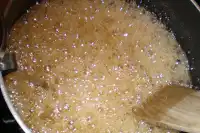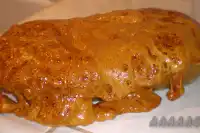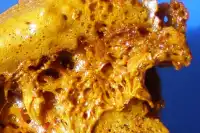 Ready In:

20mins

Ingredients:

6
directions
In a saucepan, combine the sugar, corn syrup, honey, and water, and using a wooden spoon, stir constantly over low heat until the sugar is fully dissolved.
Put candy thermometer into the mixture to monitor temperature, increase the heat and boil mixture to exactly 270 degrees F (132C).
Reduce heat to as low as possible and maintain the temperature 270F for exactly 15 minutes.
It is very important that the temperature of the mixture does not fluctuate; if the temperature begins to rise, remove the pan from heat occasionally to reduce the heat.
After the temperature has been maintained for 15 minutes, remove the pan from heat, take out the thermometer, and allow the bubbles to subside.
Using a wooden spoon, quickly stir in finely sifted baking soda.
Immediately and quickly pour the mixture into a large oiled baking dish.
(Please note, important: the pouring step requires strength and you'll be handling extremely hot liquids; if you're not strong and agile enough you might want to leave that step to a strong and able assistant.) When candy has completely cooled, remove from pan and break into pieces.
Many lovers of honeycomb candy like to coat the pieces in chocolate- you can dunk the pieces into melted chocolate if you like.
Questions & Replies

Got a question?
Share it with the community!
Reviews
I made this in response to a request for home made Violet Crumbles, a sort of national candy bar in Aussieland. It worked really well. You need to do it in a fairly large saucepan since it foams up fairly spectaularly when the baking soda is added. Great care needs to be taken - it's extremely hot. Also, it's important to have the oiled baking tray all ready before you start. We broke it up when cooled and dipped the pieces in melted milk chocolate - major yummy. It keeps in a really airtight container for a few days, but once air gets to the honeycomb it starts to dissolve. I would not recommend this recipe to be made by children, even with supervision. The sugar gets much too hot.

 

I can't leave stars until I get this right! This isn't only my first time making honeycomb candy, it's my first time making ANY candy. I'm not big on sweets, but this is one that I used to love as a kid, so I thought I'd give it a go. Well, major failure ensued, but I'm sure it was my own fault. My candy thermometer is slowwww to register the correct temperature, so by the time it said 270F, it was actually well over 300F. So I took it off the burner and, naturally, by the time it registered 270F again, it was actually far below that. I'm not sure how to maintain the correct temperature without an instant read CANDY thermometer, but if anyone has any ideas, please let me know. I ended up burning it, even though it was on the burner for fewer than 10 minutes after the initial sugar dissolving part. Then, when I put the baking soda in and stirred.... WHOOPIE!! What fun that was! What a mess it was! I poured it into the oiled baking dish and STILL it kept rising! Up and over the edges and onto the counter it went, and I hadn't even emptied the saucepan yet! It was EVERYWHERE. :lol: I then made the mistake of touching the surface to see if it was hard (the overflowed edges were), but it wasn't and subsequently deflated. It tasted pretty good and I can see how, if one doesn't burn it, it would be right on the money taste- and texture-wise. After chiseling all the hardened candy from the pan, dish and counter top, (hot water releases the INSANE glue it creates), I ended up with a couple of ounces of edible candy, which I'm now happily munching on. Thanks for posting, Julesong!

 

I cannot Thank you enough for this recipe. I have been searching for a week, I didn't know a name for it. I didn't know any ingreadients. I only knew what it looked like, from back when I was a child. (long long time ago). So I have asked others if they knew the name, and I have searched the web, to no help. Until today. Thank you soooo very much JDL253

 
RECIPE SUBMITTED BY
<p>It's simply this: I love to cook! :) <br /><br />I've been hanging out on the internet since the early days and have collected loads of recipes. I've tried to keep the best of them (and often the more unusual) and look forward to sharing them with you, here. <br /><br />I am proud to say that I have several family members who are also on RecipeZaar! <br /><br />My husband, here as <a href=http://www.recipezaar.com/member/39857>Steingrim</a>, is an excellent cook. He rarely uses recipes, though, so often after he's made dinner I sit down at the computer and talk him through how he made the dishes so that I can get it down on paper. Some of these recipes are in his account, some of them in mine - he rarely uses his account, though, so we'll probably usually post them to mine in the future. <br /><br />My sister <a href=http://www.recipezaar.com/member/65957>Cathy is here as cxstitcher</a> and <a href=http://www.recipezaar.com/member/62727>my mom is Juliesmom</a> - say hi to them, eh? <br /><br />Our <a href=http://www.recipezaar.com/member/379862>friend Darrell is here as Uncle Dobo</a>, too! I've been typing in his recipes for him and entering them on R'Zaar. We're hoping that his sisters will soon show up with their own accounts, as well. :) <br /><br />I collect cookbooks (to slow myself down I've limited myself to purchasing them at thrift stores, although I occasionally buy an especially good one at full price), and - yes, I admit it - I love FoodTV. My favorite chefs on the Food Network are Alton Brown, Rachel Ray, Mario Batali, and Giada De Laurentiis. I'm not fond over fakey, over-enthusiastic performance chefs... Emeril drives me up the wall. I appreciate honesty. Of non-celebrity chefs, I've gotta say that that the greatest influences on my cooking have been my mother, Julia Child, and my cooking instructor Chef Gabriel Claycamp at Seattle's Culinary Communion. <br /><br />In the last couple of years I've been typing up all the recipes my grandparents and my mother collected over the years, and am posting them here. Some of them are quite nostalgic and are higher in fat and processed ingredients than recipes I normally collect, but it's really neat to see the different kinds of foods they were interested in... to see them either typewritten oh-so-carefully by my grandfather, in my grandmother's spidery handwriting, or - in some cases - written by my mother years ago in fountain pen ink. It's like time travel. <br /><br />Cooking peeve: food/cooking snobbery. <br /><br />Regarding my black and white icon (which may or may not be the one I'm currently using): it the sea-dragon tattoo that is on the inside of my right ankle. It's also my personal logo.</p>
View Full Profile