Honey Seared Chicken (Pf Chang's Copycat)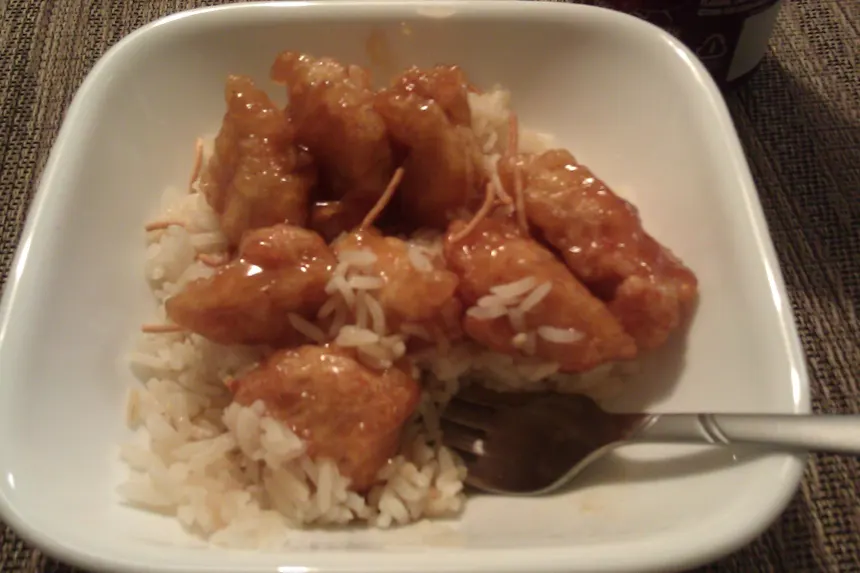 photo by dublinbu

Ready In:

55mins

Ingredients:

16
directions
Mix the ingredients for the batter together thoroughly and let sit in the refrigerator for a couple of hours.
Coat chicken with seasonings and marinate in the refrigerator for 20 minutes.
Coat chicken with batter and fry in oil (I did not write down the directions to this as it seemed self explanatory at the time).
Mix ingredients for the sauce together. When ready to eat, mix 1/4 cup water with 1/4 cup cornstarch.
Bring the ingredients for the sauce to a boil and add the cornstarch mixture slowly, boil 1-2 minutes. It should be like loose honey.
Coat the cooked chicken with the sauce.
Questions & Replies

Got a question?
Share it with the community!
Reviews
Not sure how you could possibly have a bad experience with this recipe enough to give one or less stars, but this is one of the few recipes on food.com I have been amazed with. I made this for my wife last week without measuring properly and it was okay, but not as good as this time. When you measure everything out and follow the recipe right, it's just like the real thing! My wife loved it so much she had me make extra for her to eat while I'm away at work.<br/><br/>One note - if you don't have Sake or Rice Wine, you can use a 3:1:1 mixture of Vodka, Tequila, and Water for a fairly similar taste. Also, the recipe doesn't say to do this, but if you watch at PeiWei, when they have the chicken fried, they put it in a wok with sauce and toss it around - that's how you get it to taste right. Don't put too much sauce (alternatively not too little either), but toss it around on the pan for 25-30 seconds at medium to medium-high heat and then pour on top of the rice with some chow mein or rice noodles and you're good to go!

 

Well... this was amazing! I have been OBSESSED with PF Chang's/Pei Wei's Honey Seared Chicken for months, and this recipe comes pretty darn close to the real thing (if not better!). I don't remember how long I fried my chicken in the oil, but it was no more than just a few minutes on each side (shorter and shorter amounts of time per batch, as the oil got hotter and hotter). It was served with Target's microwaveable bag of teriyaki vegetables and brown rice. DUH. LISH. US. Getchur apron on and start fryin'!!! I'll definitely be making this again :-)

 

I LOVE P.F.Changs Honey Seared Chicken! The closest one is at least 2 hours away. We have a local restaurant who serves something similar. I CRAVE this, but my hubby isn't one to want to spend $30+ on a meal very often and thinks it tastes like it's frozen from restaurants. <br/><br/>So, began my mission to find a recipe to make at home. I tried one other recipe and it was horrible. I almost gave up, but I want to eat it more than every 6 months or so. This recipe is better than any restaurants we've tried. It is difficult to find Sake or RIce Wine around my area. We just became a partially wet county after 40+ year of being a dry county. You still have to drive quite a distance to get any hard liquor. We used a white wine and it was still better than the restaurant.