Honey-lacquered Duck With Sour Cherry Sauce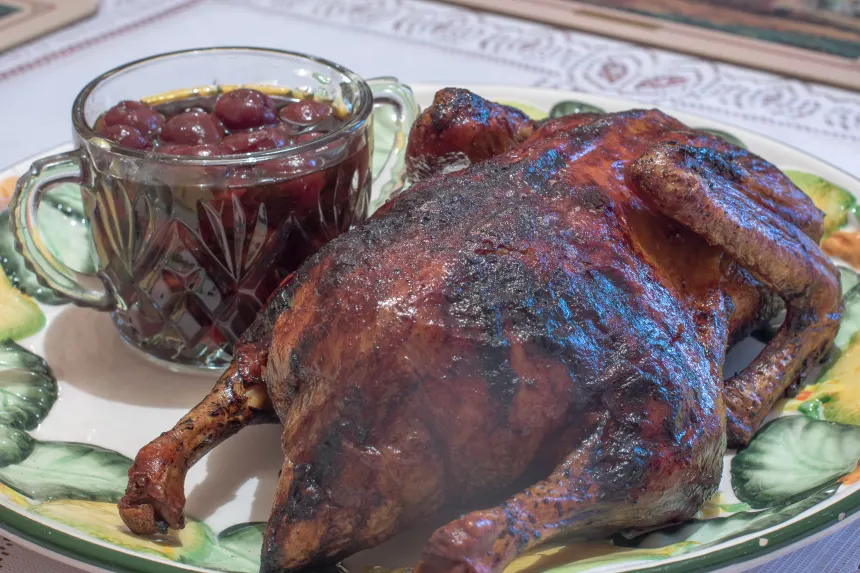 photo by Peter J

Ready In:

2hrs 20mins

Ingredients:

8
directions
Put 10-12 sage leaves into a small saucepan with 1 cup of water and bring to the boil; simmer for 7 minutes and remove from heat; remove leaves and allow to cool.
Wash the duck out and pat dry with paper towels; season generously with salt and put on a plate in the refrigerator to air-dry for 1 hour (2 hours is even better ;-) ).
In a small saucepan, combine sage infusion, honey, balsamic vinegar and soy sauce and bring to the boil; boil at medium-high heat for 7-8 minutes until mixture becomes slightly syrupy and is reduced to 2/3 of a cup; pour 1/3 cup+ 1 tblsp into measuring cup and keep remainder in saucepan.
Preheat oven to 415F°.
Put duck in roasting pan, breast-side-down and roast for ½ an hour (drain fat off, retain); turn duck breast-side-up and roast ½ an hour longer (drain fat off again, retain); brush duck with the honey glaze and continue roasting 15 minutes; after the 15 minutes, turn duck so that it is breast-side-down again and brush with more honey glaze, do this once more after 15 minutes then turn duck breast-side-up again, brush with glaze and roast for a final 15 minutes; in all, the duck will have roasted a total of 2 hours and have had 4 glazings, 1 up, 2 down, and the last one up again; remove roaster from oven and allow duck to stand for 10 minutes while you finish the sauce.
Pour off the fat you have retained into a small container (duck fat is great for frying potatoes!) and pour any accumulated duck juices into the saucepan containing the remaining honey glaze; add the cherries and any accumulated cherry juices as well as the cinnamon and bring to a boil; boil for 7-8 minutes, or until cherry sauce has become slightly-thickened and syrupy (if you want your sauce slightly thicker, you can sprinkle 1/2-3/4 tsp of cornstarch over cherries).
Carve duck (in our case, this just means quartering the duck), and serve with the sour cherry sauce.
Note: I have a special double-lined roaster, with one inclined tray with a hole in it fitting over a classic pan, this allows the fat to drain off the roasting meat, drip through the hole, and gather in the pan underneath; if you do not own this type of pan, use a classic roaster but drain fat off roasting duck more often.
Questions & Replies

Got a question?
Share it with the community!