Honduran Coconut Seafood Soup (Sopa Catratcha De Mariscos Con Un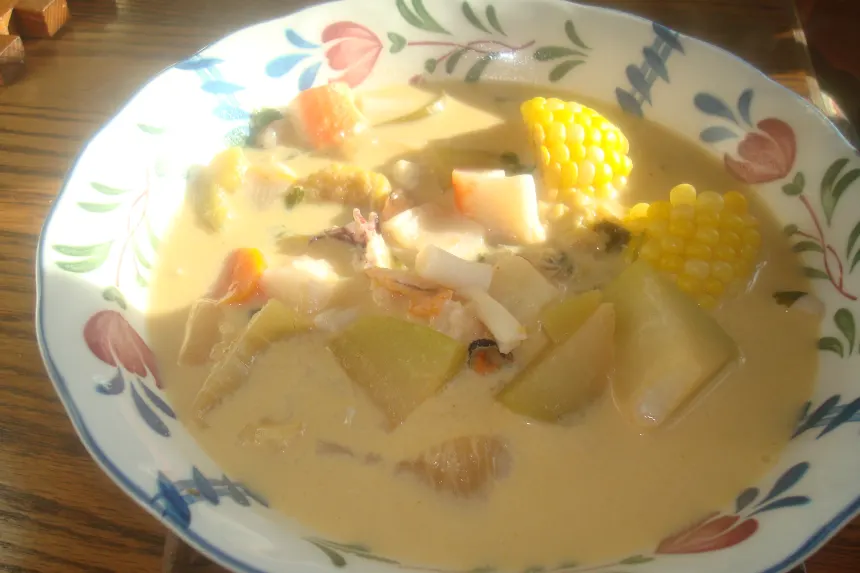 photo by West Side Chef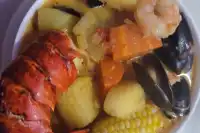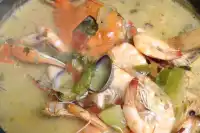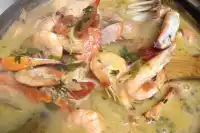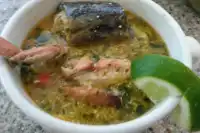 Ready In:

1hr 40mins

Ingredients:

26

Serves:

8-10
directions
Clean crabs front and back (take off hair and cut the tips of the legs). (Don't forget!) to whack the crabs really hard with a rock or hammer before you put them in the pot (so that they can soak up the flavor more).
Put crabs in large stock pot with the margarine.
Add green peppers, tomatoes, and onions, one cube of chicken bullion, cilantro, parsley, and some spices all over low heat.
Mix and move the crabs.
Next, put some hot water (about one-third to one-half the size of your pot) and some salt. Keep mixing.
Add the shrimp bullion, another cube of chicken bullion, and the Worcestershire Sauce. Put the achiote powder in for color.
Peel and cut the chayotes into slices and then 6 times into chunks. Don't forget to take the seed out of the middle. Add the chayotes to soup.
Peel and cut into round pieces the three yuccas (you have to cut the hairy and red part, and then peel it until you completely remove the casing.) Add to the soup.
Wash the plantain skins, then cut the plantains into 5 chunks each. (You can add the plantains with the skin on or removed.) Add to the soup.
Let boil until vegetables cooked. When pataste ready add fish and shrimp.
Add coconut milk, sugar and conch (If you have it!).
Finally, allow the soup to simmer for at least 20 minutes. My friend always told me that after adding the coconut milk to not to look at the soup until you serve it. You can serve it with lime, avocado, rice. Enjoy with tortillas.
Reviews
Awesome recipe, I once worked with a few guys on a tug boat in the Caribbean, as soon as we got to Puerto Rico and the Dominican Republic they bought as much conch as they could ;because it was cheaper there than in America, then made this soup on the way back, they called it "Bando" on the boat and used bone-in red snapper for the fish. The bones made it tricky to eat but it was some of the best food I've ever had.