Homemade Sun-Dried Tomatoes-Microwave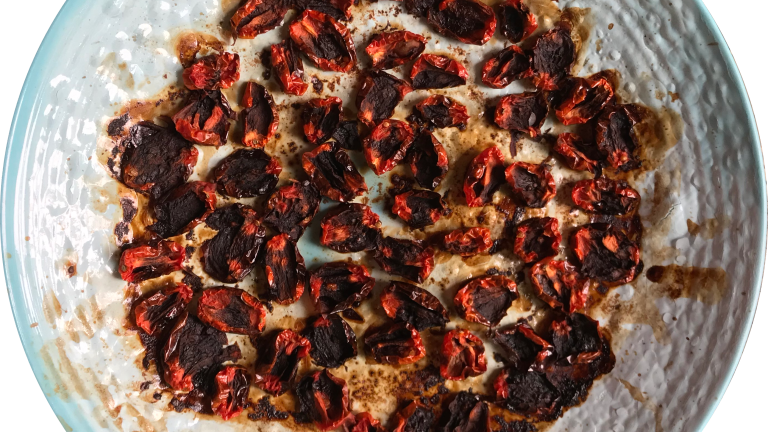 Can you believe you can actually MAKE these in your microwave? Since I don't know how to do canning, this is a great way to preserve tomatoes from the garden.
Ready In:

1hr 10mins

Serves:

Yields:

Units:
directions
Rinse the tomatoes. Cut them in half lengthwise and scoop out the seeds and centers with a small spoon.
Place the tomato halves, cut side down, on a plate large enough to hold them in 1 uncrowded layer. Microwave, uncovered, on HIGH for 15 minutes.
Pour off any excess liquid. With a spatula, gently turn the tomatoes over, patting the pulp back into the skins as you turn.
Microwave, uncovered, on HIGH for 10-15 minutes more, depending on the size of the tomatoes, or until they have completely collapsed and are dried out but still supple.
Remove from the microwave and let stand 30 minutes without disturbing.
Lift the tomatoes off the plate and use right away or store in a loosely sealed plastic bag in the refrigerator.
After 2 days, seal tightly and return the bag to the refrigerator. The dried tomatoes will keep indefinitely.
Note: Don't worry if the tomatoes seem collapsed beyond hope after the first 15 minutes. When they dry out more and cool off, their shape returns.
Submit a Recipe Correction
The idea sounded too good to be true and I'm afraid my early experiment has failed miserably. Clearly I had not calculated for the increase in power of Microwave Ovens since this 2005 article was first published and even using 10 minutes for the first side I ended up with an exploded, gooey mess in the Microwave. Does anyone have an update for power wattage to time ratios for more modern microwaves? Until then, I'm back to overnight in a warm oven instead.

This recipe simply did not work for me. 100% power was too high, 10-15 minutes was too long and scooping out the insides only produced burned skins with no meaty sweetness left behind. I used what I had in abundance from my garden: regular, garden variety tomatoes that most everyone I know grows. I tried leaving the insides intact, cutting the power to 50% and limiting the time to 6-7 minutes on each side but still did not get the results I wanted. Nothing in between worked either! I did find that sprinkling them with a little kosher salt and adding a drizzle of olive oil helped the flavor, but the end result was still disappointing.

I have used this recipe twice and had good results. The first time I used small vine ripened tomatoes and the secod I used grape tomatoes. The grape tomatoes I put in for just a few minutes at a time so they wouldn't burn (they are so small) but I LOVE them. Couldn't stop snacking on them as I was taking them off the plate. My only advise would be watch the cooking time to make sure they don't get too overdone. They do cook a bit more when they sit after cooking Yum! Oh, & I did drizzle a small amount of olive oil on them before cooking just like I would if I were roasting them in the oven.