Homemade 'Oxygen' Cleaner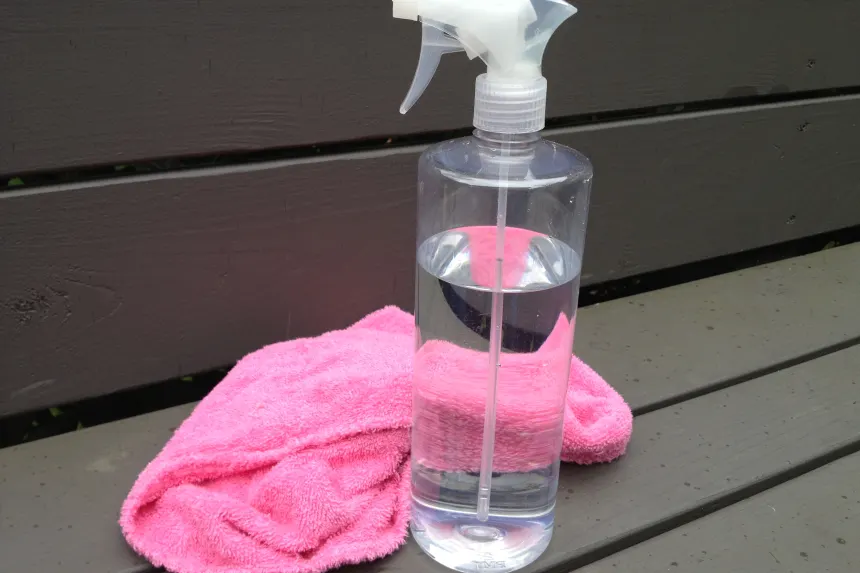 photo by Liza at Food.com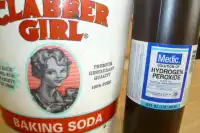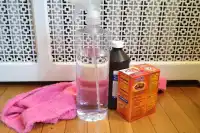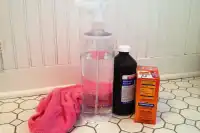 Ready In:

5mins

Ingredients:

3
directions
It removes even old blood stains!
Just soak the clothing in it for 20 minutes to overnight and then wash as usual.
This will not harm fabric like bleach.
It doesn't seem to harm colors either!
Questions & Replies

Got a question?
Share it with the community!
Reviews
I've been using the name brand oxygen cleaner for a couple of years and the results from this recipe are impressive. I plan to try this using the pre-wash cycle on my washing machine, but have had good results using it as a pre-treater for stains on whites and light colored items. Thanks for sharing a useful recipe.

 

My friend bought the " other expensive stuff " and wasn't pleased with the results at all, so I knew I wouldn't waste my money buying it either. I came across this recipe, using my washer on the " mini " setting, I used 16 oz each of baking soda and hydro perox. because the water ratio had increased. I tossed in 5 " Parrothead " t - shirts ( white background / coloured scenes ) that had become yellowed on one side only ( DH had smoked in the bedroom ). I also tossed in a few pairs of ground in dirt white socks ( I " borrow " his white socks to run around the house ( & outside..shush ) - my intelligent blond logic to him... " But honey, See how dirty the floors really are ! ". I swipe them because they are so much thicker than womens socks, but he wouldn't care about that. I added the dry ingredients after the washer filled, agitating them a few minutes to mix. Added the clothes and socks letting them run as a wash for 10 minutes, turned off the machine ( only have a max 12 minute cycle ), reset the machine back to 12 minutes, did another 10 minute cycle, shut it down at that point, then forgot about them till the next day ( what can I say..LOL ), I then washed as usual after completing the full cycle. I've never seen white so white, it didn't bleed nor fade any of the colours and it dissolved the ground in dirt..AMAZING !!!!!.. Thank you for an awesome recipe, It cost me $.71 total for the soda & perox. It doesn't get any better than this !!! And, yes I will still " borrow " his socks. Keeps him happy, his knowing I'm so logical when it comes to seeing how dirty the floors can get so quickly...Thank you again for this recipe, it's the best !!!!!

 
RECIPE SUBMITTED BY
I live in Las Vegas. I was lucky enough to run into Recipezaar around Nov. 2000 and got hooked quickly. I am a cookbook collector and have been collecting recipes for as long as I can remember. My DH had to build in shelves for all my cookbooks! I like to dabble with OAMC and for a few years hosted the Budget/OAMC forum with some great people over there. Even though I don't work in the forum any longer I've set up a lot of cookbooks for the purpose of OAMC and stretching food that might be helpful. Please feel free to check them out! I go on food jags and cooking jags! Please come say hi to me and chat on facebook. I currently host a blog for saving money through finding deals and coupons if you are interested. Most of the time I try to cook and have a good dinner on the table but I'll be honest enough to say there is still fast food occasionally in the budget! I have had such wonderful support here whenever I need it. Thank you all for being here! Just a quick note on how I rate recipes: ? 5 stars - This recipe is perfect. (My DH is truly a critic and doesn't give 5's unless it's amazing) I would recommend it to others and would definitely make again. ? 4 stars - This recipe was good but I would change something in it next time. ? 3 stars - This is a recipe I would not make again but it was OK ? 2 stars - This recipe I would not make again and we didn't like it at all ? 1 star - This recipes did not work out/taste was unappealing and wouldn't make again
View Full Profile