Easiest Homemade Chili Powder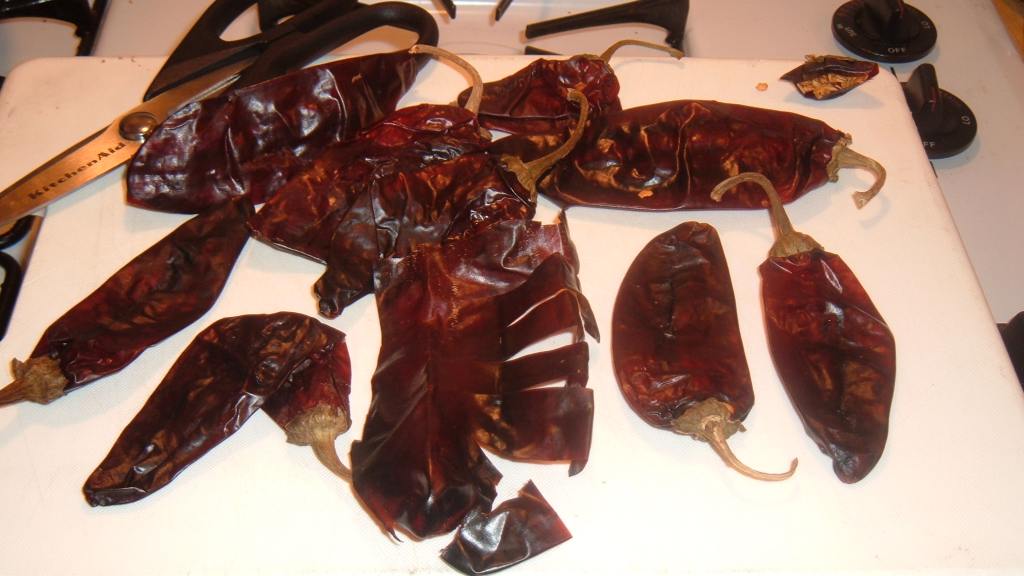 Ready In:

15mins

Yields:

Units:
Nutrition Information
ingredients
1 1⁄2

ounces dried red chilies, medium heat,preferably ancho and new mexican (the origianl recipe used 4 to 2 respectively)

2 -5

dried red chilies, of greater heat,to taste (like Chile de arbol or cayenne)

1 1⁄2 - 2 tablespoons cumin seeds, toasted and ground
1 1⁄2 - 2 tablespoons garlic powder

1

tablespoon ground oregano (preferably Mexican)
directions
Preheat oven to 300ºF.
Break the stems from all chiles, and remove the seeds.
Transfer chiles to a baking sheet, and arrange them in a single layer.
Place pan in heated oven.
(The chile de árbol or cayenne pods will be toasted first, so remove them after 4-5 minutes).
Bake the larger pods and additional 4-5 minutes, until they are well dried.
When cool enough to handle, break them into 2 or 3 pieces each.
Transfer pieces to a blender, and pulverize briefly, until you have powder.
Add remaining ingredients, and blend just until combined.
Store chili powder in a jar with a lid, for up to 3 months.
Submit a Recipe Correction
Join The Conversation
I really love this chili powder recipe! I was interested in making chili powder from scratch as a lot of the commercial mixes have an odd sour note to me and I wanted to have control over the amount of salt used. I will definitely be making this again! FYI: I first used this mix in my chili, so I omitted the cayenne and cumin listed on the recipe to see if this mix would be able to stand on its own. I discovered that, by using this mix, I would not need the additional amounts of either one. I would consider this to be a medium heat level per my Southern California upbringing. Also, I found pre-roasted ground cumin from McCormicks Organic (1-1/2 T whole seeds = 1 T ground).

Just to let folks know that if you cannot find Mexican Oregano it is suggested you use Marjoram. That's not my word, that is the word of Mexican chefs. Italian Oregano has a different taste profile, which I may use in many of our Italian dishes at home, but for pizza sauce as well as Mexican food I use Marjoram or Mexican Oregano from my local Michoacana Meat Market. Ciao for now, Chow for L8rs. Woo Hoo May the forks be with you. #_ga-

Thank you SO MUCH for a recipe that actually used whole dried peppers! I have searched off and on over the last year for a chili powder recipe that does and actually gives the specific types of peppers. Due to some very extreme food intolerances I can't eat commercial chili powder (cross contaminated somehow with corn...) and have been trying to wing it on my own. I never could quite figure out the ratios of chiles to make a good powder so we have just been using them individually. That's really frustrating when I just want to dump in premixed chili powder. I use New Mexico chiles for a paprika replacement, but I like California chiles quite a lot too. I'm always surprised at the 'smoky' flavor that Ancho chiles have. I'm not a big fan of Cayenne just because it is easily too hot for me (but I learned long ago that I can just swap a portion of it with paprika to tame it down.) My husband brought home some Guajillo chiles a couple of weeks ago that I haven't tried yet but look interesting. If the chiles are already dry, is the oven step really needed? I hope to try this recipe soon.

5 stars,Miss Annie!! My first comment...Holy HOT!! This recipe is outstanding with sooooo much more flavor then the poor imitation I have buying at the store all these years. I just added 4 tsps. of this lovely stuff to some of "Barb's Yankee Chili"(you know how we love our moosemeat & beans...insert eyeroll here). Anyhoo... My lips and tongue are still in recovery...I can hardy wait until supper time. Everything should be mellowed and melded by then.My only change...added 2 tsp. of some wonderful smokey paprika I had hiding in the cupboard. Great recipe...I plan on making some gift jars this summer. Thanks for posting, Miss Annie!