Homemade Baked Ziti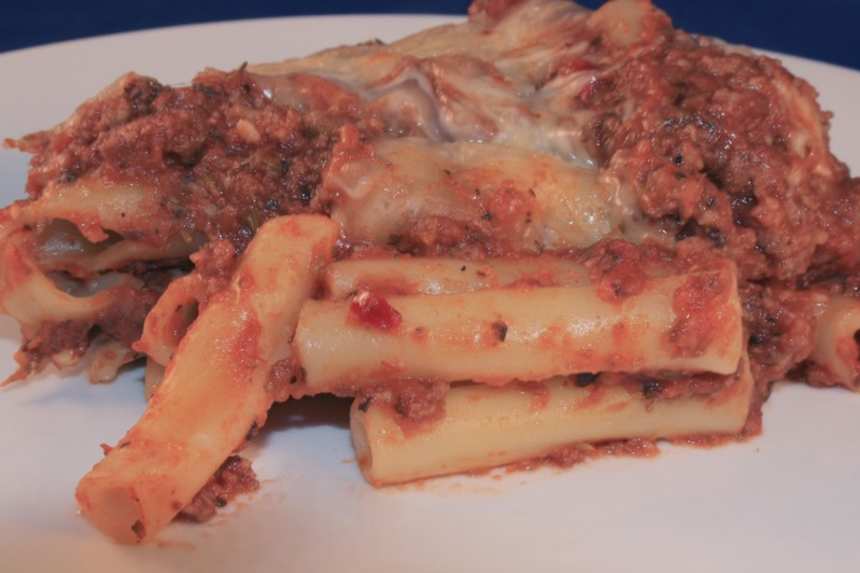 photo by CandyTX

Ready In:

1hr 30mins

Ingredients:

20
directions
Preheat oven to 350°F
To make the sauce: First, brown the ground beef and Port. Sausage in separate frying pans over medium heat. Make sure the beef is in a large frying pan, and drain the fat. When the sausage is done, pat it dry with paper towels to remove the grease. When the beef is just about done, grind the pepper over the beef, probably about 1 Tbsp worth.
Add about 1/2 to 1 Tbsp soy sauce and mix it in to the beef.
You can replace the soy sauce with salt, but it adds a nice zing to the flavor.
At this point, I usually cut the onion into chunks and throw it into my Cuisinart with the garlic, and shred them to bits, and toss them in .
But sliced into small bits works well also.
Add the onion and garlic, and let cook down (covered) until the onion gets a little clear.
I add a little oil here sometimes, depending on how much fat was in the meat. Add the tomato paste, and mix it in .
I do the paste first because it makes it faster and easier to get the consistency right when the sauce comes in .
Add the sauce and mix it well.
Add generous amounts of the oregano and Italian Seasoning.
Don't go overboard on the basil though.
Add the bay leaves.
Let it simmer.
Mix it, and let it simmer longer.
Start the water boiling for the ziti.
Add some salt and oil to the water to make it boil quicker, and to help keep the zitis from sticking.
Throw the green pepper, sausage, and mushrooms into the sauce. Next stir about 4 or 5 Tbsp Parmesan cheese in to the sauce. When the ziti is done, drain them and dump into a large rectangular Pyrex.
I don't remember the exact size, but I think its around 9x18.
You may have a touch too many zitis, but they are delicious plain, so eat any extras.
Once the Parmesan has melted into the sauce and made it stringy, and the sauce has thickened, stir the sauce into the zitis.
Mix it all well.
Now, lay the sliced mozzarella over the ziti like shingles on a roof.
Sprinkle over some more Parmesan, maybe a tablespoons.
Bake at 350°F for 45 minutes to 1 hour.
Questions & Replies

Got a question?
Share it with the community!