High Roasted Turkey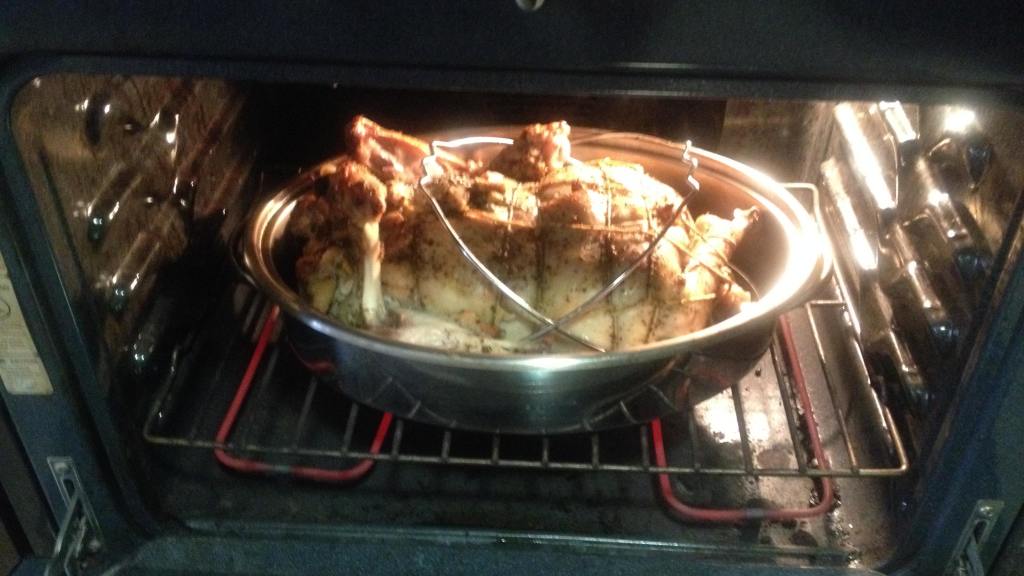 Ready In:

2hrs

Ingredients:

4

Serves:

12
ingredients
1 1⁄2 cups kosher salt or 1 cup table salt

1

cup sugar

1

(12 -14 lb) gross weight whole turkey, butterflied, rinsed thoroughly, giblets, neck, and tail piece removed and reserved for gravy

1

tablespoon unsalted butter, melted
directions
To brine the turkey: Dissolve salt and sugar in 2 gallons cold water in large stockpot or clean bucket.
Add turkey and refrigerate or set in very cool spot (not more than 40°F) for 8 hours.
Set slotted broiler pan top on top of roasting pan with foil-covered dressing and spray with nonstick cooking spray; set roasting pan on baking sheet to support bottom.
Remove turkey from brine and rinse well under cool running water.
Position turkey on broiler pan top; thoroughly pat surface of turkey dry with paper towels.
Refrigerate turkey and dressing, uncovered, 8 to 24 hours.
To roast turkey with dressing: Adjust oven rack to lower-middle position and heat oven to 450°F.
Remove broiler pan top with turkey and foil cover over roasting pan; replace broiler pan top with turkey.
Brush turkey with melted butter.
Place entire assembly with turkey in oven and roast until turkey skin is crisp and deep brown and instant-read thermometer reads 165 °F when inserted in thickest part of breast and 175°F in thickest part of thigh, 80 to 100 minutes, rotating pan from front to back after 40 minutes.
Transfer broiler pan top with turkey to cutting board, tent loosely with foil, and let rest 20 minutes.
Meanwhile, adjust oven rack to upper-middle position, place roasting pan with dressing back in oven, and bake until golden brown, about 10 minutes.
Cool dressing 5 minutes, then spoon into bowl or onto turkey serving platter.
Carve turkey.
Join The Conversation
I made this turkey for Thanksgiving (I had a RecipeZaar Turkey Day this year) and it was a big hit. I was a little confused about step 3 - but I posted a question in the forum and someone clarified for me. I also didn't know how to butterfly a turkey, but I looked it up on the internet and figured it out. The only down side to this is that there are no drippings to make gravy - next time I will probably do a do ahead gravy though. The brining process was easy and made for an moist, delicious turkey - definetely a do over. Thanks, Steve!

Steve, after loving your high-roasted chicken and potatos, I knew this was the ONLY way to cook my turkey. It was fabulous. The meat is so tender and moist, the skin was crisp and brown. I love that when the turkey is butterflied, it is SO much easier to carve. We've been using the leftovers for turkey salad wraps, turkey enchiladas, and turkey soup.