Herbed Seafood Crepes With Mornay Sauce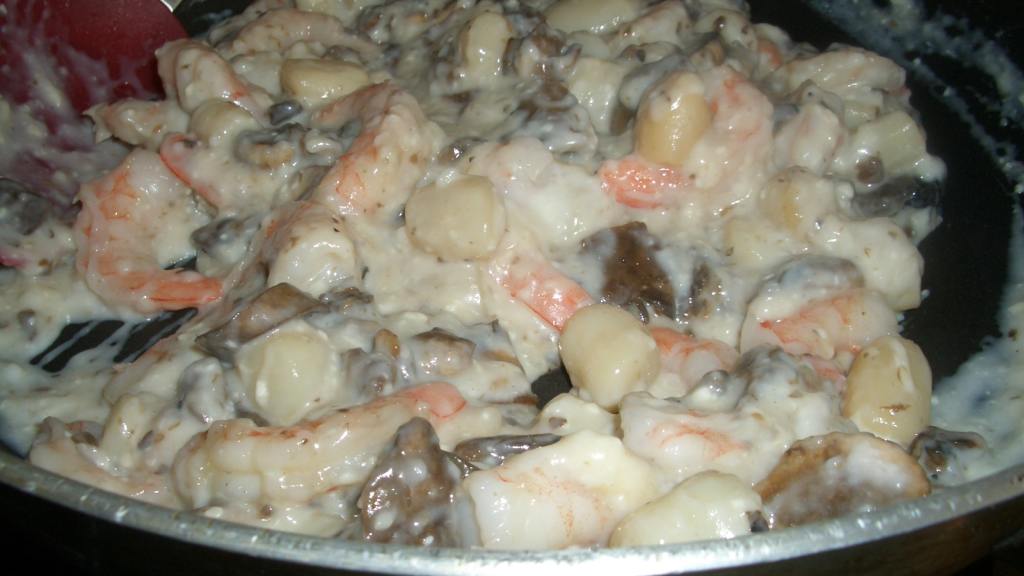 Ready In:

50mins

Ingredients:

17
directions
To Make Crepes:

In a mixing bowl, whisk together flour and salt.
Add eggs and milk and whisk until smooth. Stir in butter and herbs.
Batter should be consistency of thin cream. Let stand 30 minutes, then stir before using. Make crepes in a hot crepe pan or light nonstick pan filmed with butter, if needed. Stack crepes on waxed paper and let stand until ready to use, up to 2 hours, or wrap and freeze. Thaw at room temperature until they can be separated without tearing.

To Make Sauce:

In a saucepan, melt butter over medium heat. Whisk in flour and cook briefly. Whisk in milk and stir until smooth and starting to thicken.
In a small bowl, whisk egg yolk with cream. Spoon a little of the hot sauce into the egg yolk and combine, then stir yolk mixture back into the sauce.
Season to taste with nutmeg, salt and pepper, then stir in 2 T each Parmesan and Gruyere. Stir in cooked seafood and cook briefly until heated.

To Assemble:

Place one crepe on a heat-proof dinner plate and spoon seafood and sauce down the middle. Roll crepe and reapeat. Spoon a little extra sauce over the crepes and sprinkle with remaining cheeses.
Repeat.
Place plates under hot broiler until edges of crepes are starting to brown.
Serve hot.
Join The Conversation
I definitely tweaked this recipe, but totally enjoyed the help it provided. I used home-grown dehydrated dill and tarragon in the batter. Also I used fresh crab and lobster meat, I added one small garden fresh green pepper, some tiny carrots, onion, scant amount of garlic and fresh button mushrooms for the filling, also I reduced a small amount of sherry into the mix. In the sauce I also added some heavy cream as I used no cheese at all, this is a rich dish and I felt the cheese was not needed with the cream, sherry, and nutmeg. It was fabulous! I am in love with the herb crepes now and will try different herb and seafood mixtures in the future, I believe the mushrooms added a lot of taste to the dish , it was splendid.

very good i added baby scallops and imitation crab to the shrimp as i used to buy these at a local grocery store in Campbell River B.C. on Vancouver Island both my husband and i absolutely loved them and i made them for our anniversary and he loved them the only thing is i would not add so much sauce but throw in mushroom buttons and seasonings.