Herbed Country Breakfast Potatoes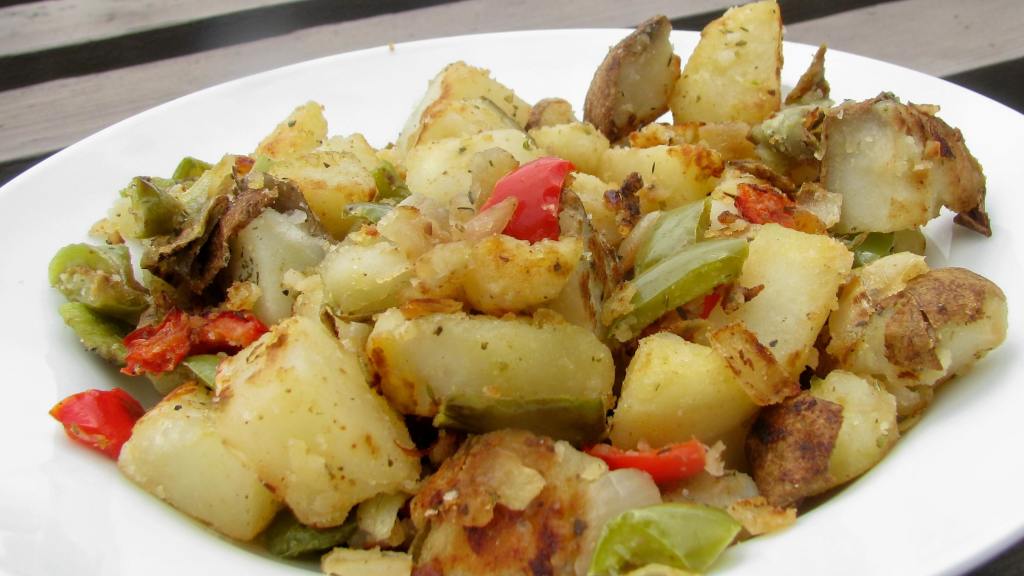 Ready In:

17mins

Ingredients:

12
directions
WASH 3-4 medium russet or red potatoes (or PEEL if desired); dice to 3/4-1 inches; SET aside.
CHOP 1/2 mild medium yellow or red onion; SET aside (also chop about 1/2 cup of tri-color bell peppers into 3/4 inch squares if desired); SET aside.
REMOVE leaves from 2-3 sprigs fresh rosemary and 2-3 sprigs fresh thyme and roughly chop (about 1 teaspoon of each); SET aside (also finely chop 1/2 teaspoon fresh sage if desired); SET aside.
TOSS potatoes in a bowl or on a large cutting board with 1/2 teaspoon paprika, 1/8 teaspoon freshly ground black pepper, and 1 pinch ground cumin.
HEAT 3 tablespoons light olive oil or canola oil in a very large non-stick saute pan over medium-high heat.
ADD potatoes into skillet and fry, turning occasionally with a spatula until lightly golden; REDUCE heat to medium.
SPREAD chopped onion over potatoes (and bell peppers if using) and cook, turning as needed until softened.
SPRINKLE fresh rosemary, thyme and parsley over mixture, and cook, turning as needed until potatoes are golden brown and crisp; REMOVE from heat.
DRAIN potatoes on paper towels; SPRINKLE with fine sea salt to taste, tossing potatoes to distribute seasoning evenly.
SERVE potatoes hot with your favorite main dish and condiments; ENJOY!