Hearty Curried Chicken Bowl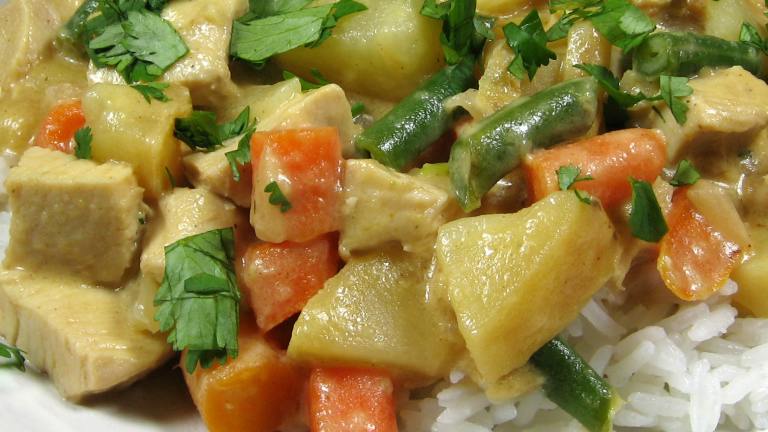 This can either be called a soup or stew, it is very thick and best served as a main meal with crusty bread, it makes a wonderful quick hearty meal on a cool day --- if you prefer a thinner consistancy then reduce the flour a few tablespoons, if you are watching your fat intake pass this one by as there is 3/4 cup butter required for this, if you reduce the flour then reduce the butter to the same amount, adjust the red pepper flakes and curry to suit taste, we like extreme spice so I use about 3 teaspoons chili flakes --- prep time does not include cooking the rice or chicken :)
Ready In:

35mins

Serves:

Units:
directions
In a large saucepan heat butter over medium heat.
Add in onion, pepper flakes carrots and celery; saute for about 4 minutes or until softened.
Add in garlic and cook 2-3 minutes.
Add in flour, seasoned salt and curry powder; cook stirring for 2 minutes.
Add in evaporated milk and chicken broth; bring to a boil stirring constantly until heated through and thickened (about 2-3 minutes).Season with fresh ground black pepper to taste.
Add in cooked chicken and rice or potatoes; stir until heated through.
Ladle into bowls and serve with crusty bread.
Submit a Recipe Correction
RECIPE MADE WITH LOVE BY
"This can either be called a soup or stew, it is very thick and best served as a main meal with crusty bread, it makes a wonderful quick hearty meal on a cool day --- if you prefer a thinner consistancy then reduce the flour a few tablespoons, if you are watching your fat intake pass this one by as there is 3/4 cup butter required for this, if you reduce the flour then reduce the butter to the same amount, adjust the red pepper flakes and curry to suit taste, we like extreme spice so I use about 3 teaspoons chili flakes --- prep time does not include cooking the rice or chicken :)"
Are you kidding me? This is the best! My wife has made this recipe numerous times, each time the meal has been a raging success. The "mise en place" takes a little time but it is worth the effort. We have served between 4 and 15 with this recipe and it is wonderful in a croc-pot or for left-overs too!

This is a tough recipe to review. In it's favor: It's quick and easy. Makes use of leftover chicken and cooked potato. Against it: Not as spicy as I'd like a curry to be, and the chicken has none of the curry flavor, as it's added at the end. Next time I make it (and I will make again because it's so easy) I'll add the chicken at the beginning so it absorbs more of the flavor, and I'll season the sauce more highly - cumin would have been good, as well as more curry powder. Tweaks I made this time: Added green beans, omitted celery, reduced butter to 1/3 what's called for and didn't miss it. I also was glad not to need coconut milk - this curry was not sweet, but savory, as a result. Lots of potential here, and easily tweak to fit our tastes.

I could not wait to try this recipe! I love curry dishes, and I was intrigued with this one as it did not call for coconut milk. Kittencal does it again! This dish is amazingly good! DH absolutely loved it! We can't wait for leftovers tomorrow! I can't wait to make this one again and again! So the details of what I did: 1. I made this with the cubed potatoes, but I think you could still make it with the potatoes and then ladle it over rice. (That's what DH asked me to do for his lunch tomorrow.) 2. Instead of regular chicken broth, I used College Inn Culinary Broth Thai Coconut Curry Flavor. I HIGHLY recommend this - I think it really made the dish - it was perfect. 3. I added 12 oz. of Green Line Green Beans, which are already cleaned and prepared. I poked a hole in the bag, microwaved them for 4 minutes and then stirred them in along with the chicken and potatoes. I love green beans in my curry dishes. 4. The curry wasn't quite as thick as thick as I'd hoped, so I mixed about 1 tsp of corn starch and about 1/2 cup of cold water and then stirred it in and heated it through BEFORE I added the chicken and potatoes. 5. I accidentally left out the fresh ground pepper, but it was still wonderful. We loved, loved, loved this dish. Thanks so much Kittencal!

This can either be called a soup or stew, it is very thick and best served as a main meal with crusty bread, it makes a wonderful quick hearty meal on a cool day --- if you prefer a thinner consistancy then reduce the flour a few tablespoons, if you are watching your fat intake pass this one by as there is 3/4 cup butter required for this, if you reduce the flour then reduce the butter to the same amount, adjust the red pepper flakes and curry to suit taste, we like extreme spice so I use about 3 teaspoons chili flakes --- prep time does not include cooking the rice or chicken :)