Healthy Crab Cakes for My Mom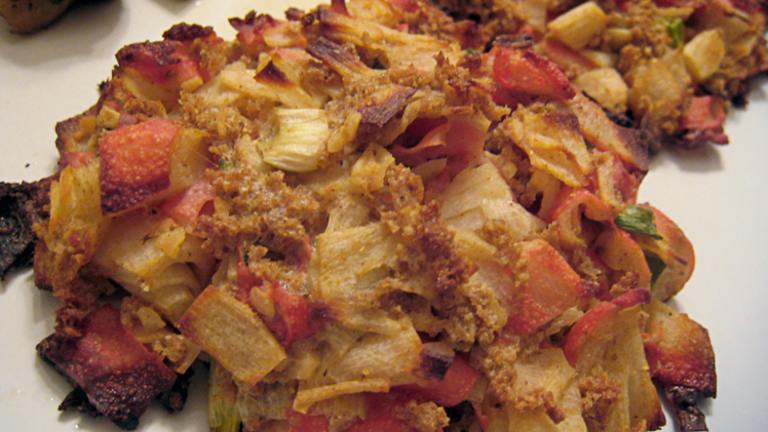 How do you make a decent crab cake for an elderly person on a restricted diet? By accident, I realized I had made quite a few changes when I prepared Maryland Crab Cakes #235084, so I decided to list them here as a separate recipe. I have made many crab cake recipes over the years, but this was a very tasty, but not too rich crab cake; because it was baked rather than fried. It has a whitish appearance rather than golden brown, because I forgot to add a lightly beaten egg. Omitting the egg and additional salt, and baking instead of frying prevented my Mom from being overwhelmed, however these crab cakes may not hold their shape as well sans the egg, which appears to bug my younger brother, but delights Baltimorons who like to brag about too much crab meat in their crab cakes. These crab cakes tasted clean and fresh, letting the crab meat take center stage
Ready In:

40mins

Serves:

Yields:

Units:
directions
Lightly oil baking pan or cookie sheet.
Gently mix, by hand, crabmeat, scallions, herb, Old Bay, bread crumbs, and mayonnaise in medium bowl, being careful not to break up crab lumps.
Divide crab mixture into four portions and carefully shape each into a fat, round cake, about 3 inches across and 1 1/2-inches high. Place on lightly oiled baking pan or cookie sheet so that none of the crab cakes touch. To "set" cakes, cover with plastic wrap and chill at least 30 minutes, and up to 24 hours in advance to this point.
Preheat oven to 350 degrees Fahrenheit.
Bake crab cakes for 12-15 minutes. They will brown only slightly due to the lack of egg or oil. On the bright side, all ingredients are precooked before baking. If you won't settle for less than a golden brown look, brush some lightly beaten egg whites on the exposed crab cake surfaces before baking.
Serve hot with saltine crackers.
NOTE: Don't use jumbo lump backfin for the all the crab meat, as the lumps are too big for the cake to hold together. If trying to impress, use Jumbo Lump Backfin Crab for half the crab meat, and use regular backfin for the other half. .
Submit a Recipe Correction
RECIPE MADE WITH LOVE BY
"How do you make a decent crab cake for an elderly person on a restricted diet? By accident, I realized I had made quite a few changes when I prepared Maryland Crab Cakes #235084, so I decided to list them here as a separate recipe. I have made many crab cake recipes over the years, but this was a very tasty, but not too rich crab cake; because it was baked rather than fried. It has a whitish appearance rather than golden brown, because I forgot to add a lightly beaten egg. Omitting the egg and additional salt, and baking instead of frying prevented my Mom from being overwhelmed, however these crab cakes may not hold their shape as well sans the egg, which appears to bug my younger brother, but delights Baltimorons who like to brag about too much crab meat in their crab cakes. These crab cakes tasted clean and fresh, letting the crab meat take center stage"
How do you make a decent crab cake for an elderly person on a restricted diet? By accident, I realized I had made quite a few changes when I prepared Maryland Crab Cakes #235084, so I decided to list them here as a separate recipe. I have made many crab cake recipes over the years, but this was a very tasty, but not too rich crab cake; because it was baked rather than fried. It has a whitish appearance rather than golden brown, because I forgot to add a lightly beaten egg. Omitting the egg and additional salt, and baking instead of frying prevented my Mom from being overwhelmed, however these crab cakes may not hold their shape as well sans the egg, which appears to bug my younger brother, but delights Baltimorons who like to brag about too much crab meat in their crab cakes. These crab cakes tasted clean and fresh, letting the crab meat take center stage