Healthy Alternative Buttermilk Pancakes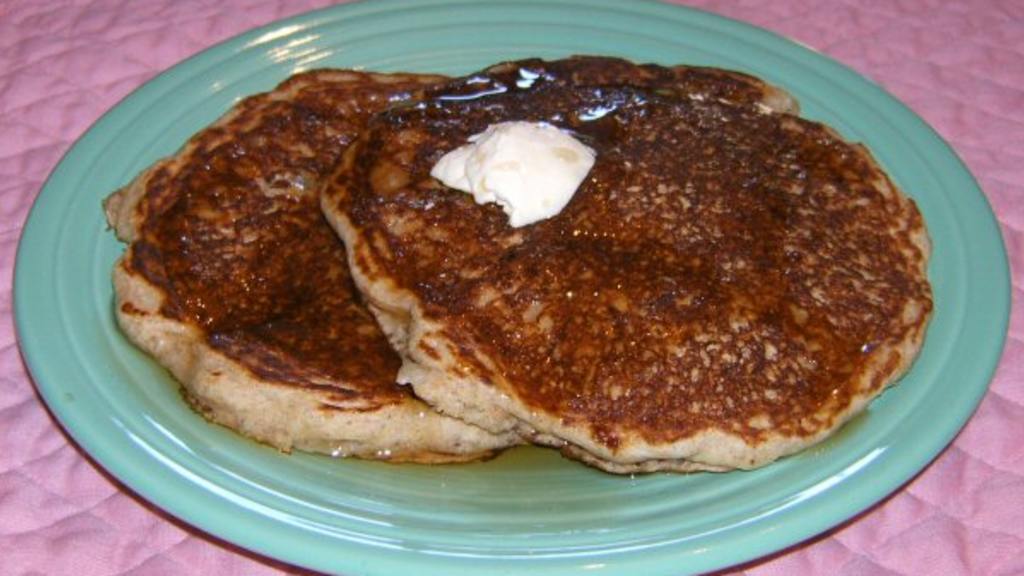 Ready In:

15mins

Ingredients:

8

Serves:

2
directions
Mix together dry ingredients.
In a separate bowl lightly beat together egg, buttermilk, and apple butter (prune puree may be substituted for any pureed fruit or fat replacement product).
Mix dry and wet together.
Let stand a few minutes for oat bran to absorb the liquid. Preheat griddle to medium high.
Spray with non-stick spray, scoop about 1/3 cup of batter onto griddle. Optionally, add fresh fruit such as bananas or blueberries to pancake at this point. When starts to bubble, flip and cook a minute more.
Join The Conversation
I was looking for a pancake recipe that used 1 cup buttermilk because that is all I had. I came across yours. I used 2 eggs instead of egg substitute (didn't have any). I used 2 tablespoons of oil as I didn't have any fruit puree handy. I also added about 1 cup of raspberries that I had in the freezer. I used them frozen and the pancakes took a little more time to cook through. They turned out delicious. I changed the recipe so much I'm not going to rate it. The whole wheat flour and oat bran make these healthy for you.

These pancakes have saved my sanity! I had to go on a gestational diabetic diet during my pregnancy and I enjoy these pancakes every few days. I used wheat bran, which is what I had on hand, and it worked just fined. I also add blueberries and sometimes leave out the Splenda when I do, and they still taste great with a little sugar-free syrup on top. Be sure to add the amount of carbs in prune puree to your carb count, if you have to do that like me.

This made a lovely Saturday morning breakfast for the DH and myself. I had to use unsweetened applesauce for the prune puree because that is what I had and it worked just fine. They came up nice and fluffy and with a very enjoyable texture thanks to the ww flour. Hubby did have one complaint though, he would haved liked more! Excellent and completly guity free pancakes. I topped them with a warmed mixture of suger free applesauce and some sugar free maple syrup. Nummy!