Harvest Pumpkin Cheesecake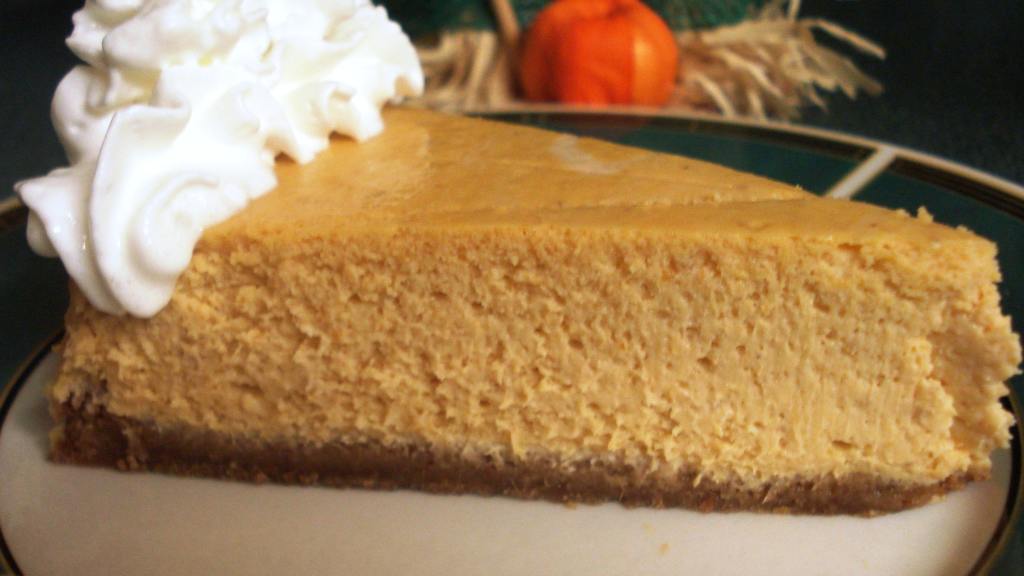 Ready In:

1hr 45mins

Ingredients:

12
directions
In a small bowl, combine cracker crumbs and sugar; stir in the butter.
Press onto the bottom and 2 inches up the sides of a greased 9-inch springform pan.
Bake at 350 degrees for 5 minutes.
Cool on a wire rack.
In a mixing bowl, beat cream cheese, sugar and vanilla until smooth.
Add eggs, pumpkin and spices; beat just until combined.
Pour into crust.
Place cheesecake/pan in a large rectangular baking pan filled with 2 inches of hot water; place in a 350 degree oven and bake for 1 hour or until center is almost set.
Remove cheesecake from oven and water-filled pan and cool on a wire rack for 10 minutes.
Carefully run a knife around edge of pan to loosen; cool 1 hour longer.
Refrigerate until completely cooled (center will fall).
Remove sides of pan just before serving.
Garnish with whipped cream.
Join The Conversation
If you love cheesecake, and you love fall flavors, you'll love this. This was so wonderfully full of pumpkin spice flavors, and that traditional cheesecake flavor and texture, that it was almost a sin to eat. Very rich, very good. The whole family went crazy over it. Also was first attempt at cheesecake. Not as difficult as I always told myself it was. quite simple really. Great recipe and no cracks.

AMAZING!!! I used 2 teaspoons of pumpkin pie spice since I didn't have the recommended spices but otherwise followed the recipe exactly. I got a bit impatient and mixed the cream cheese mixture too soon and it showed :( I just discovered that you can make caramel by boiling an unopened can of sweetened condensed milk for 2 - 2/12 hours and letting it cool before opening. What a delicious topping! Just make sure to keep checking the water level of the boiling can to make sure it stays covered with water. Thanks for sharing!

I made this delightful cheesecake yesterday afternoon and was able to enjoy a slice today. It was absolutely divine! I was nervous, as I'd never made a cheesecake before. But my nerves were unfounded. This cheesecake was very simple to make, even with my adjustments. I love a thicker crust, so I used 2 cups of crumbled graham crackers; increasing the butter to 7 Tbspns and the sugar to 1Tbspn 2 tspns. I took freddas' tip into consideration (about the cornstarch). I did not have cornstarch on hand so I substituted with 1 Tbspn of confectioner's sugar, as it contains cornstarch. I was pleased that it worked, as the crust did not crack or crumble.<br/><br/>To the filling, I did not have any allspice on hand, I added 1/8 teaspoon of ground clove, and was glad that it did not overpower the nutmeg or cinnamon.<br/><br/>This pumpkin cheesecake was absolutely delicious. Thank you, ratherbeswimmin', for an amazing autumn dessert.