Harry Potter Butter Beer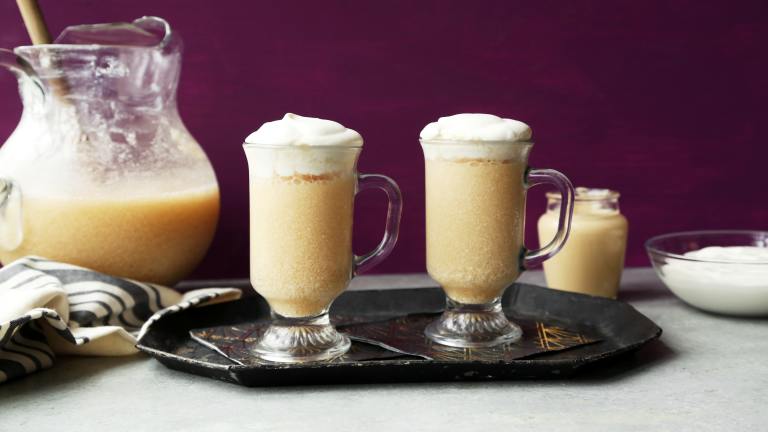 Retrieved from http://historicalfoods.com/8485/butterbeer-recipe/.
Ready In:

15mins

Serves:

Yields:

Units:
Nutrition Information
directions
Making the butter scotch:

Add the butter and sugars to a heavy based saucepan and gently heat until everything has melted and dissolved together. Once melted add everything else except the evaporated milk, stir and keep on a gentle heat until everything has mixed. Finally add the evaporated milk (condensed milk is too thick and sweet) – stir, then turn the heat up to a medium heat and simmer for two minutes – we want the mixture to bubble but not boil or burn, stir frequently.
To make classic butterscotch we would normally heat vigorously, but here we do not want to thicken the mixture at all by evaporation, we want it left thin so that it can mix freely with the 'beer' element. After two minutes turn off the heat and allow to completely cool. The butterscotch syrup should still be runny and not taste too 'sweet' and this is how we want it, the added sugar from the ginger beer and cream soda will balance things out nicely. It will thicken as it cools, but a good stir will loosen it up before use. This can be made up a few days in advance, if it has thickened in the meantime stir in a drop of milk to loosen it. This makes enough butterscotch for two batches of butterbeer.

Making the head:

In a bowl mix together the double cream, the icing sugar and one large tablespoon of the prepared butterscotch recipe. Whisk it until it is thickened, but do not over whip until stiff. The butterscotch will add a lovely subtle taste and colour the cream ever so slightly, making it look like the head of a beer. It tastes so good it is hard to stop yourself licking the spoon.

Pouring the butterbeer:

Into a tall serving jug pour the chilled ginger beer (or ginger ale) then add half of the butterscotch syrup, (stir to make sure it is runny) use a cocktail twizzle stick or long spoon to stir and dissolve one into the other. Then pour on top and mix in the chilled cream soda. Taste and add more butterscotch syrup in if needed.
Into small pint jugs or glasses pour the butterbeer and top off the glass with a large spoonful of the creamy head mixture which will float on top. I suggest serving it in half-pint or third-pint mugs, one half-pint serving is perfect ….
If you have some old fashioned beer bottles, or have bought some nicely shaped glass bottles of ginger beer you can make some Butterbeer labels to stick on them and scatter them around. And the remaining butterscotch syrup can be used to make more butterbeer or poured over vanilla ice cream.
Submit a Recipe Correction
RECIPE MADE WITH LOVE BY
"Retrieved from http://historicalfoods.com/8485/butterbeer-recipe/."
Join The Conversation
This. Is. Amazing! So, I thought I'd do a test run of this drink as Halloween is a couple of days away and would have some of the butterscotch leftover to use on Halloween. Big mistake. I took one swig and fell madly in love. As did DH.... long story short... we have no butterscotch left. And I dare not make any more until the day it's being served :) The ginger beer/cream soda combo is great alone, but swirl in that gorgeous butterscotch and dollop on the lovely scotch-y cream... Heaven! I used all light brown sugar and subbed an extra tsp of corn syrup for the molasses as I had none. I also used scotch in place of the vinegar.