Haitian Chicken in Sauce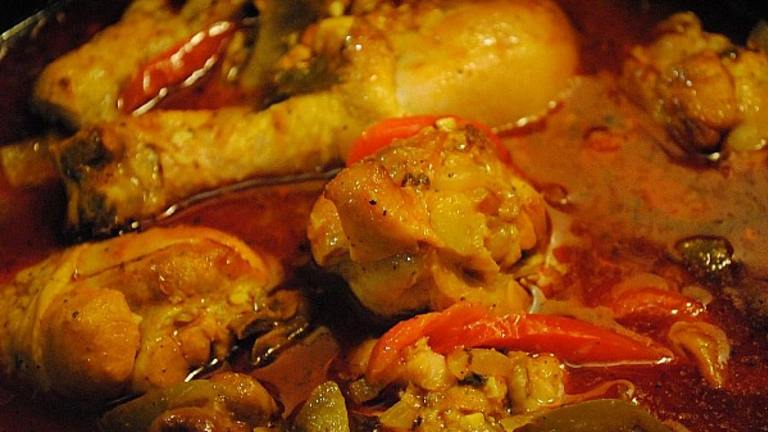 This recipe was found on islandflave.com & this way I was able to obtain the correct amounts of the ingredients & proper cooking times. I have enjoyed making this chicken for a long time now, as it was given to me in Creole and without amounts. It is great the following day, that is if you have any left.Update: 07/18/2009 so as to make some more of the sauce w/out lessening all the good flavors, this time we made it with 6 cloves of garlic, 3/4 cup crushed tomatoes,1/4 cuo brandy or cognac & added broth as needed - low-sodium, low-fat chicken broth! As far as the peppers go I love Scotch Bonnet Peppers and their flavor is wonderful! As I was going to serve this to our friends - one of the kitchen aides asked me if I wouldn't put sliced olives in the dish and we did and it tasted awesome - on white rice or brown rice, if you choose and with string beans almondine.;)
Ready In:

45mins

Serves:

Units:
Nutrition Information
directions
Wash chicken well & pat dry.
Rub each piece with limes/lemons and sprinkle with salt.
Heat oil in heavy ovenproof pan.
Preheat oven to 375°F.
Fry chicken pieces in hot oil.
Meanwhile, in a bowl, combine garlic, sugar, tomato sauce and salt; mix well.
After 5 minutes of frying the chicken, add sliced onions and chopped pepper, for 5-7 minutes.
Remove pan from heat and drain excess oil and add the tomato mixture, stirring well.
Place the pan in oven & bake uncovered for 20 minutes or until chicken is cooked completely.
Transfer chicken to serving platter lined with lettuce and onion rounds and with a pile of "Picklese" #148276 vegetables.
Served with diri blanc (plain white rice) - pour sauce over rice.
Submit a Recipe Correction
RECIPE MADE WITH LOVE BY
"This recipe was found on islandflave.com & this way I was able to obtain the correct amounts of the ingredients & proper cooking times. I have enjoyed making this chicken for a long time now, as it was given to me in Creole and without amounts. It is great the following day, that is if you have any left.Update: 07/18/2009 so as to make some more of the sauce w/out lessening all the good flavors, this time we made it with 6 cloves of garlic, 3/4 cup crushed tomatoes,1/4 cuo brandy or cognac & added broth as needed - low-sodium, low-fat chicken broth! As far as the peppers go I love Scotch Bonnet Peppers and their flavor is wonderful! As I was going to serve this to our friends - one of the kitchen aides asked me if I wouldn't put sliced olives in the dish and we did and it tasted awesome - on white rice or brown rice, if you choose and with string beans almondine.;)"
Join The Conversation
I know for a fact a Haitian didn't write this. First of all how dare you?!! I get it not all of us Haitians cook the same way but get the heck out of here with the sugar bs. We certainly DO NOT cook our chicken with sugar. Second prior with cooking the chicken we clean it with lemon/lime and salt some prefer white vinegar. After cleaning the meat, rinse it with water. Then pour hot water on the meat. We then add our homemade epice to it. we don't pat dry chicken (the fuc**). We cut bell peppers, habenero peppers, and add thyme. Then we move on to the next step.

This recipe was phenomonal! It was the first time I made Haitian chicken in sauce and when I served it to them, they thought I was a natural! (I never informed them that I was a novice) I did however, add a few extra spices to the sauce and the chicken itself. Curry powder was the ultimate spice that gave this recipe an extra kick! Definitely my permanant way of making Haitian Chicken in Sauce!