Guajillo Chili Sauce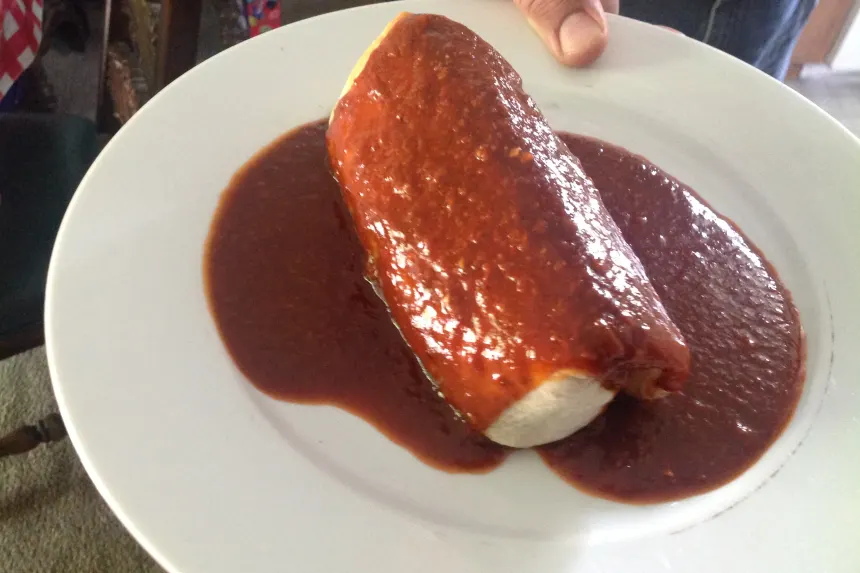 photo by bbqwalt

Ready In:

1hr

Ingredients:

9

Serves:

6-8
ingredients
6

garlic cloves, unpeeled

16

medium dried guajillo chilies (about 4 ounces)

1

teaspoon dried oregano (preferably Mexican)
1⁄4 teaspoon black pepper, fresh ground
1⁄8 teaspoon cumin, fresh ground
3 2⁄3

cups meat broth (beef, poultry or fish depending the use of the sauce)

1 1⁄2 tablespoons vegetable oil or 1 1/2 tablespoons olive oil

1

teaspoon salt, approximately, depending on how salty the broth
1 1⁄2 teaspoons sugar, approximately
directions
Set a heavy ungreased skillet or griddle over medium heat, lay the unpeeled garlic on the hot surface and let it roast to a sweet mellowness, turning occasionally until soft when pressed, a few small spots will blacken, about 15 minutes. Cool, slip off skins and roughly chop.
While the garlic is roasting break the stems off chilies, tear chilies open and remove seeds, for the mildest sauce remove all stringy light colored veins. Finish and remove garlic if you haven't done so. Toast the chilies a few at a time on your medium-hot skillet. Open them flat, lay them on the hot surface skin side up and press flat with a metal spatula (if the temperature is right you will hear a faint crackle), then flip them and do the same (If you press them just long enough they will have changed to a mottled tan underneath, a wisp of smoke is OK but any more than that then there burnt). Transfer chilies to a bowl and cover with hot water and let rehydrate for 30 minutes, pour off all water and discard.
In a food processor or blender add chilies, garlic, oregano, pepper and cumin, add 2/3 cup of the broth and process to a smooth puree, scraping and stirring every few seconds (In a blender you may need to add a little more broth until everything is moving). With a rubber spatula, work the puree through a medium mesh strainer into a bowl, discard skins and seeds left in the strainer.
Heat oil in a medium-sized pot (4 quart) over medium heat, when hot enough to make a drop of the puree sizzle sharply add the puree all at once. Cook stirring constantly, as the puree sears, reduces and darkens to an attractive earthy brick red paste, usually about 7 minutes, taste it: You'll know it is done when it has lost that harsh raw-chili edge.
Stir in remaining 3 cups of broth, partially cover and simmer, stirring occasionally for about 30 minutes. If the sauce has thickened past the consistency of a light cream soup, add more broth. Taste and season with salt and sugar - Salt to brighten and focus the flavors, sugar to smooth any rough or bitter chili edges.
Covered and refrigerated the sauce will last about a week. If you freeze it you will need to re-boil it to bring back the lovely texture.
Other chilies you can use - An equal amount of New Mexico chillies can replace the quajillo, the sauce will not be as full flavored; a chipotle or two adds complexity.
Reviews
This is an EXCELLENT recipe. Guajillo chiles are downright magical and nothing else tastes quite like them. But, I'd like to share the results of my life-long pursuit of the best enchilada/red sauce on the planet. I've finally cracked the code of my local Mexican taqueria's enchilada sauce (which is da' BOMB) and I'm going to share it with you! No, no, don't thank me, really, I enjoy being of service. Two secrets; 1) a dash of cinnamon. 2) briefly warm at least one corn tortilla in a lightly oiled skillet, tear it up, then add it to the blender along with the rest of the sauce ingredients and blend it to smithereens. Taste that? Ummmm. There's something goin' on there, right? Good cooks can take it from there and tweak it to their liking. Enjoy and knock 'em dead!

 

A guy in my neighborhood gave me a big bag of guajillo chili's and I found this recipe. WOW! It is a lot of work, but it really is worth it. The flavor is amazing and will make the Enchilada's in recipe #133287 the best you've ever made at home. Start early because it will take a lot longer than an hour to get this done right if it's your first time. Followed the recipe exactly and it was delicious!

 

Spicy, earthy, delicious, bold, powerful! Didn't have quite enough guajillos for the recipe so I threw in some anchos. This is some potent sauce. The sauce really came to life when prepared with your Tex-Mex enchilada recipe. The spiciness was a bit more tame, too when baked with the enchiladas. Also used the 1 1/2 teaspoons of salt to balance the chili flavor. Thank you for sharing this recipe and for the concise directions. cg

 

50/ 50 New Mexico and Guajillo seems to be my favorite so far. Wet Burritos or enchiladas are great, Triple batch today 48 chilies big kick and probably did not remove enough veins but it tastes great. Stick with Guajillo for milder or use less New Mexico. The New Mexico chilies seem to vary in heat from package to package. Last weekends batch was milder for the chicken. Pork Loin today. Indirect heat on the Weber with water pans over the coals should be great. Black Beans and Spanish Rice nice addition. Cranberry beans hard to find, but they are the best whole or re-fried. It will be hard to order a wet burrito at a restaurant because this sauce is much better, not mention every thing else we use is better than any place around here.

 
Tweaks
Yesterday's batch just over 80 chilis. One pound of Guajillos chilis was 61 chilis and I added 20 CA chilis for a batch times five. Great smothered burritos and will use on friends homemade tamales later this week. I froze a container to take to my dads. Vitamix on 8 variable setter with Sam's organic chicken stock really ground up chilis. Added to blackened white onions (thick slices) to sauce. Better than bullion for salt and added chicken flavor. Do not add salt to sauce. Bullion should take care of it. If freezing it works I will double batch yesterday's batch and freeze more.

 

After talking to Rose at my favorite breakfast place I tweaked it again yesterday. I asked if it Guajillo sauce on my breakfast. It is the only sauce that I have tasted that is as good or better than what I make. She told me they also add Ancho Pasilla, and some arbol. Darker and richer flavor was the result. I added four large Ancho and six to eight arbol all seeded along with a least 50 Guajillo.

 

Hold salt. Taste after stock is added. Do not use powder or cubes unless you love salt over flavor. Better than Bouillon is the bomb and my cooking duct tape. Use hot tap water to grind chillies which I boil for a while and add bouillon paste later. China Cap really helps to push sauce through. I regrind leftovers a few times in the vitamix then toss what is left. This batch I used about 10 to 15 percent CA chiles great flavor. New Mexico will raise heat level and too much for some. Large batch about 60 plus chiles today. Enchiladas and wet burritos the next few days. Nice sauce over Tamales and Huevos Rancheros