Ground Turkey Lasagna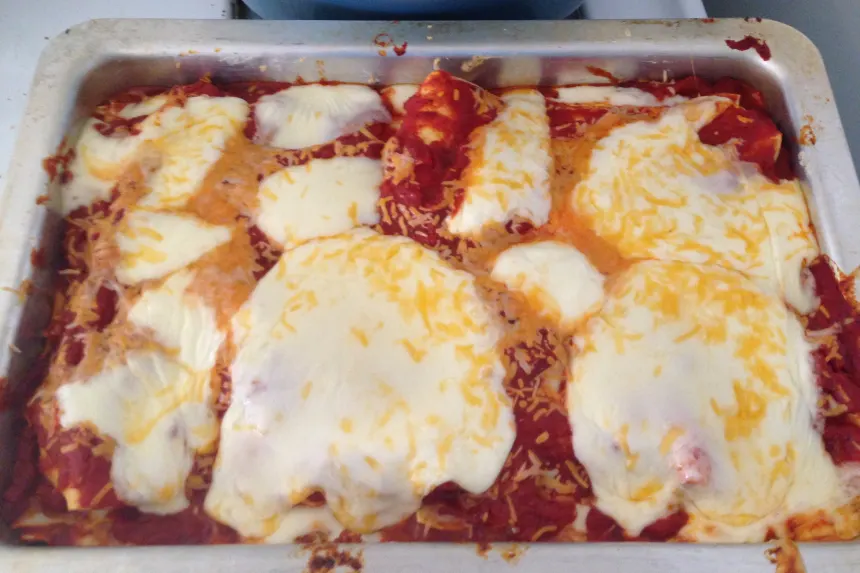 photo by Joshua M.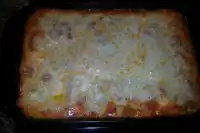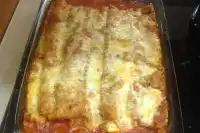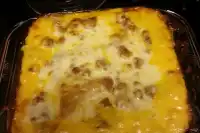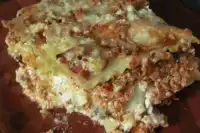 Ready In:

1hr

Ingredients:

17
directions
Preheat oven to 350°F.
If no-bake or no-boil fresh noodles are used, no preparation of noodles is required. If you use standard dry lasagna noodles, boil and drain, then rinse with cold water.
Heat olive oil in large skillet over medium-high heat.
Add onions, saute until onions are opaque and starting to brown. Add freshly minced garlic and 1 tsp fresh minced rosemary. Also add 1/2 of each portion of herbs and spices (1/2 tsp oregano, 1/2 tsp parsley, 1/4 tsp garlic powder, 1/2 tbsp or ground black pepper, 1/2 tsp salt). Saute for 2 minutes.
Add ground turkey to pan, mashing and pushing apart meat with the edge of your spatula. Cook until meat has begun to brown.
Add 1/2 cup of milk, and simmer on medium-low heat for 5 minutes or until meat is entirely cooked. Mix in 2.5 cups of marinara sauce, reserving 1 cup. Turn off heat.
In a medium sized bowl, combine ricotta cheese, 1 cup of shredded parmesan (reserving 2/3 cup), remainder of all herbs and spices (including salt and pepper). Mix with hands or spoon.
In the bottom of a standard lasagna pan, spread reserved cup of marinara sauce in a thin, even layer. Place a layer of lasagna noodles lengthwise in pan, slightly overlapping.
Spread 1/2 of ricotta mixture in a thin, even layer over noodles. Spoon 1/3 of meat sauce over ricotta mixture.
Add another layer of lasagna noodles, and repeat previous step.
Add 3rd layer of lasagna noodles, and spread remaining sauce over noodles evenly. Mix remaining mozzarella and parmesan, and spread in a thin layer, completely covering the top of the lasagna.
Cover in tin foil, making sure the foil is not touching the cheese (you can use toothpicks to ensure that no cheese sticks to the foil, if you like). Bake for 20 minutes.
Remove foil, and bake for another 20 minutes or until the cheese is bubbling and is starting to brown around the edges. Remove from oven and allow to cool for 10-15 minutes before slicing into 8 pieces.
Reviews
I really enjoyed this lasagna! I used cottage cheese in place of the ricotta since I am not a huge fan of ricotta. I thought the mixture of mozzarella and parmesan on top was great, really created a yummy cheesy flavor. I will have to look for those noodles next time I'm at Trader Joe's. Thanks for the recipe, I will be making it again!

 

My fiance said this was the BEST lasagna he has ever had. I changed it up a little by using whole wheat pasta and no ricotta cheese (because I don't like it). I also didn't have parsley so I just did not put it in. Since I didn't use ricotta, I just put more mozzarella and Parmesan The meat was very flavorful! I will definitely make this again and again! Thank you so much for sharing!!!

 
RECIPE SUBMITTED BY
Read my gluten-free blog <a href="http://glutenfreebay.blogspot.com/">here</a>. I love cooking and always have. I learned how to cook as a young kid and I've worked as a prep cook for a catering company and for a restaurant though I am no longer working in that industry. Being a food lover, it was an unpleasant surprise to develop major food intolerances within the past few years. I've been 100% gluten-free since 07/06 out of medical necessity and am cutting down on dairy and soy since they make me ill in large quantities. I'm also working on becoming kosher. So, you'll see reflected in my recipes my recent interest in developing recipes that are both kosher and suitable for people with food allergies, without sacrificing taste. And there's lots of good stuff in my cookbooks for those of you with no food allergies, too, of course! My areas of specialty are gluten-free baking and cooking, dairy substitution, vegan and vegetarian dishes, and Jewish cooking.
View Full Profile