Ground Meat! "making Your Own"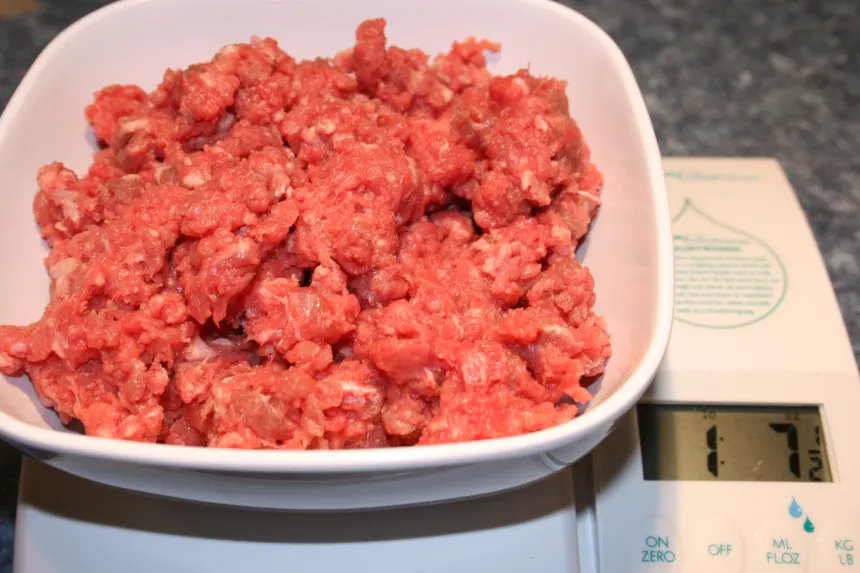 photo by Tinkerbell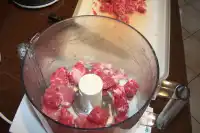 Ready In:

15mins

Ingredients:

2
ingredients
1

lb chuck roast (85 percent lean semi frozen, untrimmed 1 inch chunks)

1⁄4

lb pork loin (semi frozen, untrimmed 1 inch chunks ,) (optional)
directions
Place in a food processor the meat with a metal blade, taking care to process in small (no more than 1/2-pound depending on the size of your processor) batches.
Pulse in short 1- to 2-held second bursts until the desired consistency is achieved, about 10 pulses. (Count one one thousand two one thousand).
Pulsing is key do not let it run.
Pulsing distributes the pieces for more even chopping and avoids excess heat from friction that could turn your ground beef into mass of mush.
Add any seasoning (like garlic, herbs, onions) for a recipe, right in before beginning to process.
For burgers, a coarse grind is the way to go.
For meatloaf and meatballs, a finer grind helps the meat compact, blend with other ingredients, and hold its shape.
Ground beef usually comes from one of three cuts: chuck, round or sirloin.
Chuck is my favorite choice; it's a little fattier than the others, but gives great flavor.
Ground beef from the round or sirloin tends to be leaner, a good thing if you're counting calories but a bad thing if you want the juiciest, most dynamic burger possible.
If meats are lean add olive oil, tomato juice, egg so it is moist. For best results your ground meat should have at least 10 percent fat to meat ratio.
My favorite is 85 percent lean ground chuck. The fat is where the flavor is, and it also adds moisture for a juicier end result.
Yes turkey, chicken, pork, veal, lamb can be ground as well.
Questions & Replies

Got a question?
Share it with the community!
Reviews
Thanks so much for posting this, Rita! It worked out wonderfully. The store had some packages of round stew beef on sale, so I picked up three of those, and also a package of chuck stew beef (I was feeling lazy and the stew beef is already cubed). ;-) Came home and popped the packages in to the freezer for about an hour. I worked with about 3/4 pound of meat each time, and ground/chopped it all. Took me about 20 minutes to get it done. When I was finished, I mixed it all together to distribute the chuck evenly throughout the round. Made burgers for dinner tonight, and froze the rest in 1 pound packages for other uses. Hubby cooked the burgers outside on the grill. He said they were juicy, and probably the tastiest burgers he has had in a long time!<br/>Next time, I will "grind" it just a bit finer. The flavor was wonderful, but the texture was a bit coarse. Practice makes perfect, so I am sure the next batch I "grind" will be spot on! The best part (aside from the flavor and knowing there were no additives/fillers in it) was that the 4 lbs that I ground came out just over a dollar a pound less than what the supermarket charges for their 90% lean ground beef (which I found out is cut with that "pink filler" that has been in the news recently). Grrrrrrr!!<br/><br/>Glad this method works so well, now I don't have to replace my ancient, departed meat grinder!

 

Had some pieces of cubed ground chuck in freezer which I had cut up for stew a while back. Decided I really don't want stew. I let the meat partially thaw. Then pulsed as directed. Emptied all the meat out of food processor and picked through, separating meat that had strings of fat hanging on.and pieces of chuck that were still too big. Re-pulsed those pieces and went through the whole separation process one more time. it was really tasty and a good texture. I used for delicious sloppy Joes. When I loose fried the meat I skimmed off a LOT of liquid. I'm thinking meat that watery might suffer if freezing.

 

This was amazing! I'm sorry I didn't realize it was a posted recipe and have not reviewed it until now. (Thanks for letting me know, Rita!) I saw Rita's demo in the Topic of the Month forum & knew I had to try it. We buy a 1/2 to a full cow each year & at the end of every year I have too many roasts still in the freezer. After seeing this demo I defrosted 3 of the 5 chuck roasts and ground them up. It was incredibly easy & dare I say, Fun?! My family was amazed that I was grinding my own ground beef & that I could make it as lean as I wanted. I have used this recipe several more times since Sept '08 on beef & chicken both. I use my kitchen scale to measure out 1-2 pound packages, depending on what I plan to earmark it for, then use my FoodSaver to vacuum pack the meat. I also mark the bag with permanent ink as to how much meat is in it & if it's for burgers or everyday meals, depending on the size of grind & amount of fat I left on the beef. Thank you so much for posting this recipe & demo, Rita! It's really saved us money!