Grilled Rib Eye
photo by alenafoodphoto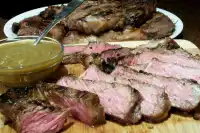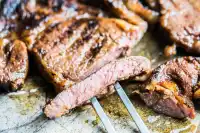 Ready In:

30mins

Ingredients:

12
directions
Place all but the meat in a blender and puree.
Place in large zip lock bag add meat and marinade 4-8 hours.
Remove from marinade and place sauce in pot and bring to boil then simmer for 5 minutes.
Place 1 inch steaks on grill over medium heat. Grill, uncovered, 15 minutes for medium rare doneness, turning occasionally. (Do not overcook.) Carve steaks into thin slices. Or for the hungry man let them eat steak! ;) Season with salt and pepper, as desired serving with sauce.
Questions & Replies

Got a question?
Share it with the community!
Reviews
Anyone who "CHAR's" a good Steak should not be allowed to cook! If I go to a restaurant and order a steak, I tell the waiter or waitress that I do not want ANY charring on my steak and I tell them if they bring it and it has any charring on it, I will not accept it and will send it back! No steak should ever have any charring, charring is burnt meat, nothing more!

 

Grilling a 1" ribeye steak for 15 min is excessive, will end up burnt not medium rare! This is your grilling guide: SIRLOIN STRIP STEAKS, RIBEYE STEAKS & PORTERHOUSE STEAKS Thickness Rare 110 to 120 F Medium Rare 120 to 130 F Medium 130 to 140 F 1" 4 minutes EACH SIDE 5 minutes EACH SIDE 6 minutes EACH SIDE 1.25" 4.5 minutes EACH SIDE 5.5 minutes EACH SIDE 6.5 minutes EACH SIDE 1.5" 5 minutes EACH SIDE 6 minutes EACH SIDE 7 minutes EACH SIDE 1.75" 5.5 minutes EACH SIDE 6.5 minutes EACH SIDE 7.5 minutes EACH SIDE 2" 6 minutes EACH SIDE 7 minutes EACH SIDE 8 minutes EACH SIDE

 

This is so good! I always have these ingredients on hand except maybe the cilantro so I decided to try something different for a "pre-Father's Day" meal.....okay, well, experiment, LoL! Because of our personal tastes I only used 1/2 of a small jalapeno and I love worcestershire so it was a healthy tablespoon. I marinated it for 6 hours and think it could really go for the full 8 hours. I removed the meat from the fridge and marinade about an hour before grilling so it could come to room temperature. Thanks for the great new marinade!