Grilled Pork Tenderloin a La Rodriguez With Guava Glaze...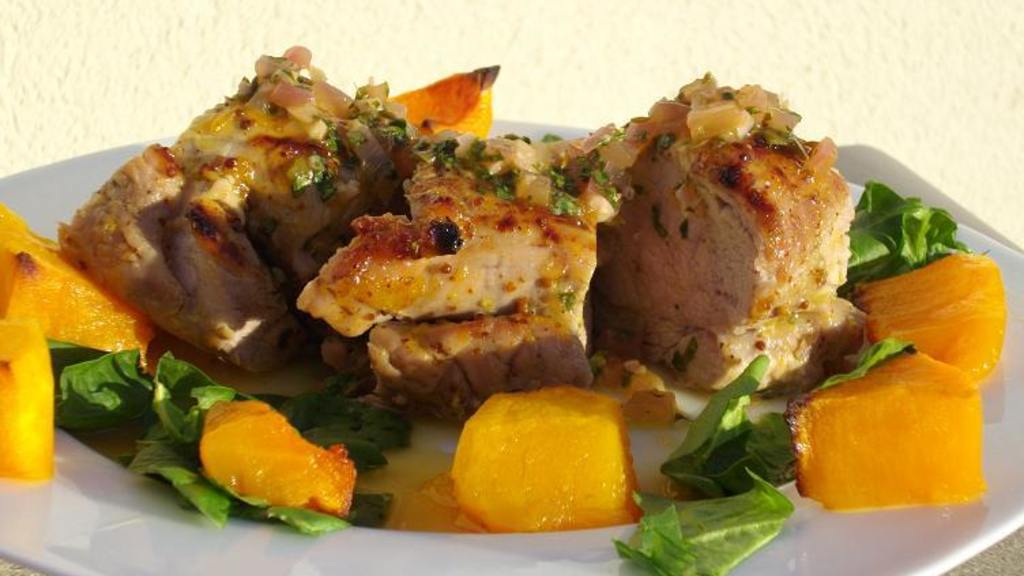 Ready In:

1hr 5mins

Ingredients:

16
directions
Preheat a grill to high.
Brush pork with oil, and then season it with salt and pepper. Set aside a few tablespoons of the Guava Glaze for brushing the cooked pork. Grill for 4 to 5 minutes per side, brushing frequently with the Guava Glaze. Remove from the grill, brush again with glaze and let rest for 10 minutes. Slice into 1/2-inch thick slices, drizzle with the Orange-Habanero Mojo, and serve immediately.
Guava Glaze: Whisk jelly, mustard, and orange juice together in a small bowl. Season, to taste, with salt and pepper.
Orange-Habanero Mojo: Heat oil in a small saucepan over medium-high heat. Add onion and garlic and cook, stirring, until soft, about 5 minutes. Add lime juice, orange juice, and habanero chile and bring to a boil. Cook until reduced by half. Whisk in the cilantro and cumin and season, to taste, with salt and pepper. Drizzle over pork.
Join The Conversation
This is a truly wonderful Pork recipe. I could not get guava jelly so used the apricot jam instead and it was totally awesome. We absolutely loved the orange-habanero mojo it really sent the dish over the top for us, although I did find it took forever for the sauce to reduce. The dish sounds like it will be time consuming but I found it very easy and apart from the reduction of the sauce, which is no biggy as you just leave it, it is very quick to make. This one has been saved to enjoyed many more more times. Quick and easy enough to make for a mid week meal but the taste is definitely one that is company worthy and tastes very gourmet. Thanks for sharing we all loved it, a stunner of a recipe!!!

I made this recipe a few weeks ago from my Bobby Flay "Boy Gets Grill" cookbook and we loved it. We made no modifications to the ingredients/instructions (we even found guava jelly!) and we felt no modifications were necessary--the dish was perfect as is. It's very flavorful and not difficult to prepare. Thanks for posting, Bethie!