Greek Chicken With Orzo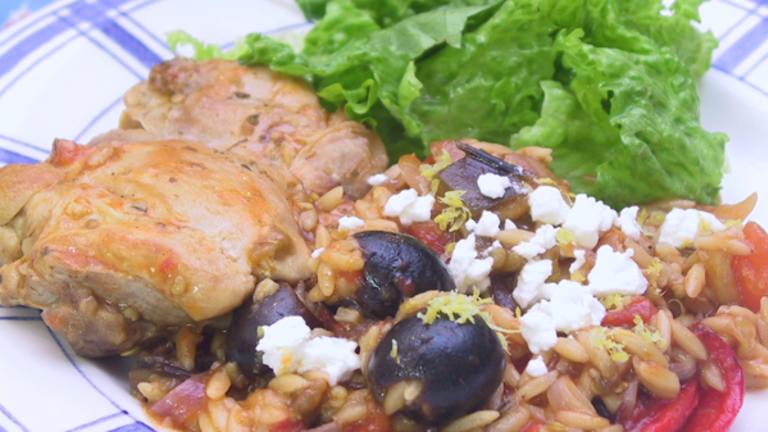 This tastes of summer... really nice served with a glass (or two) of Red wine and a crisp salad. You need to use the ripest, juiciest reddest tomatoes you can find, so if only anemic looking Toms are on hand, use a can of chopped tomatoes instead. Don't be tempted to use chicken breasts instead, as it's the chicken juices that flavour the pasta so well. Cooking time includes 2 hours marinading
Ready In:

3hrs 30mins

Serves:

Units:
directions
Crush one clove of garlic and mix with half the oregano and half the olive oil, rub well into the chicken thighs, leave for at least two hours.
Roast the red peppers in a 200°C oven for about 30-40 minutes until the skin is blackened. Leave to cool for a few minutes and remove skin. Slice into 1cm thick strips.
Toss the eggplant with remaining olive oil. I like to cook this on the George Foreman grill for 3-5 minutes, as it adds a bit of a smoky flavour, but if you prefer, fry in a pan for 5 mins or so tossing occasionally until cooked.
Remove the chicken from the oil and garlic mixture, making sure you knock the bits of garlic off, as these will burn. Fry the chicken in a dry pan skin side down for about 5 minutes, turn over and cook for another 3-5 minutes until lightly browned.
Remove chicken from the pan and cook onion in the chicken fat for approx 3 mins until lightly brown. Add remaining garlic for last 30 seconds.
Add red wine to pan and bring to boil. Reduce heat and add tomatoes, puree, fennel seeds, oregano, red pepper and eggplant. Cook for about 5 minutes until the tomato is soft. Stir in Orzo, half the water and the black olives.
Place in a casserole dish, put chicken on top. Spoon over some of the liquid, making sure all the pasta is submerged. Put lid on casserole and bake in 180°C oven for about 30-40 minutes until chicken and pasta are cooked, and there is only a little remaining liquid.
Pour yourself a glass of wine while you wait for the chicken, but do check the casserole every 10 minutes or so, and top up the water if it's looking dry.
I prefer to skin the chicken before serving, but it's up to you. Sprinkle lemon zest and feta over pasta and serve with another glass of wine.
Submit a Recipe Correction
RECIPE MADE WITH LOVE BY
"This tastes of summer... really nice served with a glass (or two) of Red wine and a crisp salad. You need to use the ripest, juiciest reddest tomatoes you can find, so if only anemic looking Toms are on hand, use a can of chopped tomatoes instead. Don't be tempted to use chicken breasts instead, as it's the chicken juices that flavour the pasta so well. Cooking time includes 2 hours marinading"
This tastes of summer... really nice served with a glass (or two) of Red wine and a crisp salad. You need to use the ripest, juiciest reddest tomatoes you can find, so if only anemic looking Toms are on hand, use a can of chopped tomatoes instead. Don't be tempted to use chicken breasts instead, as it's the chicken juices that flavour the pasta so well. Cooking time includes 2 hours marinading