Greek Baklava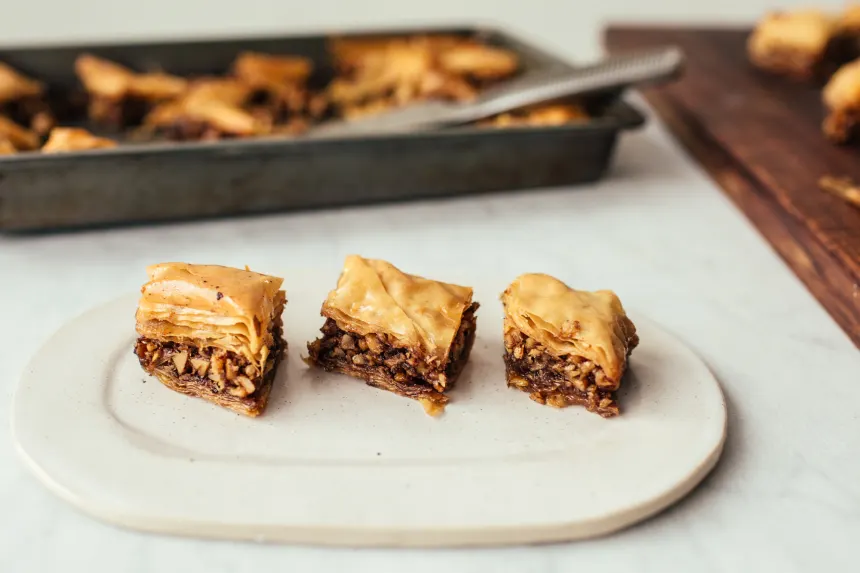 photo by Izy Hossack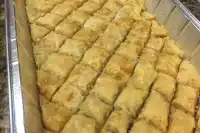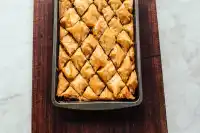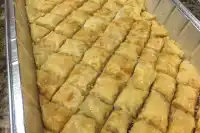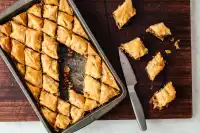 Ready In:

1hr 30mins

Ingredients:

8
directions
Preheat oven to 325. Layer half of the sheets of phyllo one sheet at a time, in a greased 11x7x2 baking pan, brushing each sheet evenly with butter and folding ends over if necessary to fit into pan.
Keep unused sheets covered with plastic wrap while assembling baklava to prevent drying.
Mix 1/4 cup of the sugar and cinnamon; stir in walnuts.
Sprinkle nut mixture evenly over buttered phyllo in pan.
Layer remaining phyllo, one sheet at a time, over nut mixture, brushing each sheet evenly with butter.
Cut diagonally into squares, cutting completely through all layers.
Bake in preheated oven until crisp and golden, about one hour.
Combine remaining sugar, the water, lemon juice and honey in small saucepan; cook and stir over low heat until sugar dissolves.
Heat to boiling; pour evenly over hot baklava.
Let stand loosely covered 8 hours or overnight.
Reviews
Baklava is one of my all time favorite desserts. This was my first time actually making some on my own! I wasn't sure what temp to put the oven on, it wasn't specified, so I put it at 375º, and that was a bit high, my baklava browned within 1/2 hour. So, I recommend 350º or maybe even 325º. The flavor is a bit lemony, next time I would reduce the lemon juice to 3 tablespoons or even 2. It was delicious though! Thank you for posting!

 

Hey,I can make baklava now! Made this for DDs birthday party and everyone wanted to try them. The one in the picture was saved just so I could photograph it ! I had a little trouble with step 9,when I poured the hot syrup over the hot baklava it evaporated very fast, so if you like a more syrupy baklava pour the syrup after five minutes.I managed to burn the bottom,but just a little bit and this made my baklava different,eveyone was going :"What do I taste?"Cinnamon,no.Lemon,no,it's something different. The secret didn't get out. I'll make this for every holiday that requires sweets. Thanks for teaching me how to make baklava!Update: Made it three times in a month! In the last photos I used puff pastry and it still worked.

 

YUM. As a long time lover of baklava, I hadn't tried making it because I was really intimidated. This year I decided to attempt it for my Christmas cookie trays. I made the recipe according to directions, with a few adjustments based on some of the reviews. The pastry portion I followed according to directions, but discovered on my own (and thought I'd mention it to save others the hassle) "room temperature" melted butter isn't just waiting for the melted butter to cool. If you wait 30-45 minutes after melting it actually thickens and you will only need as much as the recipe calls for (I made 2 pans, the first pan I didn't know about the thickened butter and used about 2 cups, the second I waited for it to thicken and used only the 1 cup). Regarding the syrup portion, I used 1 1/2 c. sugar, 3/4 c. water and 1/2 c. honey. It tastes great however the bottom pastry was a bit soggy, so next time I may use the same ingredients but just only use 2/3 of it. My baklava also only needed about 35-40 minutes in the oven before being golden brown and done perfectly. I used a 13x9x2 pan and it worked out wonderfully, without having to mess around with a lot of folding. Thanks for posting the recipe. It tastes just as good as the baklava I've enjoyed at pastry shops and restaurants.