Grandma's Chicken Noodle Soup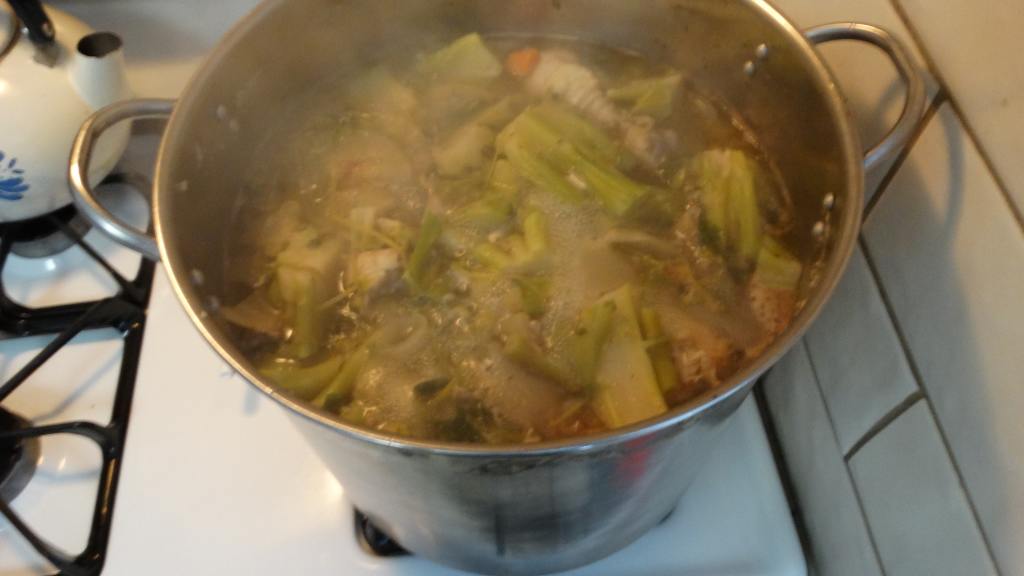 Ready In:

1hr 10mins

Ingredients:

24
ingredients
Stock

1

lb dark chicken meat, skin on
1⁄2 lb chicken breast, skin on

5

cups water

1

small onion, quartered

1

carrot, peeled,cut in 5 pieces

1

stalk celery, cut in 5 pieces
1⁄8 cup parsley stems, reserve sprigs

2

whole peppercorns

2

whole cloves
1⁄2 tablespoon fresh thyme, minced or 1/2 teaspoon dried thyme leaves

Noodles

1 1⁄2 cups flour

2

eggs

2

teaspoons olive oil

2

teaspoons water

2

tablespoons fresh oregano, minced or 1 teaspoon dried oregano

2

tablespoons parmesan cheese
1⁄2 teaspoon salt

Soup

2

cups canned best quality low sodium chicken broth or 2 cups homemade chicken stock

1

carrot, peeled,sliced very thinly
1⁄4

cup frozen peas, thawed

1

tablespoon parsley sprig, minced

2

tablespoons freshly grated parmesan cheese
generous grinding pepper
directions
Stock: Cut away any obvious fat from chicken and place only dark meat chicken parts in Dutch oven or stockpot; add water, onion, carrot, celery, parsley stems, peppercorns and cloves.
Bring to boil, skim off foam at top and then add thyme; reduce heat to simmer; simmer 20 minutes and then add chicken breast; simmer another 25 minutes until chicken is tender.
Remove the chicken but continue to simmer broth; as soon as chicken is cool enough to handle, remove meat from bones and return bones to broth; simmer another 20 minutes.
Noodles: While the chicken and stock are simmering, make the noodles; in a food processor, process flour, eggs, oil, water, oregano, cheese and salt 45-60 seconds to mix and knead the pasta; (if making the pasta by hand, place flour on work surface and make a well in the center; add the other ingredients to the well and mix with hands to form dough; knead on floured surface for 10 minutes); cover dough and let rest 10-20 minutes.
Divide dough in half and roll each as thinly as possible to a 14" square; trim the edges to make somewhat straight; lightly flour the surface of the dough; roll each square loosely, as for a jelly roll; cut each roll with sharp knife into 1/4" slices; shake slices open.
Lay half of the noodles flat in a loose, overlapping mound; cut into 2" lengths and spread them out to dry for about 15 minutes; lay the other half of the noodles out flat to dry or drape on pasta dryer; when noodles are somewhat dry and do not stick together, roll in several loose circles of a few noodles each and seal in platic bag in a single layer; use in another dish of your choice within 2-3 days.
Soup: Strain broth and return to pot; add stock and bring to a boil; add carrots and cook 2 minutes; add peas and noodles and cook another 2 minutes; add chicken, parsley, parmesan and salt and pepper to taste.
Join The Conversation
Holy Crap. This is good chicken noodle. This soup taught me the difference between soup cooked with patience and quick soup. This recipe is my only 5 star rating on recipezaar. Definitely use chicken on the bone. I recommend simmering the stock once the bones are in it for at least an hour, if not all day. I didn't have any parmesan, I only had ground cloves, and I added fresh bay leaf to the stock. I also added more carrots and celery and some onion with the pasta. And I didn't make the fresh pasta, but I will next time. Fortunately, I made a gallon of it. My camping-mates will be very pleased.

first i thought i was the only one that uses cloves the smell the taste i can not rave enough about this soup the only thing i did diffrent was i placed the chicken an cloves in a pressure cooker. If you want a good soup this is the only one that i have found that even comes close to my gradmothers thank you for this soup the taste is so great the smell it is just good SYMBA