Grandma Maroni's Meatballs and Maroni Sauce 100 Year Old Recipe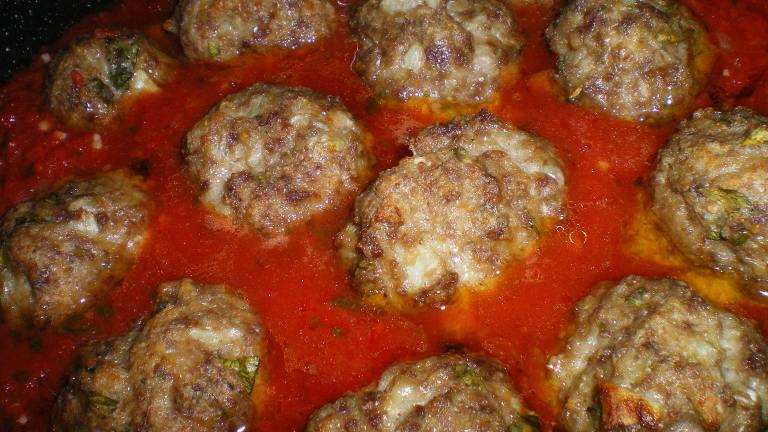 I found this recipe on the Food Network website on Throwdown with Bobby Flay. It is from Maroni Cuisine in Northport, New York. I saw the episode and was inspired to make the meatballs. Boy am I glad I did. They are so good! Truly the best meatballs I have ever eaten. http://www.foodnetwork.com/recipes/throwdown-with-bobby-flay/grandma-maronis-meatballs-100-year-old-recipe-recipe/index.html The original recipe uses ounces-I have somewhat converted it into teaspoons and cups. (Hopefully I have done it correctly, but it tastes good too with my measurements!)
Ready In:

1hr 15mins

Serves:

Yields:

Units:
directions
For the meatballs:

Preheat oven to 350°F Spray a baking sheet with olive oil cooking spray.
Mix chuck, bread crumbs, eggs, milk, Romano, onion, garlic, parsley and basil thoroughly in large bowl. If mixture seems a little loose add more bread crumbs.
Roll meatballs loosely about the size of a golf ball and place on baking sheet. Place into preheated oven for approximately 35 to 40 minutes.

To make the sauce:

In a medium saucepan over medium heat, add oil. Once heated add the finely sliced garlic and onions to the pan. Cook over medium heat until soft and slightly brown. Next add the canned crushed tomatoes, salt and pepper and stir. Allow the sauce to come to a simmer and cook for 20 minutes. Remove from the heat and add the julienned basil.
Simmer meatballs in sauce for about 10 minutes, and then serve over al dente pasta. YUM!
Submit a Recipe Correction
RECIPE MADE WITH LOVE BY
"I found this recipe on the Food Network website on Throwdown with Bobby Flay. It is from Maroni Cuisine in Northport, New York. I saw the episode and was inspired to make the meatballs. Boy am I glad I did. They are so good! Truly the best meatballs I have ever eaten. http://www.foodnetwork.com/recipes/throwdown-with-bobby-flay/grandma-maronis-meatballs-100-year-old-recipe-recipe/index.html The original recipe uses ounces-I have somewhat converted it into teaspoons and cups. (Hopefully I have done it correctly, but it tastes good too with my measurements!)"
I also saw this on Food Network. 4 oz of bread crumbs should be by weight and not by the measuring cup. That is why you need four eggs If you weight out all ingredients you will find you use a lot more. 4 oz of panko is 2 and one half cups. It seems like a lot but on tv it was mentioned that you are actually making a panade to mix in with the meat. I have made this recipe for many years ,,, lots more parsley and lots more basil. Believe me all that bread really works. Meatballs melt in your mouth.

Are the ingredient measurements correct? The ratio of 4 eggs plus 1/2 cup of milk to 1 lb of ground chuck sounds like too much liquid to me. So does 1/4 cup of chopped garlic! None of the reviews questioned the recipe. Can someone please confirm that this recipe works as presented? Thanks! NoraM