Grandma Eva's Onion Board (Pletzel)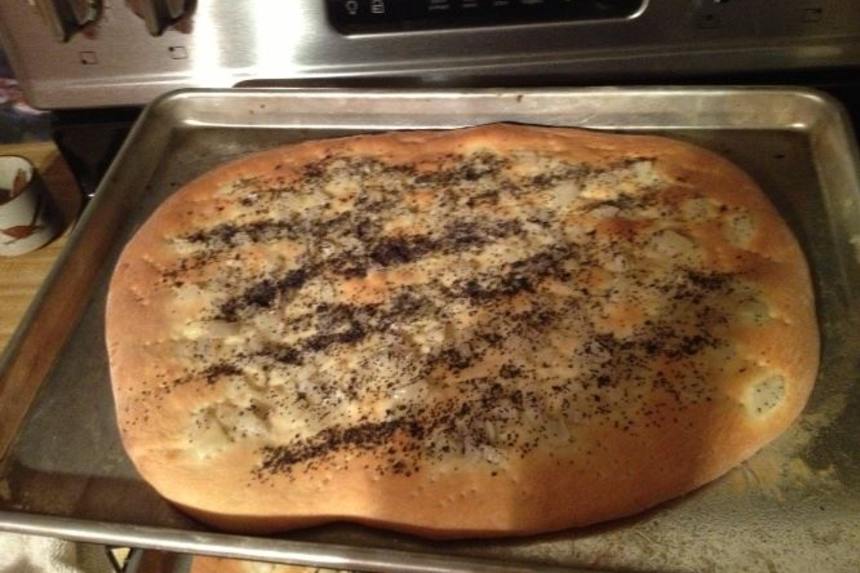 photo by tinasue1379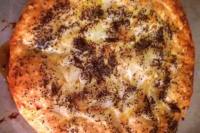 Ready In:

1hr

Ingredients:

11
directions
Make a paste with 1/2 cup warm water and yeast and let sit for 5 minutes.
Place yeast mixture into 4 cup of flour combine with the salt in a large bowl and mix together.
In a separate bowl mix sugar, oil, additional 1 cup of warm water, 1 cup of flour, and 3/4s of the beaten eggs (reserving 1/4 of them for glazing the top of the pletzel).
Add the sugar/oil/flour/egg mixture to the flour/yeast mixture and mix together with hands (great tools!).
Place on floured surface and knead slightly until dough comes together.
Place in clean oiled bowl, covered with plastic wrap and let rise in warm place for 1 hour.
Punch down and knead again, place back in bowl and allow to rise for 15 minutes.
Grease two sheet pans (cookie sheets with raised sides or jelly roll pans).
Cut dough in half and pat each 1/2 into a sheet pan with the dough slightly raised around the sides.
Brush each with remaining egg, sprinkle each with half of the sauteed onions with the olive oil remaining (patting into the dough), and sprinkle each with half of the poppy seeds.
Bake at 350 degrees Fahrenheit for 40-45 minutes until golden brown.
Can be served immediately as is or with butter and salt.
Questions & Replies

Reviews
This recipe is deliciously authentic! My Dad was thrilled when we made him pletzel, an old favorite that you rarely (if ever) find nowadays in bakeries. The sauteed onions on the sweet bread melt in your mouth. I've shared the recipe with lots of friends. Everyone loves it! Thanks for sharing it online.

 

This is so authentic I want to cry. My dad would always bring home pletzel on Saturday night from the bagel store along with the Sunday morning paper, and this is exactly how I remember it, and that's 40 years ago. I just made it and it came out perfect. Edges browned nicely and the onion and poppy seeds were delicious. The dough was really easy to make and I put in on greased parchment and rolled it to the edges of the cookie sheet with a small rolling pin. Made 2 perfect pletzels. I will definitely make it again. Thank you Grandma Eva.

 

My brother pleaded with me to find a recipe for Pletzel. This is the one I chose to make. It's marvelous! It wasn't difficult to make (remember to make sure the water is hot enough to get the yeast working before adding the cold ingredients). I did add a little bit more flour and I did take the ball out of the food processor and put it into a bowl on the counter (it was fun to watch it rise) while I made the topping. I highly recommend this recipe!

 

Thank you to my two sisters for saving this recipe so we can carry on the legacy of our wonderful baking grandparents. I just made Grandma Eva's Pletzel and it came out INCREDIBLE! It smells just like her Brooklyn apartment, and reminds me of some of my happiest childhood memories. It also tastes delicious! I tweaked it to make it plant-based (replaced flax seeds for eggs and didn't do an egg wash) and it worked great! Thank you! Yummmmmy!