Good Seed Bread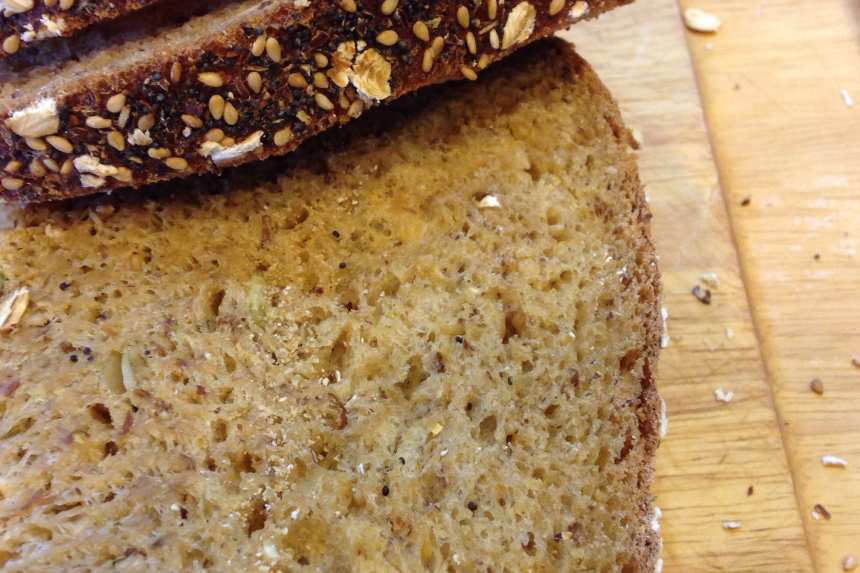 photo by GinaStudySmart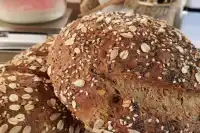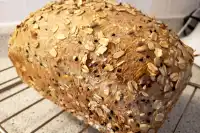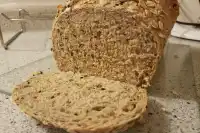 Ready In:

3hrs 30mins

Ingredients:

18

Serves:

16
directions
Put ingredients in bread machine in order listed, and turn onto Dough setting. OR mix dry ingredients, add wet ingredients and use heavy-duty electric mixer (or your own brute strength) to mix and knead the dough for about 10 minutes. You may need more or less flour or water to make a smooth dough that you can work with (although having it a little sticky is okay).
Place the dough in a greased bowl and turn so the greased side is on top OR spray the top with non-stick spray. Cover with a damp towel and let rise until double in bulk (about an hour).
Remove the dough from the bowl and knead a few times by hand. Flatten and then roll to shape into your loaf. This makes a LARGE loaf, so if you want a smaller loaf, make a few rolls out of some of the dough. (I can get six rolls and a somewhat smaller loaf out of one recipe.).
Combine about a half cup of seeds (use a nice variety) and oats in a wide dish.
Use a wet dish towel and roll the loaf to moisten the outside. Then press all sides of the loaf into the seeds to coat well.
Place the seed-coated loaf into your greased 8x4 (or slightly larger) loaf pan, spray with non-stick spray, cover with a damp towel and allow to rise about 40 minutes.
Place a baking dish with an inch or two of water in it in your oven. Pre-heat your oven to 350 degrees.
Place the loaf in the oven and bake for 25-35 minutes until it sounds hollow.
Remove from pan and cool completely before slicing.
Freezes very well. (I slice it and freeze it.).
Questions & Replies

This is actually a difficult loaf to make. I've made it four times and every time it turns out different. I find the dough is generally very wet. To mitigate against this, I measured everything and left it to sit overnight but then it was dry. On adding the gluten and some water, that was the best batch I made. I tried that approach yesterday but only left it to soak for a few hours and ended up with a stickier dough and a very different loaf. We like the bread but I like consistency in my outcomes so maybe I'll abandon this one.

 

The Good Seed bread is delicious but to tell the truth I am old and have diverticulosis so I should not be eating nuts and seed. It smarts. I love the basic recipe but wondered what I could substitute for the seeds in the recipe. Maybe oats? I think it would still be a good recipe without the nuts. I use my Kitchen Aid mixer, too.

 
Reviews
LOVE THIS BREAD!!! Now up front I wanna say we use Honey in place of molasses, but it turns out fantastic! Also added Chia seeds and trying other seeds as well. We have been big fans of Dave's Killer Bread, the Good Seed version. We were looking for a home recipe and my wife found this. One try and we are HOOKED! We even bought a covered 13x4x4 covered pan for the bread from Amazon, "USA Pan Bakeware Pullman Loaf Pan with Cover" But it fits perfectly in this pan and never sticks! This bread has turned out really good each of the three times we have made it so far and are going to try some neat ideas with it the next few times.. different nuts, and maybe after rolling it out tossing in a layer of cinnamon-sugar and rolling it up! But it really makes bread that, quite frankly, makes Dave's Bread kinda plain now... Dave is a good fallback if we haven't made this, but Dave could learn something from this recipe!! It's THAT Good! BTW, we mix it up using a KitchenAid 6 quart mixer that powers through the mixing quite well. Amazing to watch that dough hook turn out a nice ball of dough in a few minutes, and sooooo glad I'm not pounding out the dough by hand! Will never have to do that by hand again. (I'm Done with bread machines. Too limiting.) If you do a lot of breads, the KitchenAid is WORTH EVERY PENNY! For this bread it's made it awesome too!

 

Love this recipe! So glad I decided to search for someone who had recreated Dave's Killer Bread so well. I had another recipe that I was trying to adapt, but I had no way to guess how much of the seeds to add. This was perfect. Also, agree with the others who used their KitchenAid dough hook to knead. It's perfect for making bread. I've loved that mixer for other things, but it's a godsend for making bread. I didn't add the gluten as I bought bread flour instead, which has more gluten. Like many people home a lot more now, I've learned a lot about the intricacies of baking good bread. This is my best so far.