Gluten Free Chickpea Crackers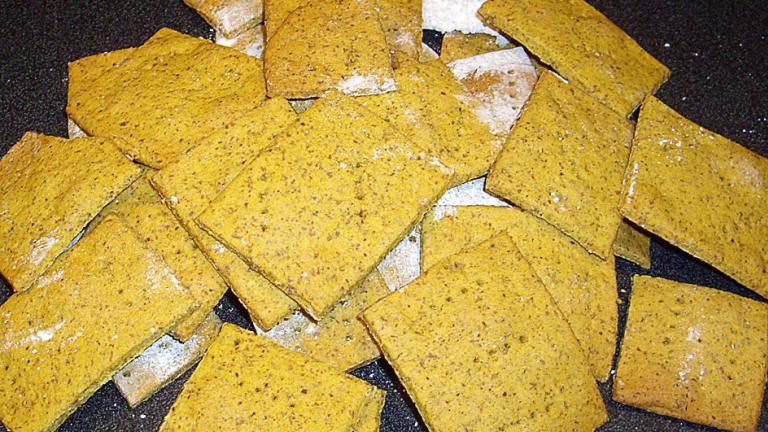 Easy gluten-free cracker recipe
Ready In:

25mins

Serves:

Yields:

Units:
directions
Preheat oven to 350°F (180°C).
Mix all dry ingredients together well. Stir in the oil and begin stirring in water a little at a time. The dough will need to be formed into a ball, if it is too dry add a little more water, if too wet, more flour.
Divide the dough in half and roll each half into a ball.
Use a Silpat or cut a generous amount of plastic wrap and dust it with a gluten-free flour. Flatten one ball into a rectangle, place it on the Silpat or plastic wrap and sprinkle with some more flour. Place another large piece of plastic wrap on the dough and using a rolling pin, roll the dough out as thinly as possible. It might be necessary to peel off the top layer of plastic and re-dust a few times.
Peel off the top layer of plastic, dust with a little more flour, place a baking sheet over it, slide another baking sheet under the bottom plastic wrap, flip over, remove the other sheet of plastic wrap and bake.
A nice touch, although not necessary, is to glaze the crackers before baking with an egg white or cornstarch glaze.
Mine were a little less than an eighth of an inch, but less is literally more! Crackers, that is.
Bake for approximately 12-15 minutes, until lightly browned and crispy. They will crisp up more after they cool off. After cooled, store in an airtight container.
Submit a Recipe Correction
Had a similar experience as Sandwichinwi. Super easy to make, and the dough was pretty easy to work with, but the taste wasn't all that great. I think I'd like them better if it were lighter on the chickpea flour, and had some onion and garlic powder added, maybe some herbs or soemthing. I did use 1/2 tsp of salt, didn't make much difference. Wasn't clear if the recipe was calling for whole flax seeds or flax seed meal - I'd recommend grinding them up for sure.

Eh. They were ok. They were definitely easy to make. So I'd give that part 5 stars. I had no trouble rolling them out with the plastic wrap. I greased a no-sides cookie sheet and stuck my plastic wrap to that. It was then easy to lay the baking sheet over and flip the whole thing. I used PC stoneware pans for baking and had no trouble with sticking. I dusted one with Tapioca Starch but did nothing to the other, well-seasoned pan. Both were fine. They had to bake MUCH longer than stated.<br/><br/>Taste-wise, they need at least twice the salt. I think they'd be great with onion or garlic powder in or sprinkled on. 2 stars for taste.