Gingerbread Men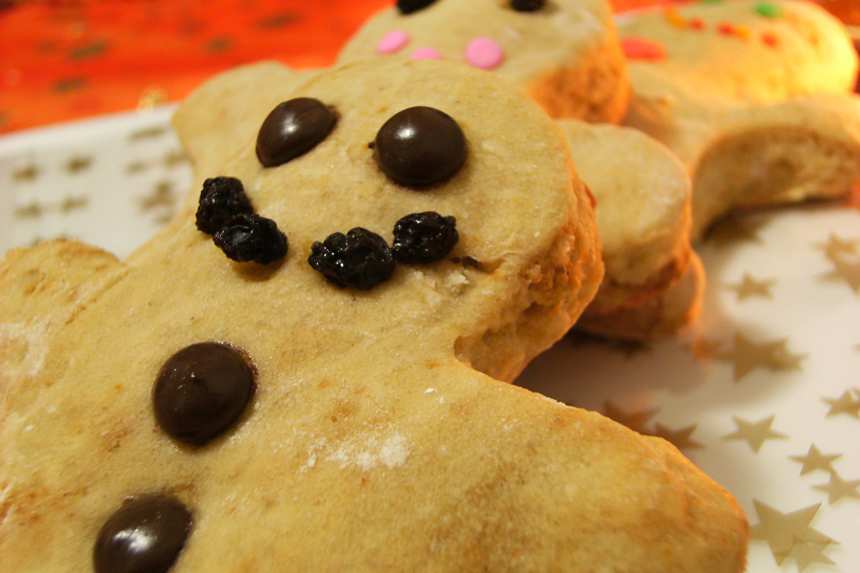 photo by Lalaloula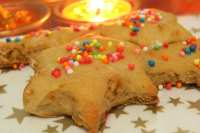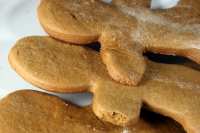 Ready In:

1hr

Ingredients:

11
directions
Pre-heat the oven to gas mark 4/350°F/180°C.
You will need 2 lightly greased baking sheets.
In a large saucepan, put in the brown sugar, golden syrup, treacle, all the spices and orange rind with 1 tablespoon of water.
Bring them to boiling point, stirring all the time.
Remove the pan from the heat and stir in the butter cut into cubes, and the bicarbonate of soda.
Next stir in the flour gradually until you have a smooth manageable dough – add a little more flour, if you think it needs it.
Leave the dough covered, in a cool place to become firm, approximately 30 minutes.
Roll the dough out on a lightly floured surface to 1/8 inch (3 mm) thick and cut out the gingerbread men.
Arrange them on the lightly greased baking sheets.
Bake on the middle shelf of the oven for 10-15 minutes or until the biscuits feel firm when lightly pressed with a fingertip.
Leave the biscuits to cool on the baking sheets for a few minutes before transferring them to a wire rack.
Once cool, store in an airtight container.
Questions & Replies

Got a question?
Share it with the community!
Reviews
This recipe truly is outstanding! The dough comes together quickly and easily and is very nice to work with. It makes cutting the cookies really easy.<br/>The spices are well balanced and make for a super yummy gingerbread! I loved the ratio of ginger, cinnamon and cloves. Im sure the orange would have added a nice fruity touch, but I had to leave it out due to an allergy.<br/>THANK YOU SO MUCH for sharing this lovely recipe with us, Aisha! My sis and me had great fun making cookies out of it. :)<br/>Made and reviewed for the Holiday Meals Event in the Photo Forum December 2010 (and for the gingerbread contest).

 

Outstanding! Wonderful method of cooking and wonderful taste. I made this with Little Miss (DD) and she couldn't wait to try them. We have left them plain so the extra icing doesn't alter the taste and it would be easy for Little Miss to have in her lunch box as special treat at school. The ingredients took less then 15 mins to make, however the longest part of this recipe was to allow it to cook down for 30 mins. While it was cooling down Little Miss helped herself to the dough. We made seven huge gingerbread men and 10 mini stars. Thank you Aaliyah&Aaron's mum

 
RECIPE SUBMITTED BY
<p style=margin: 0.0px 0.0px 0.0px 0.0px; font: 12.0px Helvetica;><span style=font-family: Arial, Helvetica, sans-serif; font-size: 13px;><img src=file:///Users/aishayusaf/Library/Caches/TemporaryItems/moz-screenshot.png alt= /><img src=http://i166.photobucket.com/albums/u82/aaliyahsmum_album/bill3.jpg alt= width=402 height=507 /></span></p> <p><img src=http://i166.photobucket.com/albums/u82/aaliyahsmum_album/Untitled-11.jpg alt= /><br />Today, give a stranger one of your smiles. <br />It might be the only sunshine he sees all day. <br />- H. Jackson Brown, Jr. <img src=http://i166.photobucket.com/albums/u82/aaliyahsmum_album/images.jpg alt= /> <br /> <img src=http://i166.photobucket.com/albums/u82/aaliyahsmum_album/Untitled-11.jpg alt= /> <br /> <br />For a hobby, I'm into photography. I thoroughly enjoy baking, but have to admit, I have two left hands when it comes to decorating cakes! I also do a bit of knitting (beginner's stage) and reading. Stephen King and Dean Koontz are my all time favourite authors, and, of course, LOVE Calvin and Hobbes (does it show??!!) <br /> <br /> <img src=http://i166.photobucket.com/albums/u82/aaliyahsmum_album/chch-atheist.gif alt= /> <br /> <br /> <img src=http://i166.photobucket.com/albums/u82/aaliyahsmum_album/Untitled-1-1.jpg alt= /></p> <p>I search for recipes that carry ingredients I can get hold of locally (or I have stocked in my cupboard!). Recipes I have posted are ALL tried and tested and have been enjoyed by all! So, I hope you and your family will enjoy as well! <br /> <br />My rating system is fairly simple. Since I only pick recipes that I know my family will enjoy (looking at the list of ingredients), it's either 5 or 4 stars, I do not go any lower. I may sometimes do a bit of tweaking but that is only due to my family's tastes. If I do have problems with a recipe or if it didn't turn out the way it should have done, then I just leave a comment without any rating. <br /> <br /><img src=http://i166.photobucket.com/albums/u82/aaliyahsmum_album/Untitled-12.jpg alt= /></p>
View Full Profile