Ginger Chicken With Chickpeas (Moroccan Tagine)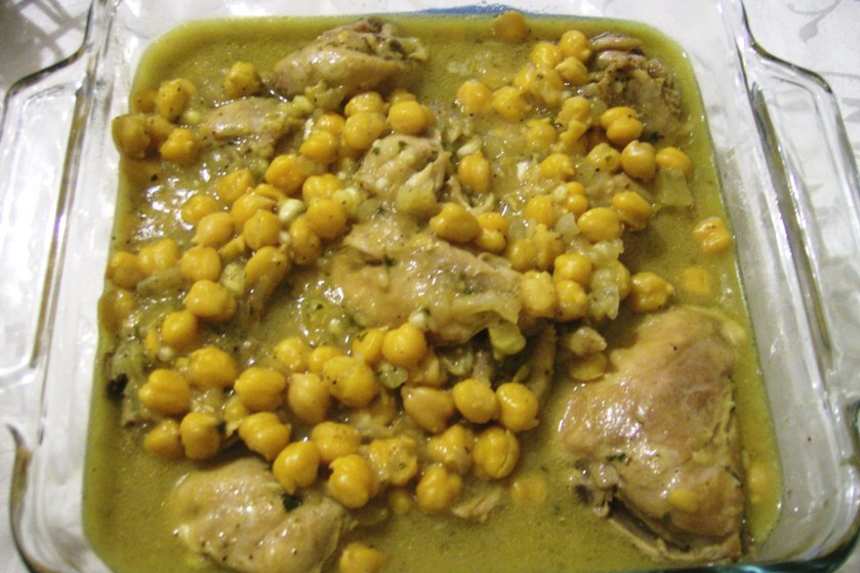 photo by FDADELKARIM

Ready In:

1hr

Ingredients:

17
directions
Cover dried chick-peas with water & soak overnight. You can do this in advance & then freeze the chick-peas. When ready to use take out of the freezer & thaw.
Blend salt, ginger, pepper, garlic, oil, & lemon juice in a bowl. Take a skewer (preferably) or sharp knife & poke several holes into the chicken. Then dip the chicken into the mixture so that all sides are covered. Place chicken into a glass & cover with the remaining mixture. Let it marinate for at least 2 hours.
Drain the soaked chick-peas or thaw the ones already prepared. Place chick-peas, 1/2 tsp salt, & fresh water into a sauce pan or pressure cooker & cover with lid. If using a pan, cook chick-peas for 45 minutes. If using a pressure cooker, cook for 15 minutes (after it starts to hiss).
Drain chick-peas & submerge in a bowl of cold water. Gently rub the chick-peas to remove their skins. Immediately remove skinned peas from the water & place into another bowl.
Place 3 cups of water, chicken & any juices in the bowl into the large pot or pressure cooker. Add salt, turmeric, ginger, parsley, 2 cloves garlic, cinnamon stick, & butter. If using a pot bring to boil, reduce heat, cover, & simmer for 1 hour, turning the chicken frequently in the sauce. If using a pressure cooker, cover & cook for 8 minutes (after it starts to hiss).
Remove chicken, place back in the glass bowl & cover to stay warm. Add onions & cooked chick-peas to the pot. Bring to a rolling boil & cook until the onions are very tender & the sauce has reduced to about 2 cups. Mix cornstarch & a little water to make a thin paste, add to sauce to thicken. After the sauce has thicken some return chicken back into the pot to reheat.
To serve, place chicken into a deep dish & cover with sauce.
Questions & Replies

Got a question?
Share it with the community!
Reviews
I made this recipe for a few people and it was a big hit. I used my pressure cooker and the flavors were terrific. Make sure not to serve this with any powerful side dishes, the flavors of this are subtle. I followed the recipe rather closely but with the following adjustments: -I did not remove the skins of the chickpeas, maybe that was suggested to let the chickpeas absorb more flavor? But I didn't want to do it and it still tasted great. -I browned the chicken before cooking it in the pressure cooker, which is usually recommended to help "lock in" the flavors. -I added some frozen spinach to the pot after pressure cooking - added to the recipe without overpowering the flavors and looked gorgeous.

 

Five gold stars! What a delicious dish -- the chickpeas are soft and creamy yet still maintain their integrity; the chicken is juicy and tender; the sauce has such a velvety finish from the butter. I was so enamored of the taste and texture of the sauce that I skipped adding the cornstarch slurry; otherwise followed instructions to the letter. Truly a terrific dish, Nasseh!

 

5 Stars, I am in love! This reminded me of a superb complexly layered pea soup, that is completely different from my other chicken standards. I am not sure I even did the recipe correctly. I used 2 large skinless chicken breasts and grated fresh ginger with the given measurements. I startd from dried garbanzo beans, which required an 8-hour soak, plus 30 minutes to shell the beans after cooking; I spared myself the extra salt, but the slowest chopper in the Western Hemisphere would be better off rinsing and draining canned garbanzo beans instead, I think. I used the pressure cooker, and let the press.ure come down naturally. Made for 1-2-3 Hit Wonders.

 
RECIPE SUBMITTED BY
Follower of Jesus: I have a strong faith in God & his love for all of us. He is the first & last in my life and it is my desire to tell others of His greatest gift to us...His Son. Explorer: I love to learn about new cultures & try new foods. While in Morocco I learned to appreciate the use of spices. Wife: I'm married to my best friend. Sister: I am the oldest of six children. Mother: My son lives in CA while my daughter lives close to me. Grandmother: My beautiful granddaughter has stolen my heart.
View Full Profile