Get Rid of Ants, Ants, Ants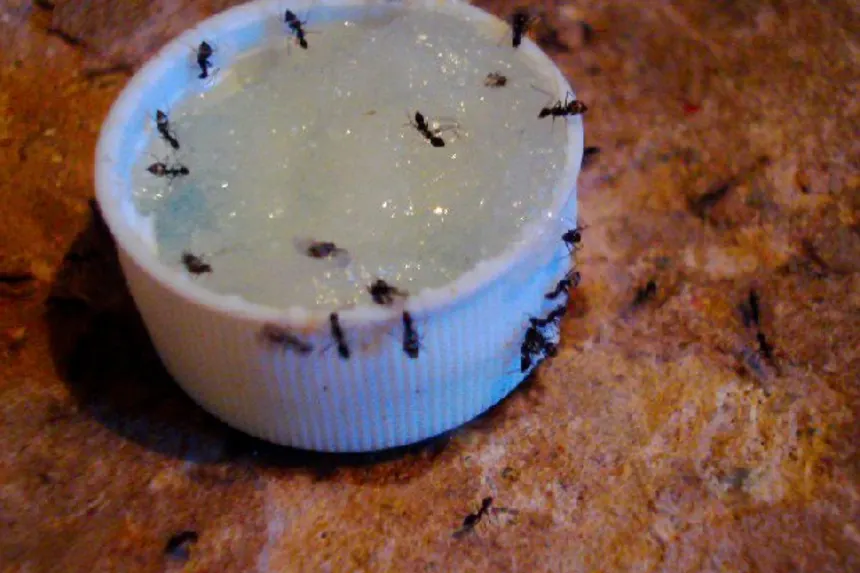 photo by Roxanne J.R.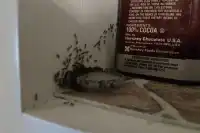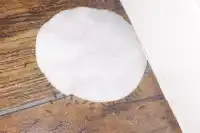 Ready In:

10mins

Ingredients:

3
directions
Mix the sugar and Boric Acic well.
Add the warm water slowly, mixing all the while so it won't be too lumpy.
Store in a jar.
When ready to use, put cotton into the top of a jar lid to fill it, and then saturate the cotton to the top.
Place where you want it; make several if you need it.
Will keep for a long while.
NOTE: I usually drip a drop or two over the edge of the lid to rest on the counter so they will find it sooner.
It sometimes takes a little while for them to find it, but find it they will.
When they do, let them alone; you will want to kill them because they look so creepy; but don't because they will hang over the edge of the lid and drink, drink, drink, and then take it back to the nest.
Almost over night, they will be gone.
Reviews
If I could give this one hundred stars, I would. If I could meet you in person I'd get on my knees and genuflect. My apartment was swarming with those little teeny, tiny ones, and almost impossible to find out where they were coming from. No matter what i did they found another way. Didn't matter if there was food around or not. If I put down cat food, within minutes it was filled with ants and I had to keep changing where I fed them. i found this recipe when I woke up to find them in my bed and freaked out. I had no cotton balls except for a bit from an aspirin jar, so I used that with paper towels. Worked like a charm. It's the 4th day now, and the total count of ants I've seen today so far is ONE. ONE! When it comes to ants, One is the loveliest number. I've already shared this recipe with others. Thank you so much!!!!

 

OMG!!! Thank you soooooo much for this remedy! My daughter moved into her 1st apartment,,,,with my twin grandsons,,,,,and realized that she was INFESTED with ants. She had them everywhere,,,,on the babies toys and all eeekkk. I made this batch up for her,,,told her to fill baby jars w/out the top on and fill it w/ cotton balls,,,and spray a lil on the outside of jar. Within the 2nd day the jar was filled w/ ants,,,,she said it was gross,,,,I can just imagine. I told her to leave it there so they take it back to the nest. By he 3rd day they were gone maybe 1 here and there. I am sooo thankful,,,,I mean hey they're my grandbabies!!! My husband found the boric acid at rite aid for $4.99 for 4ozs,,,and it will last me forever!!!

 

I have used this for years. I put the saturated cotton balls into baby food jars that have lids with nail holes poked into them, then I spread them all around the OUTSIDE of the house. The lids with holes keeps my chicken and other pets out of them. Just a caution, my friend had ants in here kitchen so she made up a batch and placed it on her counter. YIKES! this attracts the ants because of the sugar and she had ants coming from everywhere to get to it. The ants will pick this up and haul it back to home base :) Since I live in the country and the area I live in is well known for having many varities of ants this is liked by them all red, black or red and black. thank you for posting this recipe! :)shirley(:

 
RECIPE SUBMITTED BY
<p>John 3:3 <br />Psalm 91 <br /><br />We are born-again Christians and love the Lord Jesus Christ with all our being.? We attend a small Christian and Missionary Alliance church in our town.? <a href=http://www.cmalliance.org>http://www.cmalliance.org</a><br /><br />My family consists of my husband who was a microbiologist but is now retired, two children (daughter and son), four grandchildren, and soon to be two great grandchildren, a girl and a boy. I homeschooled my oldest granddaughter up to a senior in high school. She is now 29 years old. My oldest grandson, who is now 25; my youngest grandson, age 20; my youngest granddaughter is in seventh-grade. Our oldest granddaughter blessed us with our first great granddaughter and soon to be great grandson.? She is the cutest little one.? I love them all. <br /><br />Hosta is my favorite plant, the only plant I own. I now have 123 varieties and they all have names. I add to them each year. I love to do cross stitch, paint, scrapbook, and rubber stamping. <br /><br />I have a rare genetic lung disase called Alpha-1 Antitrypsin Deficiency (Type ZZ) that most people have not even heard about. Most doctors may have heard of it but don't know an awful lot about it and so many times it goes misdiagnosed. Feel free to z-mail me if you want to know more about it or go to the website?<a href=http://www.alphaone.org/>http://www.alphaone.org/</a></p>
View Full Profile