Garlic Schnitzel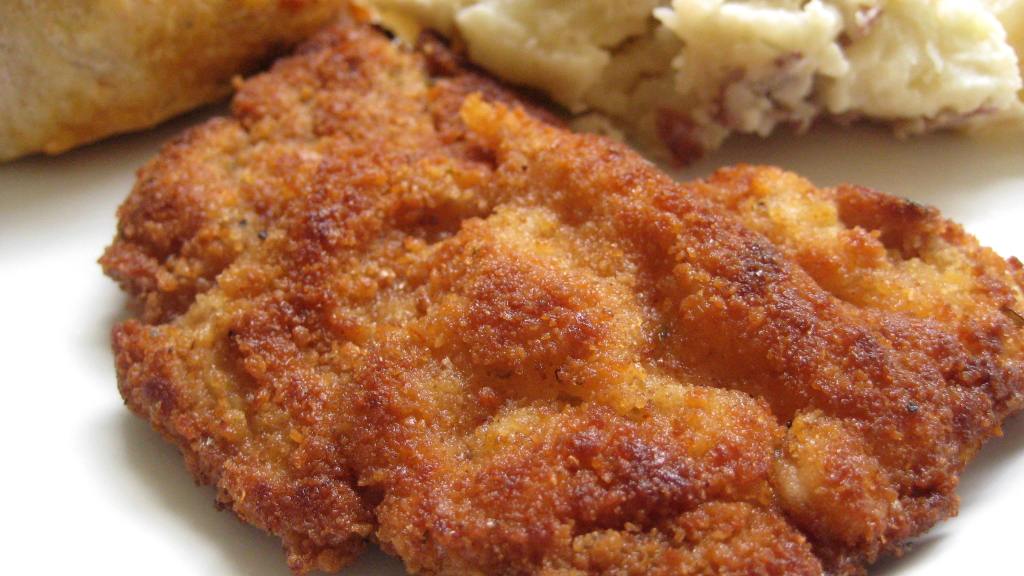 Ready In:

40mins

Ingredients:

8
ingredients
4 -6

pork cutlets (pounded to 1/8 inch thickness)

2 -3

eggs

breadcrumbs

oil (for frying)
directions
Place unpounded pork cutlets in casserole pan, trying to not overlap meat. Use a garlic press to evenly distribute garlic over each piece of meat, and pour enough milk over the top to cover the meat and garlic. Let it sit in your refrigerator for at least an hour, or overnight for best flavor.
Remove meat carefully, trying to keep garlic pieces on top, and put them into plastic wrap or storage bag to pound garlic into the pork with the flat side of a meat tenderizer. (Using a plastic bag helps keep the garlic in place and allows the meat to stretch). When removing the pounded pork, sprinkle both sides with salt or seasoned salt, and put onto a large plate.
Prepare the breading step by tearing 2 square sheets of aluminum foil for the flour and breadcrumbs, and froth 2-3 eggs in large, flat bowl (or pie pan). Add some salt to the egg mixture. In an assembly line style, place aluminum foil square of flour (about 1-2 cups), then the bowl of mixed eggs, and finally the bread crumbs (2 cups). Have a large plate or cookie sheet ready to place the breaded meat. Dip the pounded, salted pork into the flour (shaking off excess), then into egg, and using a fork, lift out of the egg mixture and let excess egg drip off, and place into breadcrumbs. The foil is good to use, so that you can lift the sides to shake on the breadcrumbs without using your fingers. Throw away the leftover flour and breadcrumbs with the foil.
Heat oil in deep frying pan, making sure the oil is at least 1 inch thick in pan. Oil is ready when you drop a bread crumb into it, and it fizzes up to the top. Fry the meat on each side (about 2 minutes each side) until golden brown and place onto plate lined with paper towels.
For the special "tarter sauce," mix equal amounts of mayonaise and sour cream, and squirt some mustard into it. You can add salt and pepper to taste, too. This is a great dip for the garlic Schnitzel. Enjoy!
Join The Conversation
I really enjoyed this. The garlic flavor really did permeate the meat. Of course I did use about 6 cloves of garlic. I didn't worry about pounding the meat , I just cut the pork very thin and I didn't put 1 inch of oil in the pan, that was too much oil for me, I just put in enough to get a little sizzle going. Thanks for a keeper!