Garden Fresh Salsa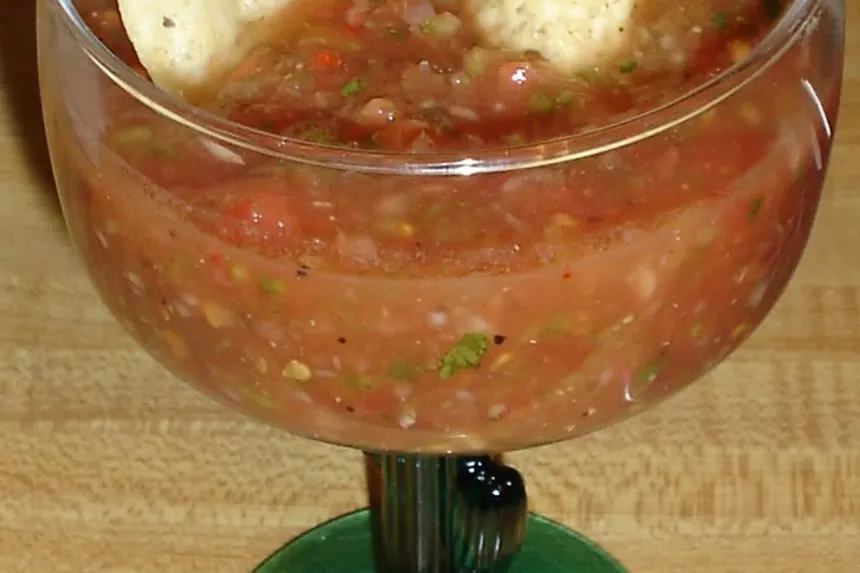 photo by Chef Curt

Ready In:

45mins

Ingredients:

12
directions
Individually chop all the peppers, onions, garlic, and cilantro and put them in a large bowl. A food processor comes in real handy here, but you can do it by hand as well. The processor helps, because I like my salsa pretty smooth, but you can make it chunky style too, that just depends on your personal preference.

On peppers:

The bell peppers are necessary as a good base to the salsa but they don't add any heat. Adding the jalapenos as listed above should make your salsa come out a notch or two above the hot stuff you get at the store (still not very hot in my opinion). Adding less or more jalapenos will vary the degree of heat to the salsa. I chop the whole pepper as well (minus the stem) as the heat is stored in the guts of the pepper which a lot of people mistakenly clean out with the seeds. Adding other varieties of hot peppers or sauces will also add flavor and make your salsa unique. Just be careful but remember experimentation is a good thing.
Stir all this in the bowl, and now its time to add the tomatoes. I always use fresh tomatoes (even if I have to pay for the nice ones at the store in winter). You can do 50/50 fresh vs. canned and it will still taste good, but if you do all canned tomatoes it will taste like canned salsa which you might as well just buy at the store. That's really the big secret to great salsa. Fresh tomatoes, fresh peppers and fresh cilantro taste a whole lot better than stuff that's been sitting on the shelf for a few months. Back to the tomatoes though, I peel them and puree them and add them to the mix. Your bowl should be almost half full pre-tomatoes and that's generally the ratio I use. Good salsa is about 50% tomatoes and 50% other good stuff. Stir all this really well, and now it is time to season and taste test. You will want to put in 3-4 tablespoons of salt (this is a big batch after all). I taste test while adding the salt. Not enough and it will taste a little flat, too much and it will be … too salty. If you go overboard you can add more tomatoes to dilute it (this works with the pepper heat too), but I just add some and taste until its right. Now add some black pepper and Tabasco, or experiment on other hot sauces. I also like to add a couple tablespoons vinegar and juice from one lime to add acidity. Once everything is mixed in and suits your taste, give it a final good blending and place in the refrigerator. It's good for it to set in the cool for a few hours or even overnight as this allows all the flavors to mix together and steep. Just like a good chili, salsa is always better the next day. You should have a mammoth sized bowl of salsa that looks like it will last a month, but trust me, I doubt it makes it to the end of the week. Now its time to stock up on the Tostitos!
Warning: Salsa is proven to be addictive, and once you've had fresh, its hard to go back to that stuff they sell in the grocery store. Seriously though, use caution when you are handling the peppers, especially the hotter varieties, as the heat stays on your fingers, and could irritate your eyes or nose or other sensitive areas that you might inadvertently scratch for the next few hours after you are done in the kitchen.
Questions & Replies

Got a question?
Share it with the community!