Gabriel's Sauteed Fava Beans
photo by NiseyNisey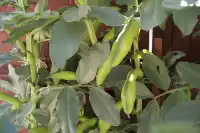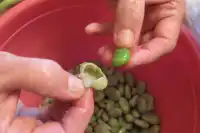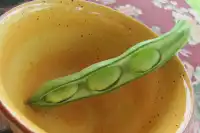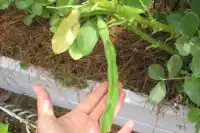 Ready In:

45mins

Ingredients:

9
ingredients
ice

2

lbs fresh fava beans, in the pod (yields about 1 1/2 to 2 cups shelled beans)

1

tablespoon butter

1

teaspoon olive oil

2

garlic cloves, minced, to taste

salt & freshly ground black pepper, to taste
directions
First, shell the beans from the fava pods (I found it's sometimes easier - especially if you're new to fava beans - to open the pods when you run the edge of a knife along the seam, cutting away the tough edge so that the pod halves come apart).
In a large saucepan, bring water to a boil, then add salt – the amount depends on how much water you have, but it should be very salty, like seawater.
In a bowl, combine ice and tap water to make ice water; set aside.
Add the shelled beans to the boiling water and let cook for about 3 minutes, then remove from saucepan and immediately plunge into the ice water to halt the cooking.
Let the beans cool, then peel the outer skin from each of them.
Over medium heat in a skillet, melt together the butter and olive oil, then add the garlic and sauté for 1 minute.
Add the peeled fava beans and sauté for about 5 to 7 minutes, or until they are done to your preference.
Season to taste with salt and freshly ground pepper, serve, and enjoy!
Note: in choosing your fava beans, get the pods that are firm and fresh looking; also, if you're feeling silly, have these along with your favorite liver dish and a nice Chianti.
Note 2: once you've made these basic fava beans, you can add other delicious items such as caramelized onions or fennel, chunky fresh tomatoes, and/or a bit of chopped proscuitto.
Note 3: I asked Gabriel if favas could be frozen effectively, and he said that yes, you can shuck them and blanch them for 1 minute at most, then freeze them in a single layer on a sheet in the freezer before putting them into bags; great bright green color and no mushiness in texture; thaw, peel, and use as usual.
Questions & Replies

Got a question?
Share it with the community!
Reviews
My, these were good. We didn't have REALLY fresh liver, so I served with fresh grouper (it was still flopping) and a nice Sauvignon Blanc as we thought Chianti inappropriate for the fish. Hannibal and I enjoyed it all very much and we thank you for this easy recipe. I only wish we could get fresh fava beans more often.

 

A co-worker of mine brought me a few Fava beans to try out. He told me the basics on how to cook them. I searched for an easy recipe and I have to say this was GREAT!!! This was super duper easy recipe and the end result was definitely worth the work. I used granulated garlic instead of minced and it was still good. I will add onions to this next time.

 
RECIPE SUBMITTED BY
<p>It's simply this: I love to cook! :) <br /><br />I've been hanging out on the internet since the early days and have collected loads of recipes. I've tried to keep the best of them (and often the more unusual) and look forward to sharing them with you, here. <br /><br />I am proud to say that I have several family members who are also on RecipeZaar! <br /><br />My husband, here as <a href=http://www.recipezaar.com/member/39857>Steingrim</a>, is an excellent cook. He rarely uses recipes, though, so often after he's made dinner I sit down at the computer and talk him through how he made the dishes so that I can get it down on paper. Some of these recipes are in his account, some of them in mine - he rarely uses his account, though, so we'll probably usually post them to mine in the future. <br /><br />My sister <a href=http://www.recipezaar.com/member/65957>Cathy is here as cxstitcher</a> and <a href=http://www.recipezaar.com/member/62727>my mom is Juliesmom</a> - say hi to them, eh? <br /><br />Our <a href=http://www.recipezaar.com/member/379862>friend Darrell is here as Uncle Dobo</a>, too! I've been typing in his recipes for him and entering them on R'Zaar. We're hoping that his sisters will soon show up with their own accounts, as well. :) <br /><br />I collect cookbooks (to slow myself down I've limited myself to purchasing them at thrift stores, although I occasionally buy an especially good one at full price), and - yes, I admit it - I love FoodTV. My favorite chefs on the Food Network are Alton Brown, Rachel Ray, Mario Batali, and Giada De Laurentiis. I'm not fond over fakey, over-enthusiastic performance chefs... Emeril drives me up the wall. I appreciate honesty. Of non-celebrity chefs, I've gotta say that that the greatest influences on my cooking have been my mother, Julia Child, and my cooking instructor Chef Gabriel Claycamp at Seattle's Culinary Communion. <br /><br />In the last couple of years I've been typing up all the recipes my grandparents and my mother collected over the years, and am posting them here. Some of them are quite nostalgic and are higher in fat and processed ingredients than recipes I normally collect, but it's really neat to see the different kinds of foods they were interested in... to see them either typewritten oh-so-carefully by my grandfather, in my grandmother's spidery handwriting, or - in some cases - written by my mother years ago in fountain pen ink. It's like time travel. <br /><br />Cooking peeve: food/cooking snobbery. <br /><br />Regarding my black and white icon (which may or may not be the one I'm currently using): it the sea-dragon tattoo that is on the inside of my right ankle. It's also my personal logo.</p>
View Full Profile