Fugassa Bread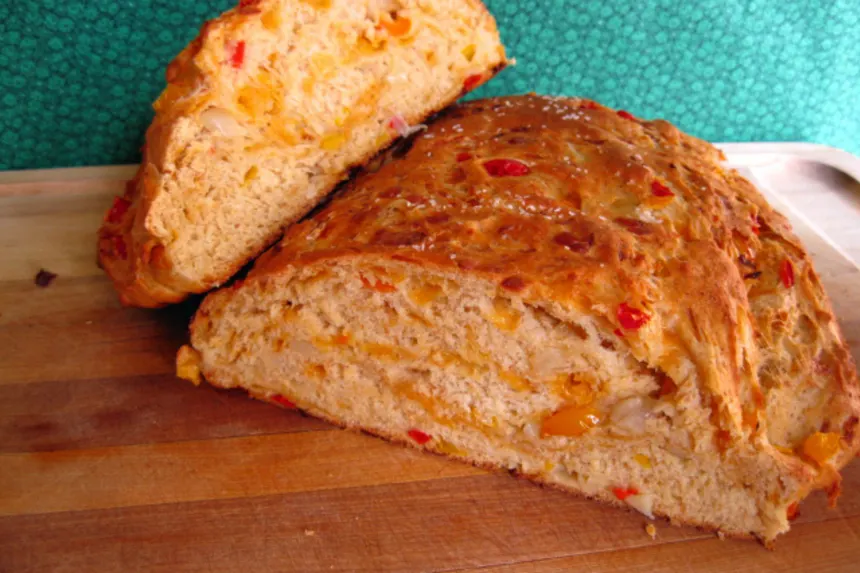 photo by WiGal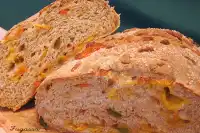 Ready In:

2hrs 30mins

Ingredients:

10
directions
Cook oil, onions and peppers slowly in a large skillet over medium-low heat until the onions are transparent. When you cook onions and peppers slowly, the natural sugars caramelize, and they become quite sweet. Set aside to cool to lukewarm.
In a large bowl, stir yeast into warm water to soften. Add salt, sugar, 2 cups flour, 1 cup cheese, and the cooled peppers. Beat vigorously for 2 minutes.
Gradually add flour, a little at a time, until you have a dough stiff enough to knead. Turn dough out onto a floured surface. Knead, adding flour as necessary, until you have a smooth, elastic dough. Put the dough into an oiled bowl. Turn once to coat the entire ball of dough with oil. Cover with towel and let rise until doubled, about 1 hour.
Turn the dough out onto work surface. Knead in the remaining 1 cup cheese, leaving large streaks of the cheese visible. The streaks will toast and add an attractive look to the bread, not to mention a marvelous flavor.
Shape the dough into a ball. Flatten the top slightly, and place on a well-greased baking sheet. Cover with a towel and let rise for 45 minutes.
Just before baking, brush the tops of the loaves with cold water and sprinkle with coarse sea salt, if desired. Slit the loaf in three places, about 1/2-inch deep, across the top.
For added crispness, steam should be added to the oven for the first 10 minutes of baking. I put 2 cups of ice cubes directly on the floor of my oven. By the time they have melted and evaporated the 10 minutes is usually up. Since some people have trouble working with this theory, you can also put a pan of boiling water on the bottom shelf of the oven and remove it after the first 10 minutes of baking. Just be sure to work quickly to prevent loss of oven heat.
Bake in a preheated 400°F oven for 30 minutes, or until done. Immediately remove bread from baking sheet and cool on a rack. Makes 1 large loaf.
Questions & Replies

Got a question?
Share it with the community!
Reviews
The aroma is TDF! I have been looking for a recipe to match a favorite bread we buy in bakery 60 miles away and DH said "this is even better". I used red and yellow pepper, and, of course, the onion-love the combination. I put the 2 cups of ice cubes on oven floor and did not have a problem with that. My bread did get a bit dark b/c I was on the phone and was relying on DH to take it out. I forgot to make the 2 slits mentioned in Step 6 and should not have. The loaf is huge! Am guessing that you could get 16 slices from this? For the two of us, next time I will consider dividing it in half. I was thinking the bread dough might take on a bit of pink so made this for Think Pink Event.

 

I made this for my husband recently after he saw this same type of bread in a bakery. At $5 a loaf, I figured I would try to make it at home. I made the bread using the dough cycle of my breadmaker & baked it in the oven. I used red peppers, white onion & also added green onion for some additional color. This bread does take some time to make, but well worth it. We gobbled up this loaf in no time at all. Hope to 'make again' soon!