Fudge-Filled Blondies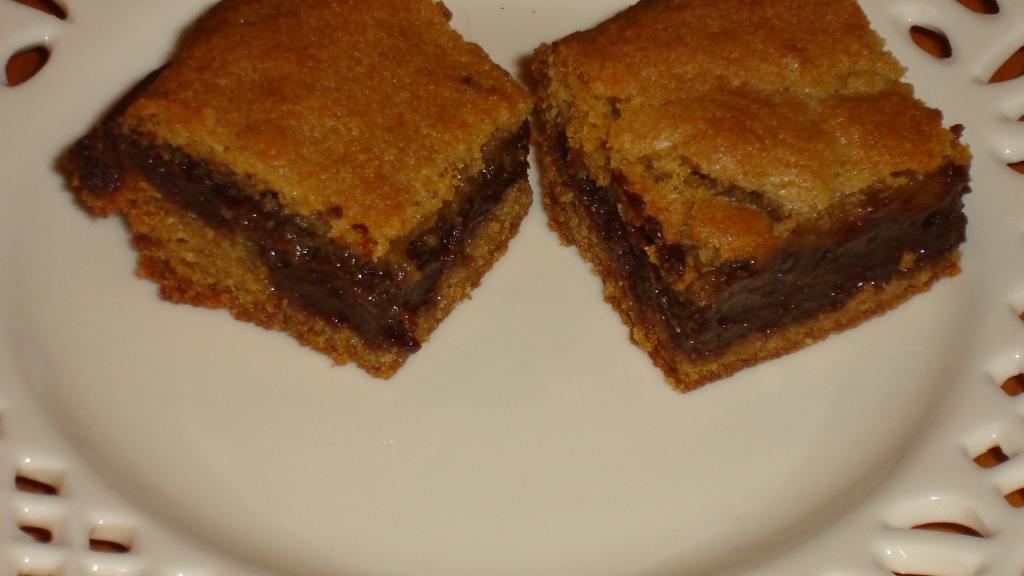 Ready In:

45mins

Ingredients:

10
directions
Preheat oven to 375°F.
Grease and flour a 9 x 13 baking pan.
In a large bowl, cream together the butter and both sugars until light and fluffy.
Beat in the eggs, then the vanilla until smooth and well blended.
In another bowl, stir together the flour, baking powder, and salt.
Add to the creamed mixture just until combined; do not overmix.
Spread half the batter in the prepared pan.
Stir together the melted chocolate and condensed milk to form a fudge-like mixture; spread in an even layer over the batter.
Cover with the remaining batter.
(The easiest way to do this is to drop little mounds of dough over the filling. Then, using your fingertips, pinch the pieces together until they make a fairly even layer. You won't be able to cover the filling completely--that's okay.) Bake for 25 minutes, or until a toothpick tests done.
Cool on a wire rack before cutting into bars.
Join The Conversation
Ohhhhh......... I know it says JamesDean'sGirl... but I think you might be the devil, cause these are the most sinful thing I've had in a while! Next time, to compensate for the terrible airbake pan I have, I'll make this at 350 rather than 375. I couldn't let these cool all the way cause that's how I roll ;-) and they are gooey chocolate deliciousness, and way to rich to eat more than a bit at a time. I got 24 bars from this, and even at that, they are almost (almost!) too large for how rich they are. I might cut back a bit on the chocolate chips in the filling next time so there is more blondie around it, but still, fantastic. Thanks for sharing.

these are grrrreat! seriously delish. everything i look for in a decadent dessert and then some. reminiscent of hot fudge sundaes and chocolate chip cookies - all combined in a wonderful little package of a bar. yum. all raves from the crowd - this beats many desserts ive had out in restaurants and is relatively painless to put together. i served mine warm, with a tiny scoop of vanilla ice cream and fudge sauce swizzle. thanks so much for posting this - its a hit!!! :)

I barely even got to put the pan down when I got to work, and people were waiting to cut a piece of this stuff! For the filling, I didn't have an open bag of semisweet chips, but I had two half-bags of dark chocolate Dove Promises left over from another recipe, so I used those, topped off with a handful of some leftover milk chocolate-caramel swirl chips to make up the two cups of chocolate. Instead of melting the chocolate and then mixing in the milk, I just heated it all together in a heavy saucepan over low heat. Also, just to make them look pretty, I sprinkled the top of the bars with Hershey's Kissables just before baking (lots of eye-catching color, always good). This will be a definite repeater -- Thanks for posting!

These are pretty darned good - imagine a tollhouse cookie sandwich & you've got it! Made no changes in recipe but used an 8 x 11 inch pan - had to add 15 minutes to cooking time. Really hadold school tollhouse cookie flavor. Fudge layer was almost too thick - but bear in mind I used the smaller pan. Small servings, but neighbors' reactions were to snap these up !! Thank you for the recipe!